Banana Polenta Pancakes with Blueberry Sauce
May 26, 2013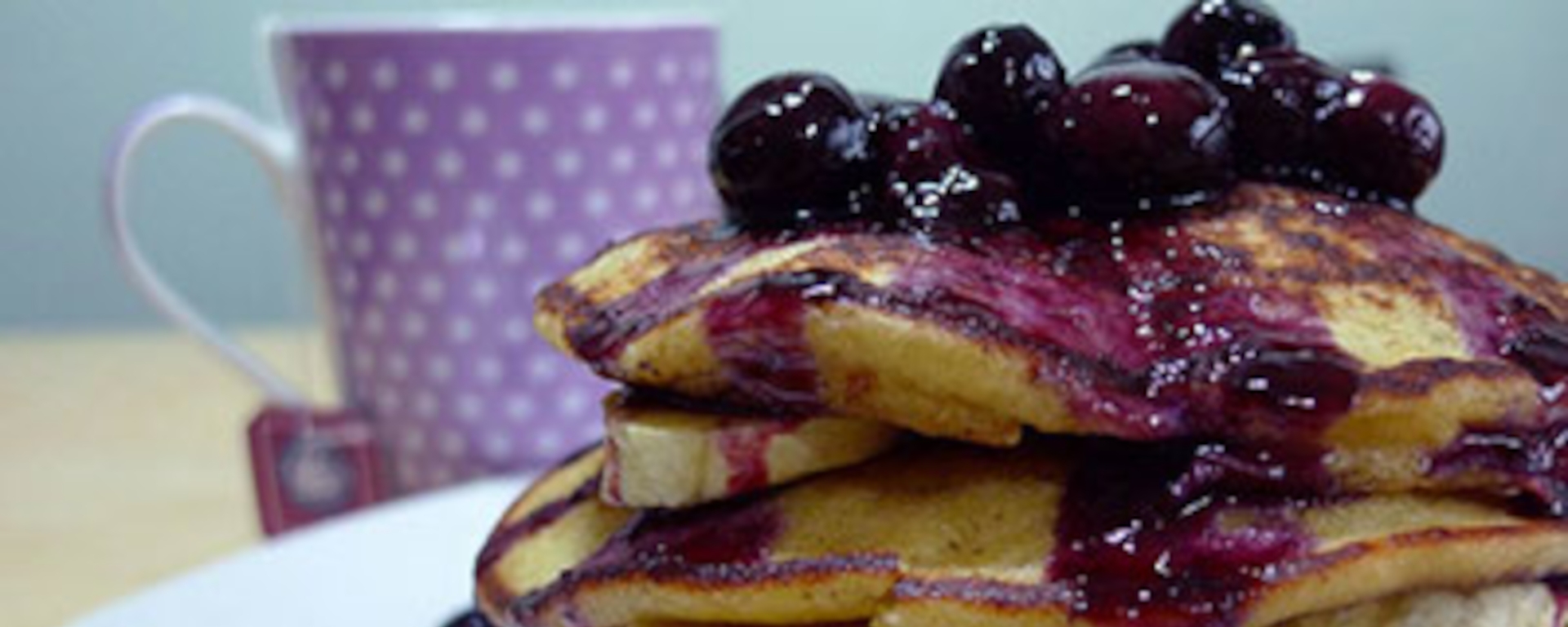 Kaira from Kaira's Kitchen shares another great recipe with us. Can't wait to try these Banana Polenta Pancakes with Blueberry Sauce, they sound so yummy!
This pancake recipe is a twist on the traditional version in that I've added polenta (cornmeal) into the batter.  This gives the pancakes a lightly crisp surface and a unique aroma. 
Using buttermilk and also by whipping up the egg whites before incorporating them in the batter, it makes the pancakes incredibly light and fluffy.  The delicious blueberry sauce is a healthy low fat and lower sugar alternative to syrup and  butter.
Banana Polenta Pancakes with Blueberry Sauce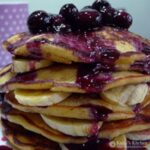 | Prep Time | Cook Time | Total Time |
| --- | --- | --- |
| 10 mins | 25 mins | 35 mins |
Ingredients:
Blueberry Sauce
1.5 tbsp all-purpose flour
Pancakes
1 cup all-purpose plain flour
1/2 cup polenta (ground corn meal)
2 bananas, mashed plus more for serving
3 tbsp vegetable oil (I used canola) plus extra for cooking
Directions:
Prepare the Sauce
Combine blueberries, sugar, vanilla extract and water in a saucepan and cook over medium-low heat for 7 to 8 minutes, stirring occasionally until the berries are tender.

Sprinkle all-purpose flour, stir and simmer for another 1 to 2 minutes until sauce thickens. Set aside.
Prepare the Pancakes
In a large bowl, combine banana, buttermilk, oil, egg yolks and brown sugar. Stir to combine. Fold in polenta, flour, baking powder, baking soda, salt and cinnamon. Mix until the it forms a lumpy batter.

In a separate bowl, whisk together egg whites until soft peaks. Gently fold egg whites into the pancake batter until just incorporated.

In a non-stick skillet, heat oil over medium heat. Spoon the batter into the pan. Cook for 3 to 4 minutes until small bubbles appear on the surface of the pancake, then turn over and cook for another 2 to 3 minutes. Keep the pancakes warm in a preheated 200 degrees F (90 degrees C) while cooking up the remaining pancakes.

Serve warm with blueberry sauce, sliced bananas and golden syrup (if desired)
Notes:The pancake batter can be made few hours ahead of time or even overnight and chilled. If you find the batter too thick, add more buttermilk to thin it out.
Recipe Rating: 4 / 5




Related posts: