Cumin-Spiced Sheet Pan Chicken & Pineapples with Coriander Yoghurt
May 8, 2018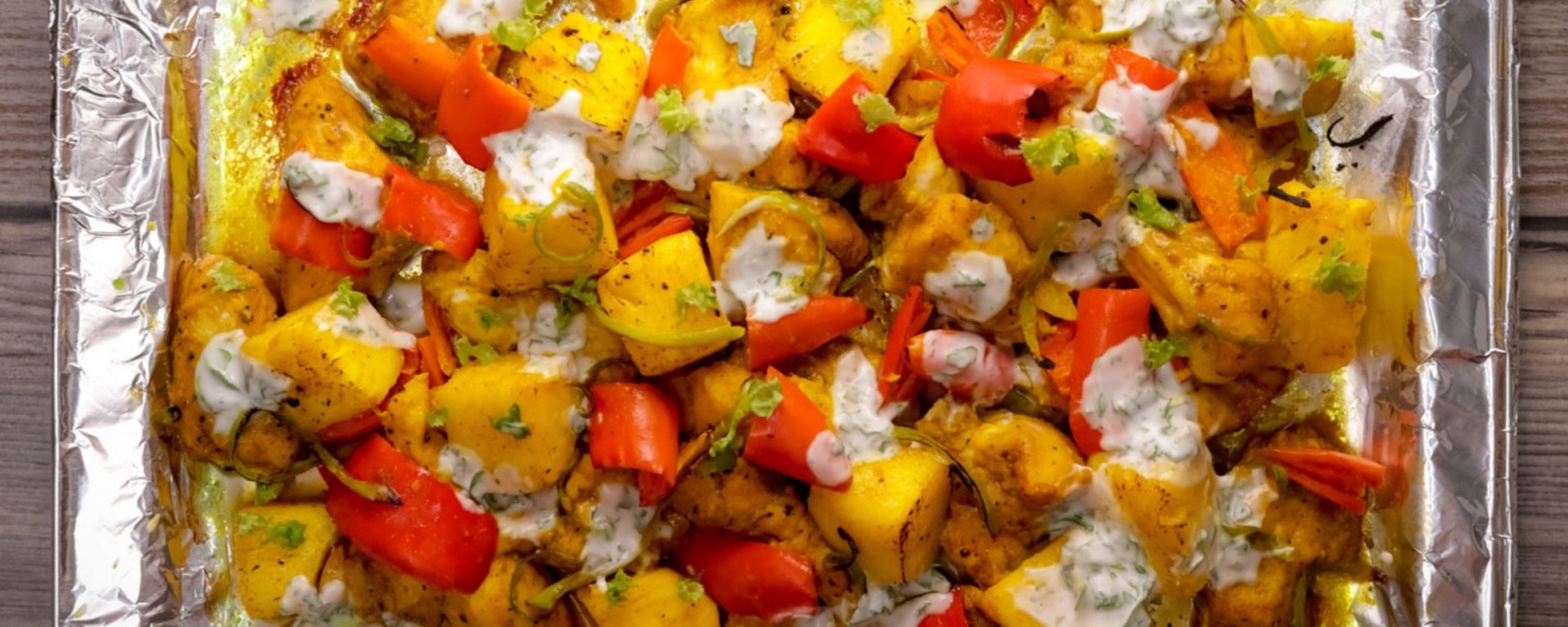 Cumin-Spiced Sheet Pan Chicken and Pineapples with Coriander Yoghurt recipe shared by Nikki from MyNutriCounter.
In the 12th century, Northern India was invaded by the Mughals which were the Muslim Persian tribes. They were headed by the emperor Babur and brought their own culinary traditions and largely shaped the cuisine of the North-India Punjabi region.
Mughlai cuisine typically used spices such as cumin, coriander, saffron, cardamom, cinnamon and nutmeg, and when combined with the butter, or fermented milk-based gravies, made for milder tasting dishes.
Along with the spices and dishes, the Mughals also introduced the Indians to the tandoor, a cylindrical clay oven where meat was baked and smoked over coals which spread appetizing aromas throughout the streets and market places.
Cumin-Spiced Sheet Pan Chicken & Pineapples with Coriander Yoghurt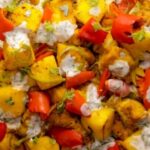 | Prep Time | Cook Time | Total Time |
| --- | --- | --- |
| 10 mins | 25 mins | 35 mins |
Ingredients:
500g/17.5oz chicken breast fillets, cut into 2" chunks
100g/3.5oz red bell peppers
20g/0.75oz green chillis, deseeded and cut into thin strips
300g/10.5oz pineapples, cut into chunks
7g/0.25oz chopped coriander
Directions:
Whisk yoghurt and coriander in a bowl. Set aside.

Toss all remaining ingredients in a bowl and leave to marinate in the chiller for at least 2 hours.

Preheat oven to 200C/390F.

Line a baking sheet with foil.

Transfer marinated chicken and vegetables to the baking sheet and bake for 20-25 minutes.

Top with coriander yoghurt.
Recipe Rating: 4 / 5




Here we present our version of a traditional North Indian smoky tandoori chicken dish where we've also added some nutritionally beneficial ingredients like pineapples and coconut oil instead of the traditional cholesterol-rich butter. Additionally, a study in 2014 found that regular consumption of pineapples could enhance immunity in children by decreasing the incidence of viral and bacterial infections.
The yoghurt contains small amounts of lactose and lactic acid which will make the chicken meat more tender and easy to digest. At the same time the spices add a fine flavour and promote digestion by enhancing the secretion of stomach juices.
Related posts: