Gomasio and Avocado Soba Noodles
May 19, 2015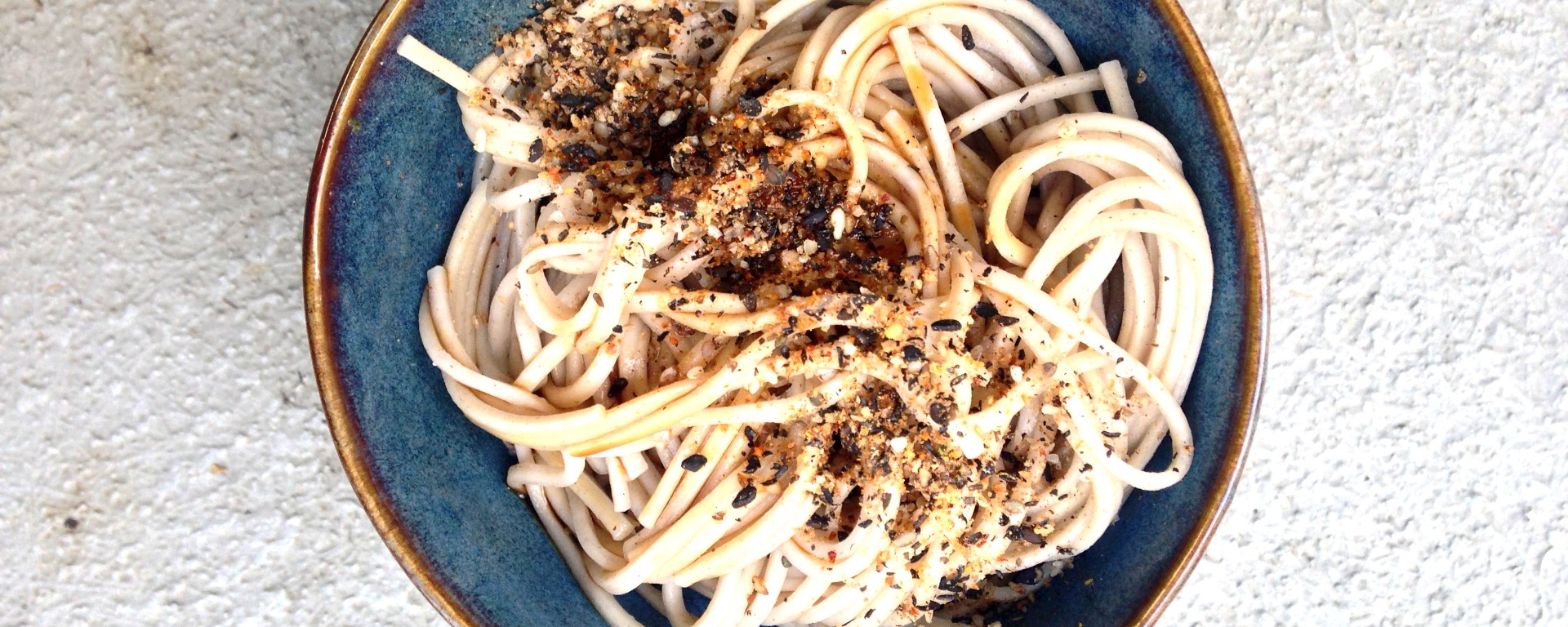 Gomasio and Avocado Soba Noodles recipe shared by Rebecca Myers from RawSpiceBar.
Toasted black & white sesame seeds, sea salt and red chiles make up RawSpiceBar's fresly ground gomasio, for sprkinkling on top of ripe avocados and soba noodles, to serve alongside our juicy, grilled shichimi togarashi tenderlion.
Soba noodles, made of buckwheat flour, is thought to have originated in China and been brought to Japan around 2,500 years ago. Buckwheat is a highly nutritious grain, especially rich in vitamin B. The flour is produced including the skin of the grain, so that the flour takes on a unique flavor and turns a grayish color. This kind of flour is usually used to make the soba that is so popular in Japanese cuisine.
Gomasio and Avocado Soba Noodles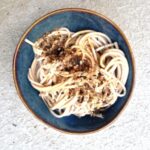 | Prep Time | Cook Time | Total Time |
| --- | --- | --- |
| 5 mins | 5 mins | 10 mins |
Ingredients:
Main
RawSpiceBar's Spicy Gomasio Spice Blend
1 lb uncooked soba noodles (substitutes: raw zucchini noodles, rice noodles)
1 medium cucumber, thinly sliced
6 radishes, thinly sliced
Dressing
Directions:
Cook soba noodles:
Cook soba noodles as directed on package. Once cooked, drain immediately and rinse with cold water until cooled.

Transfer to serving bowl and combine cooled noodles with chopped carrots, cucumber and radishes.
Prepare vinaigrette:
Combine soy sauce, lime juice, rice vinegar, sesame oil and crushed garlic in small bowl.

Toss vinaigrette with cooled noodles and vegetables.
Serve:
Top with chopped avocado and freshly ground spicy gomasio.

Serve alongside grilled pork tenderloin. Enjoy!
Recipe Rating: 4 / 5




Throughout Japanese culture, soba has been regarded as a frugal but special meal. Historically, people ate Soba noodles at the end of each month, called Misoka-soba, since Misoka means 'the last day of a month'. Misoka-soba was eaten to celebrate another month of working hard and having good health. Soba noodles are traditionally served either chilled with a variety of toppings, or in hot broth as a noodle soup.
Many people think that the best way to experience the unique texture of hand-made soba noodles is to eat them cold, since letting them soak in hot broth changes their consistency. We serve our chilled, tossed with a vinaigrette and topped with crunchy, spicy and slightly salty gomasio- perfect for a light, spring dish.
Related posts: