October 3, 2014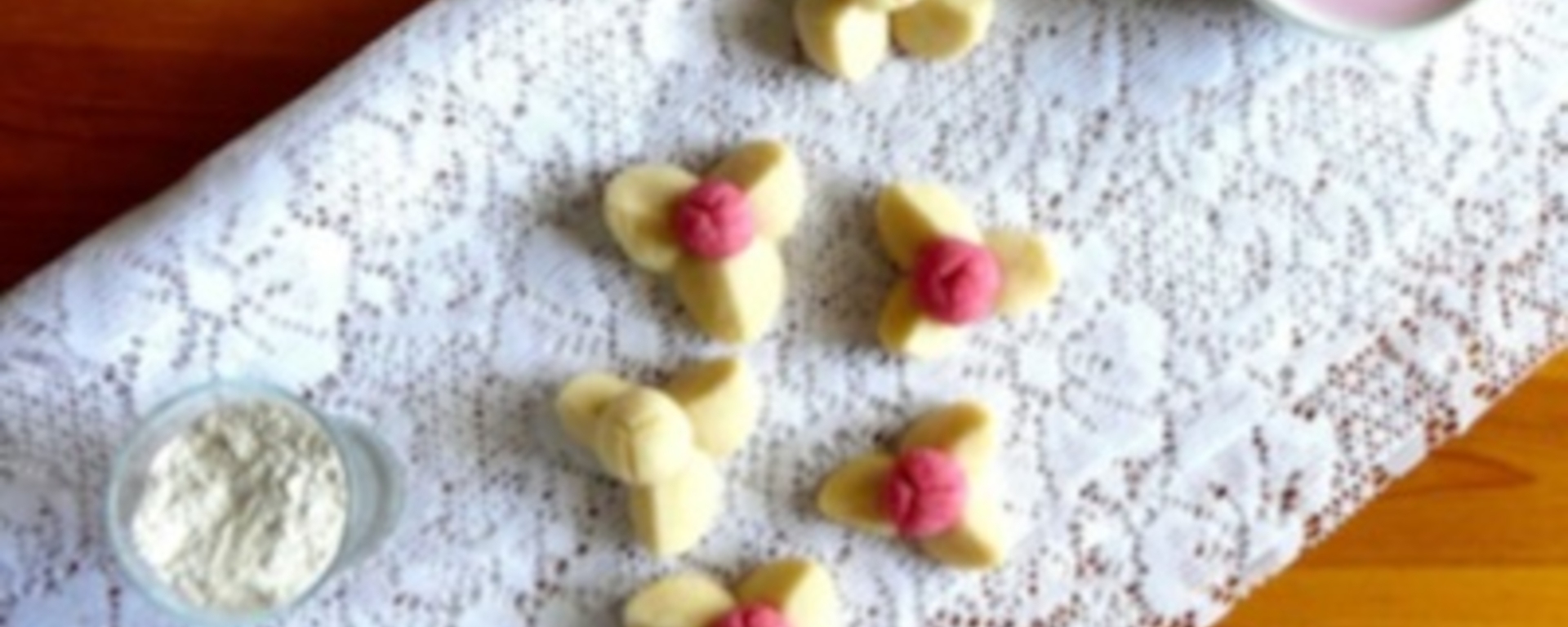 Natty from It's Just Food, So Try It!!! shares her recipe for a Thai Dessert, Khanom Kleeb Lamduan.
 Hi , next 3 weeks it's gonna be family meeting at my house. And this is a first time to have meeting here so we have a lot of things to do like buying a new dining table ( to make sure that our 15 guests are comfortable to have meal) , gardening a little bit and of course planing for the meal which are gonna be served for relatives.
For dessert, I would like to prepare Thai dessert which looks beautiful and it can be kept for a long time. So I can do a few days before meeting. I have a few recipes on my list already but I choose to prepare "khanom kleeb lamduan" because it contains only 3 ingredients.
Moreover, it looks like Cambodia's national flower "Ramdul" or "Lamduan" in Thai which I personally think that they are beautiful and exotic at the same time. So I hope that my relatives like this. So let's see how to make this dessert.
Khanom Kleeb Lamduan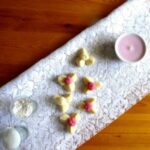 | Prep Time | Cook Time | Total Time |
| --- | --- | --- |
| 25 mins | 12 mins | 37 mins |
Ingredients:
1/2 cup all-purpose flour
3-4 tablespoons vegetable oil
Coloring agent ( optional )
Thai scented candle ( optional )
Directions:
In a bowl, sift flour and sugar together at least 3 times.

Add oil little by little and mix it very gently. I would like to emphasize word "very gently" because this affects the dough's texture after baking. (See Notes on adding coloring agent.)

Make it to a ball and rest the dough for 15 -20 minutes

The moment of truth begins! First line a baking sheet with parchment paper. Take a little bit dough and making a ball which is 1 cm ( 0.4 inch) diameter. Cut the ball into 4 pieces. Connect the base of 3 small pieces to make a flower petal. For the forth piece, make a small ball and put it in the middle of the flower. Make the mark "Y" at the ball by knife and transfer a flower to a baking sheet. If it sounds a bit complicated, see a picture at the link in Notes.

Preheat the oven at 150 degree Celsius ( 300 F). Then bake dough for 12 minutes.

Take it out from the oven, let it cool down and keep it in a dry container.

(optional) Arrange the cookies in a glass jar, leaving a space at the centre of a jar. Place a small dish in the centre. Light the scented candle on the both ends and place it on the the small dish in the centre. Close the lid and leave cookies for 30 minutes. This procedure gives a very lovely smell on cookies.
Notes:Thai dessert which looks beautiful and it can be kept for a long time.
Recipe Rating: 4 / 5




You can add color on a dough while adding oil into flour mixture.
I'm not gonna say that this is an easy recipe. But if you enjoyed playing with play dough when you were young, you will enjoy making this recipe also.  I hope that you like this recipe and give it a try sometimes.
Natty
Related posts: