April 30, 2018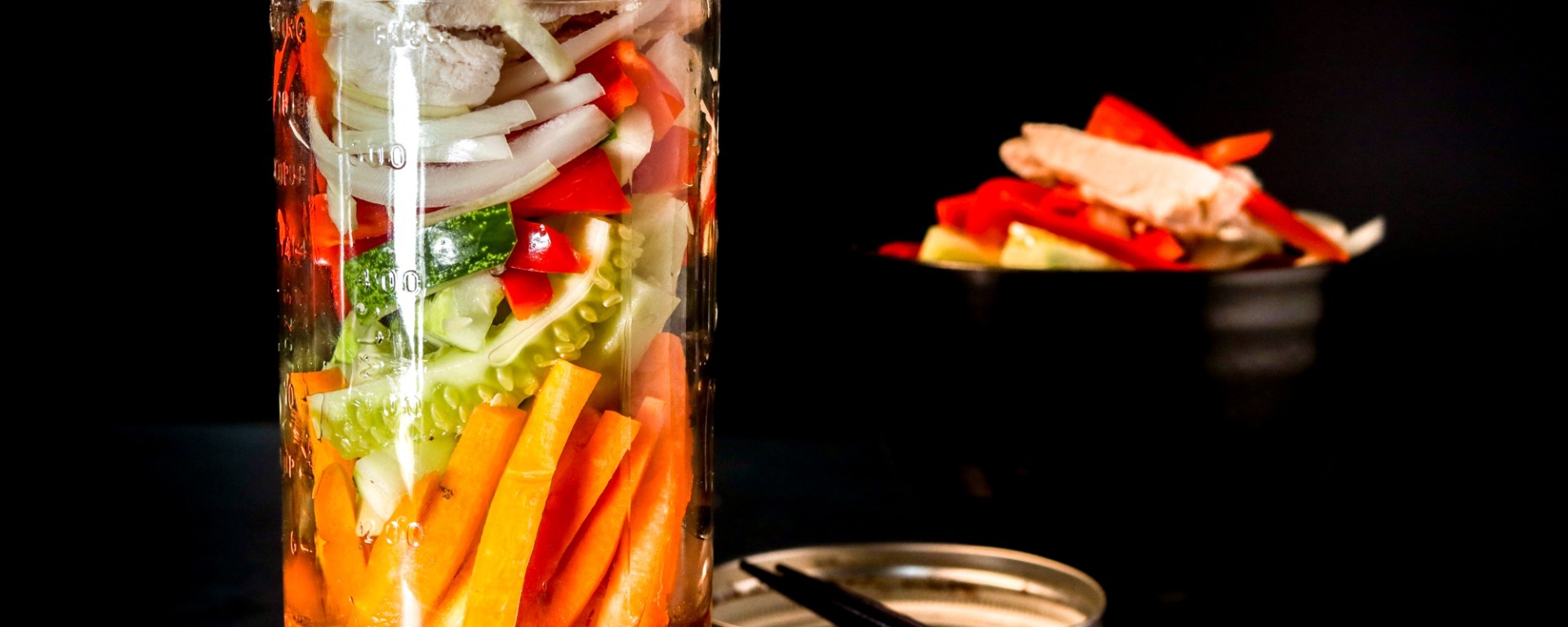 Mason Jar Asian Salad recipe shared by Nikki from MyNutriCounter.
Undoubtedly, Chinese culinary traditions are much older than those of the Roman Empire. Some archaeological findings suggest that even around 1850 BC the Chinese cooked foods in bronze pots very similar to the modern wok. The great philosopher Confucius who was an acknowledged gourmet besides, believed that the correct combination of sour, piquant, salty, bitter or sweet flavours should also be an integral part of a perfect life harmony.
Thereby the art of flavouring various types of dishes in this way is the distinct trait of Asian cuisine culture. The same should also be stated for the Chinese equivalent of a cold chicken salad, more commonly known as ban,which traditionally did not involve cooking veggies. They are dressed with honey, soy sauce, sesame oil and some spicy ingredients to combine all the five inherent tastes in one mix.
Mason Jar Asian Salad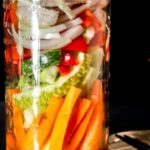 | Prep Time | Cook Time | Total Time |
| --- | --- | --- |
| 5 mins | 15 mins | 20 mins |
Ingredients:
Main
100g/3.5oz cucumber, chopped
100g/3.5ozcarrots, chopped
70g/2.5oz bell peppers, chopped
100g/3.5oz rotisserie chicken, sliced
For the Asian Dressing
10ml/0.33fl oz soy sauce (gluten-free option)
Directions:
Combine all ingredients for the dressing in a bowl. Whisk until emulsified.

Pour salad dressing into mason jars.

Arrange the vegetables into the jars, putting the toughest ones at the bottom. Lay the chicken on top. Cover and chill until ready to serve.

Shake jar to toss your salad.
Recipe Rating: 4 / 5




As Spring is fast approaching, we are pleased to present to you this easy-to-prepare Asian chicken salad. All of the veggies provide soluble fibres facilitating digestion and favouring the growth of healthy gut microflora. These beneficial bacteria supply many vitamins and boost immunity as well.
Phytochemicals from onions possess anticarcinogenic and antithrombotic properties thus lowering risks of cancer and high blood pressure. Both carrots and bell peppers are well recognized sources of carotenoids which not only give the essential vitamin A but also can reduce the risk of some types of cancer, and they also promote blood cell health.
The sesame oil contains a lot of linoleic acid which is an omega-6 type and when consumed in moderation can enhance immunity especially during the cold season.
Related posts: