Pan Fried Crumbed Surmai With Asparagus
January 2, 2018
Pan Fried Crumbed Surmai With Asparagus recipe shared by Ravi Kumar from India Food Network.
Here is a great and most delicious Pan-Fried Crumbed Surmai recipe to enjoy every single bite of it in this New Year. The crisp fried Surmai Fish recipe is a favourite with all age groups in India.
It's deliciously creamy and full of flavours that are perfect with Surmai Tawa Fry recipe and enjoy the first day of New Year.
Pan Fried Crumbed Surmai With Asparagus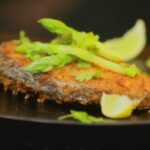 | Prep Time | Cook Time | Total Time |
| --- | --- | --- |
| | | |
Ingredients:
Panko Crumbs (Potato Flakes)
Directions:
Heat a pan and add butter to it.

Put the peeled asparagus and cook it in butter.

Remove it from the pan once it has cooked.

Pour oil in the same pan.

Take a mixing bowl and crack an egg into it.

Whisk it lightly and season it with salt and pepper.

Take a plate and put panko crumbs to it.

Season the panko flakes with salt and pepper and mix it well.

Take the fish fillets and dip them into the egg batter and dust it in panko.

Slide it into the pan and after about 3 minutes, flip the fish and cook it till it becomes golden brown.

Drain it in butter paper and plate it.
Recipe Rating: 4 / 5




Related posts: