Pistachio Pumpkin Cheesecake
November 17, 2015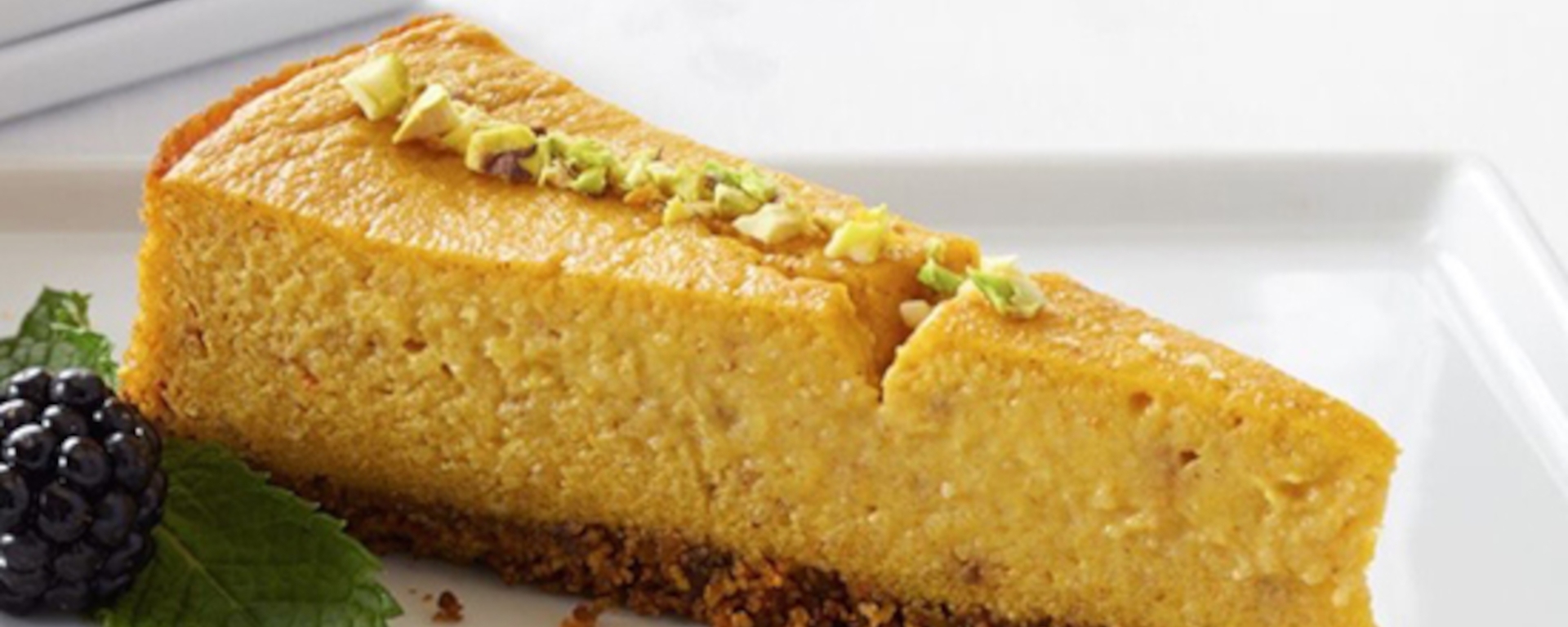 Pistachio Pumpkin Cheesecake recipe shared by Cheryl Forberg
I created this recipe to provide a healthier alternative to traditional pumpkin pie for the holidays. It's nearly half the calories and packed with nutrient-rich pistachios. It's my new holiday favorite – and my guests, too.
Pistachio Pumpkin Cheesecake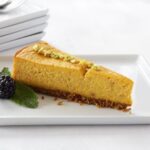 | Prep Time | Cook Time | Total Time |
| --- | --- | --- |
| 20 mins | 30 mins | 50 mins |
Ingredients:
For the Crust
1 1/2 cups (6.5 ounces) roasted unsalted pistachio kernels
1 tablespoon agave nectar
1 tablespoon pure vanilla extract
or the filling
1 3/4 cups (1 15-ounce can) plain pumpkin puree
8 ounces low fat cream cheese
1/4 cup plain nonfat Greek style yogurt
1/4 cup finely ground cornmeal
1 tablespoon vanilla extract
1 teaspoon ground cinnamon
1/2 teaspoon ground ginger
1/4 teaspoon ground cloves
Directions:
Main
Preheat oven to 350 degrees Fahrenheit
For Crust
In the bowl of a food processor, chop nuts to very fine meal. Transfer to a medium mixing bowl.

Mix in the agave and vanilla with a fork. The dough should be cohesive but not wet.

With a rubber spatula, pat dough into a nonstick 9-inch spring form pan.

Bake in preheated oven for about ten minutes, or until the edges just start to brown.

Remove from oven. Add 2 cups hot water to a round or square cake pan. Place pan on lower oven shelf*. **The steam will minimize cracking of the top of the cheesecake.
For the filling
In the bowl of a food processor or jar of a blender, combine all of the filling ingredients.

Process or blend just until smooth.
Preparation
Pour into crust.

Spread out evenly and place in oven on shelf above the cake pan and water. (The steam will help to minimize cracking of the cheesecake top).

Bake cheesecake for 30 to 40 minutes or until the filling is just set. Turn off oven.

Open oven door halfway and allow the cheesecake to cool in the oven. (This will also help to minimize cracking top.)

Remove cheesecake from the oven. Cover with plastic wrap and refrigerate for 4 hours before serving.
Recipe Rating: 4 / 5




An healthy alternative to pumpkin pie, at nearly half the calories per slice and packed with nutrient-rich pistachios.
Related posts: