Asian Marinade With Jack Daniel's Whiskey
May 27, 2013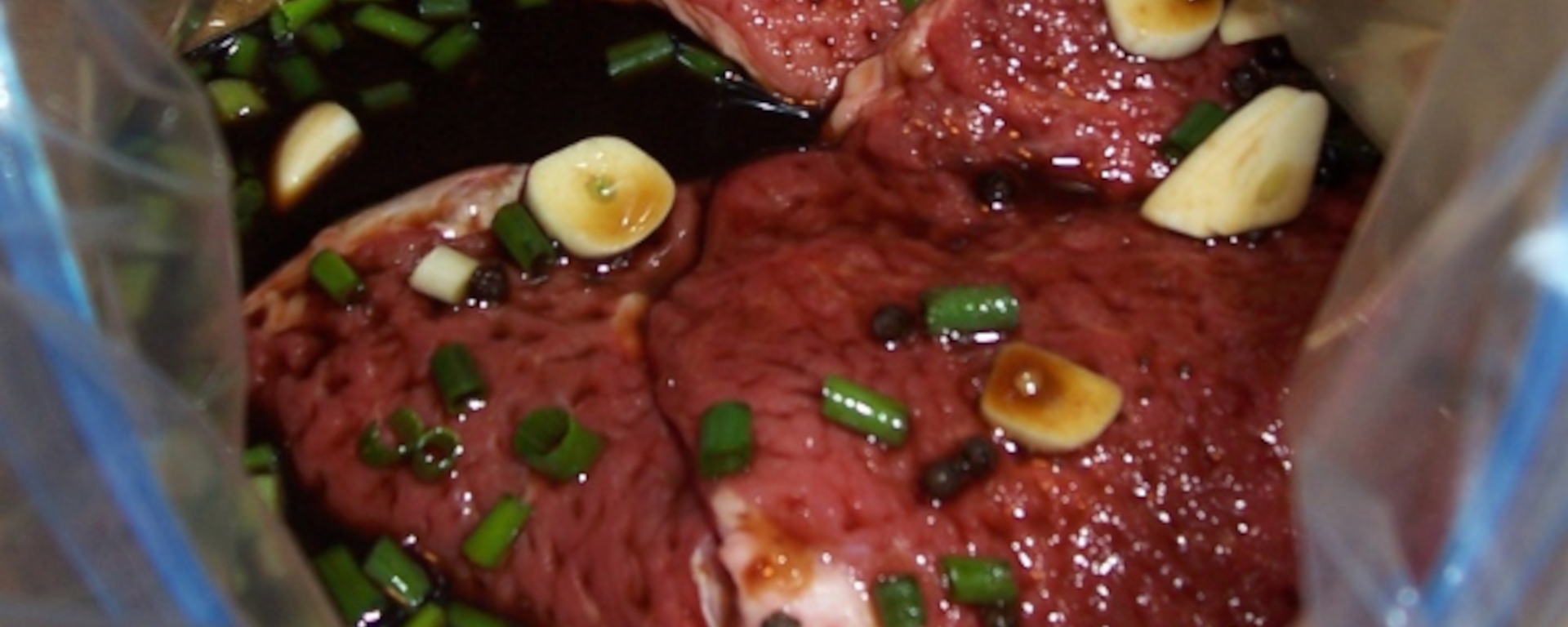 An Asian marinade is great with warmer weather on the way and with grills firing up. People will be welcoming in a new year of barbecue steaks, burgers, short ribs, and of course chicken.
Marinating your steak, or any meat for that matter, before cooking is a great way to infuse some extra flavor into an already great tasting piece of meat. This recipe is an Asian marinade with whiskey added. Typically you're going to find people who prefer one brand of whiskey over another and I'm no different in this area.
There's usually a bottle of Jack Daniel's "Old Number 7" hanging around in my humble little abode, so that's what I've used for this recipe. Feel free to replace the Jack Daniel's I've used here with your favorite whiskey (Jim Beam, Knob Creek, etc), as long as you keep in mind that your whiskey… is your tweak to this recipe and I can't vouch for how it'll taste. If you favor Jim over Jack… go for it!
I've tried several brands of whiskey for marinades and I've settled on Jack Daniel's as my own personal preference. I've also used lemon juice here because I believe the lemon works well with the Jack Daniel's Whiskey. The important thing was to add some citrus for some tenderizing effects. You could easily substitute in lime juice instead.
Remember to wait at least 2 hours before cooking your meat so that the flavor will take. I normally will let the meat sit overnight and usually use it the next day. The sesame oil is optional because some find it to be a bit strong and can be overwhelming depending on your favorite brand. This recipe works great for steaks, chicken strips, pork short ribs, or whatever your fond of grilling.
Asian Marinade With Jack Daniel's Whiskey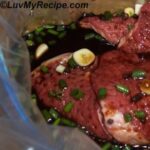 | Prep Time | Cook Time | Total Time |
| --- | --- | --- |
| 10 mins | 0 mins | 10 mins |
Ingredients:
1 Ounce (1 Shot) of Whiskey
1 Ounce (1 Shot) REAL Lemon Juice
1 Ounce (1 Shot) Soy Sauce
3-4 Cloves Sliced or Minced Garlic
3-4 Stalks of Chopped Green Onions (Scallions)
1 Tbsp Grated Ginger Root
1 Tbsp Whole Black Peppercorns
1 Tsp Sesame Oil (Optional)
1 Zip Lock Gallon Size Bag
Directions:
Place meat in the Zip Lock Bag.

Add Garlic, Scallions, Peppercorns and Ginger Root.

Pour in Whiskey, Lemon Juice, Soy Sauce, and Sesame Oil (optional).

Close bag while removing as much air from the bag as possible.

Massage bag to combine ingredients.

Set aside for at least 2 hours before cooking.

Grill or cook meat to preference.
Notes:This is an Asian Marinade with Whiskey and can be used with any meat or whiskey you choose.
Recipe Rating: 5 / 5





It's easy to make and it's a quick prep time. This recipe can be used to prepare any meat but this particular time around I used two steaks (recipe could be stretched of course). Tenderizing the meat with a food mallet prior to marinade will help the meat become tender and ready to absorb the flavor.
Related posts: