Chicken with Garlic-Mushroom White Wine Sauce
May 21, 2013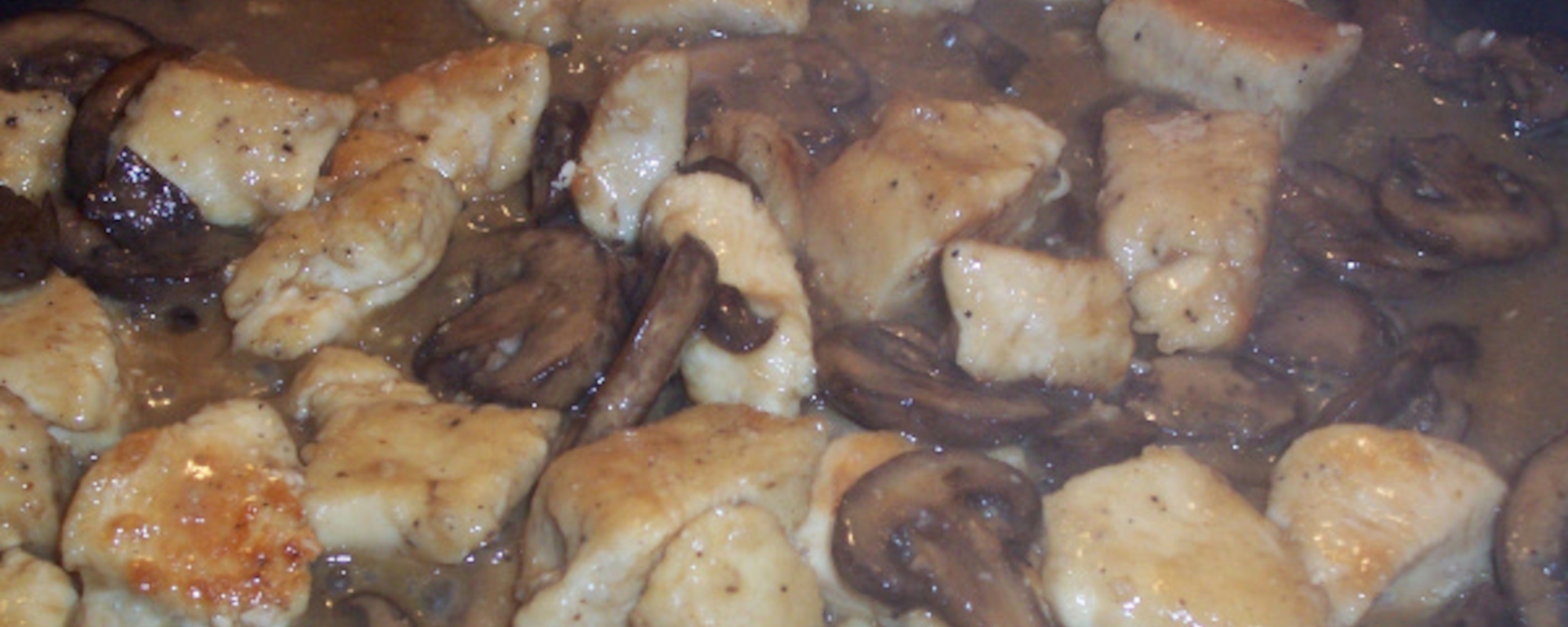 This recipe for chicken with garlic-mushroom white wine sauce is one of my favorites. It's so easy to make, and it's always a hit with my family. The chicken is cooked perfectly, and the mushrooms are tender and flavorful. The white wine sauce is rich and creamy, and it's the perfect complement to the chicken and mushrooms.
I usually serve this dish over egg noodles or pasta, but it's also great with rice. If you're feeling adventurous, you can add some fresh spinach to the dish during the last few minutes of cooking. The spinach will wilt down and add a nice touch of freshness to the dish.
Chicken with Garlic-Mushroom White Wine Sauce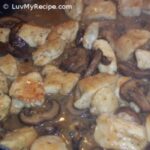 | Prep Time | Cook Time | Total Time |
| --- | --- | --- |
| 10 mins | 15 mins | 25 mins |
Ingredients:
1 6oz package Wide Egg Noodles or pasta or 1 cup rice
1 1/2 pounds Boneless Chicken Breasts
1/2 tsp freshly ground black pepper, divided
1 8oz package Sliced Mushrooms (baby cremini or cremini work well)
1 cup Chicken Stock or Broth
1 tsp Fresh Cilantro (1/2 tsp of dried)
Directions:
Cook egg noodles, pasta or rice following package directions. Drain and keep warm.

Combine 1 TBL flour, 1/4 tsp salt, 1/4 tsp pepper, 1 tsp garlic powder and 1/2 tsp onion powder in a small bowl, set aside.

Cut chicken into 1 inch pieces, place pieces in a bowl and sprinkle flour mixture over chicken, toss to coat.

Get a sheet of foil ready to place the chicken in after browning.

Heat a large skillet or dutch oven over med-high heat. Add 1 TBL Olive Oil to pan, swirl oil to coat pan.

Add chicken, cook for 2 minutes then turn to brown other side for 2 minutes.

Remove chicken to foil, close to seal and keep warm.

Add another TBL of olive oil to pan, swirl oil to coat pan.

Add mushrooms and minced garlic, cook for 4 - 5 minutes, stirring frequently. Mushrooms should be tender.

Add wine, cook one minute.

Add remaining TBL of flour, use wisk to blend into wine sauce. Cook one minute, stirring constantly.

Add stock, 1/4 tsp salt and pepper. Cook one minute, stirring frequently. Sauce should start to thicken slightly.

Add the chicken back to the pan, cover and simmer for two minutes. (If you want to add some fresh spinach, now is the time. A few handfuls of baby spinach should do.)

Uncover and cook for one more minute or until chicken is done.

Add fresh cilantro and noodles or pasta and stir for a minute until thoroughly heated. If serving with rice, I prefer to server over the rice.

Top each serving with a nice sprinkle of parmesan cheese.
Recipe Rating: 5 / 5





This recipe is a great weeknight meal that's quick and easy to make. It's also elegant enough to serve to guests. I highly recommend it!
Here are some additional tips for making chicken with garlic-mushroom white wine sauce:
Use a good quality white wine. The wine will add a lot of flavor to the sauce, so it's important to use a wine that you like.
Don't overcook the chicken. You want the chicken to be cooked through, but you don't want it to be dry.
If you're not a fan of mushrooms, you can substitute another vegetable, such as broccoli or asparagus.
If you don't have fresh cilantro, you can use dried cilantro. Just be sure to use less dried cilantro than you would fresh cilantro, as it is more potent.
I hope you enjoy this recipe as much as I do!
Related posts: