September 15, 2012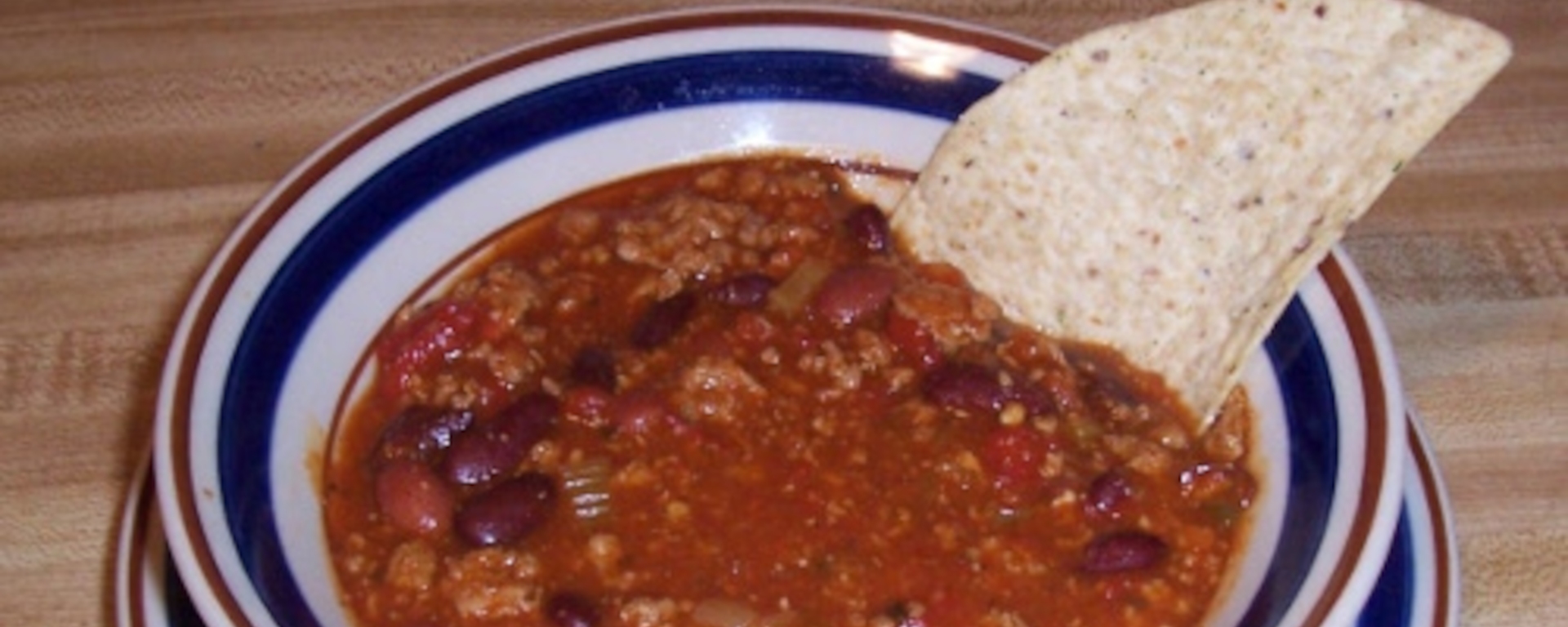 I've been making chili many different ways over the years, experimenting with all kinds of flavors and a few different meats.  I've finally come up with a Chili with Ground Turkey recipe that I love. 
This recipe is for slow cooking all day or at least all afternoon.  To keep the chili lean, I use ground turkey.  But if ground turkey isn't your thing, you can use whatever meat you like.  Hamburg, shredded chicken, ground chicken or venison also work well with this recipe.
The heat level in this recipe is moderately hot.  You can raise or lower the heat factor to your liking.  The main ingredients that contribute to the heat are the peppers both Jalapeno and the Scottish Bonnet (habanero) and the spices both Cayenne Pepper and Cumin.
Be sure to share any comments, tweaks or thoughts on chili.  Don't forget to give us credit if you win any chili cooking contests with our recipe.
Chili with Ground Turkey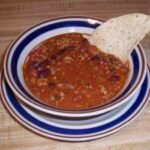 | Prep Time | Cook Time | Total Time |
| --- | --- | --- |
| 45 mins | 4 hours | 4 hours, 45 mins |
Ingredients:
Main
2 cans Petite Diced Tomatoes
2 - 2 1/2 pounds Ground Turkey
1 can Dark Red Kidney Beans (low sodium)
Chili Spices
1/2 tsp Ground Black Pepper
1/2 tsp Cayenne Pepper (heat)
Vegetables
2 Jalapeno Peppers (seeded and diced)
1 Scottish Bonnet Pepper (seeded and diced) **Very Hot**
Meat Spices
1/2 tsp Ground Black Pepper
Directions:
Set Crock Pot to High.

Add Water.

Add both cans Diced Tomatoes and Minced Garlic.

Mix in Chili seasonings - Taste - add more if needed. Keep seasonings out to add to Ground Turkey.

Cover Crock Pot.

Start chopping your veggies.

Begin with Celery, place on a paper plate.

Then dice 1 1/2 of Jalapeno Peppers and 1/2 Scottish Bonnet Pepper, add that to the celery.

Dice the 1/2 Jalapeno and Scottish Bonnet peppers left over and place on a seperate plate, you'll be adding these to the ground turkey.

Rinse cutting board and wash hands well.

Chop 1/2 the onion and add to the Celery/Pepper plate.

Chop the other 1/2 onion and add to the peppers plate.

Add the Celery, Peppers and Onions to the crock pot, stir well and cover.

Spray a large skillet with cooking spray, set heat on Medium and add the Ground Turkey.

Sprinkle Ground Turkey with meat spices and the peppers and onions you set aside for the meat.

Mix it all up, cover and cook for 10 minutes.

Remove cover, break meat up into small bits, mix around, cover and cook for 10 more minutes

Remove cover, mix around, keep uncovered and continue to cook until starting to brown.

Add both cans of beans (do not drain beans) to Crock Pot.

When meat starts to brown and juices are gone add to Crock pot, mix well and cover.

Cook on High for 1 hour then reduce to Low for remainder of cooking time. Minimum time on Low heat should be at least 3 hours, but the longer you cook on low, the more your flavors will mix and the yummier you chili will be.

About 20 minutes before you're ready to serve it's time to thicken up your chili.

Mix 4 TBL Cornstarch and 2 1/2 TBL cold water in a small bowl or measuring cup until all cornstarch is dissolved.

Add your cornstarch slurry to chili, mix well.

Cook for 20 more minutes and chili is ready to serve.

Top your bowl of Chili with some Cheddar Cheese and server with a side of Nacho Chips, Hot Dogs or Fries.
Notes:You should wear gloves whenever you work with any hot peppers.
Recipe Rating: 5 / 5





The fresh peppers are what will really bring the heat. To raise the heat, you may want to add a hotter pepper or an extra scottish bonnet. You could also increase the cayenne pepper or cumin. Only increase in small increments as these spices can pack quite a punch themselves.
To decrease the heat or for a sweeter heat, use red and green chili pepper and only one jalapeno. Or you could just cut the peppers down to one jalapeno and skip the scottish bonnet. You could also reduce the cayenne pepper or cumin by 1/4 tsp. Be creative, experiment with flavors you like and make the recipe your own.
Important – if you leave out the celery, cut down on your peppers. The celery helps to balance the heat of the peppers and when left out the peppers will become the dominant flavor and set your mouth on fire.
Related posts: