Spinach Berry Salad w/ Strawberry Vinaigrette
July 19, 2012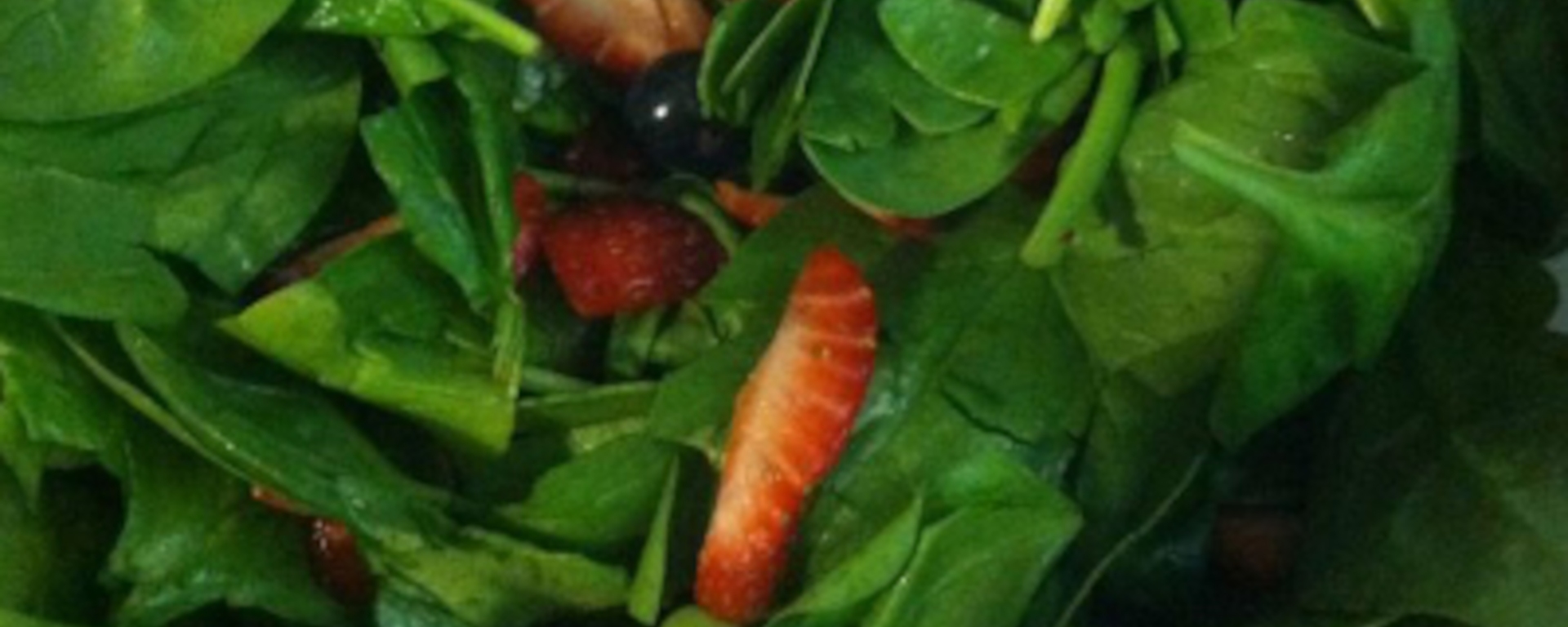 Summertime is a great time for trying different salads. Well anytime is really but lets face it. Salad is just better in the summer. It could have something to do with fresher produce. This Spinach Berry Salad w/ Strawberry Vinaigrette story is one of my faves.
Last summer, my sister and I tried an awesome strawberry spinach salad that our stepmother had tweaked to her liking. Her version was awesome and both my sister and I had continued to make it at home.
This summer, the family went out to eat and my niece ordered a Seasonal Berry Salad with a Strawberry Vinaigrette dressing.  She loved the strawberry vinaigrette.  So I told her we had to figure out what was in it so we both tasted the strawberry vinaigrette several times to pick out the different flavors in it.  We had a mission…. figure out what we needed to make this awesome dressing.
After talking about the flavors we could taste and looking up several different recipes for a strawberry vinaigrette, we had a general idea of what we needed. Then we went digging for ingredients. We had everything but strawberry jam, which is what most of the recipes used. But we did have strawberry preserves… we were on our way. Well we found out that preserves are not as sweet as jam, so we had to add more until we brought the flavor up. A little sugar brightened up the strawberry flavor then getting the balance of olive oil and balsamic vinegar just right and bingo, we had made our own Strawberry Vinaigrette.
Spinach Berry Salad w/ Strawberry Vinaigrette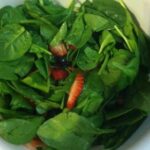 | Prep Time | Cook Time | Total Time |
| --- | --- | --- |
| 1 hour, 20 mins | 1 hour | 2 hours, 20 mins |
Ingredients:
Strawberry Vinaigrette
5 TBS Strawberry Preserves (or 3 TBS Strawberry Jam)
1/4 White Balsamic Vinegar
1/2 cup Extra Virgin Olive Oil
Spinach Berry Salad
10 - 12 Strawberries (cleaned and sliced)
1/4 cup Chopped Pecans or Almond Slivers
Directions:
Strawberry Vinaigrette (chill for one hour before using)
Whisk strawberry preserves, white balsamic vinegar and water together until the preserves have dissolved.

Whisk in sugar, salt and pepper until sugar is dissolved.

Taste, if you decide you need a bit more strawberry preserves, now is the time to add them.

They will not dissolve well once you add the oil.

Whisk in extra virgin olive oil until well blended.

You can leave the dressing in your mixing bowl or you can pour into a dressing cruet.

Place in fridge for one hour before using.

After an hour whisk dressing or shake in cruet.

Dress the salad with the strawberry vinaigrette or leave in cruet so everyone can dress their own salad.
Spinach Berry Salad
Clean and slice strawberries. Rinse blueberries.

Combine spinach, blueberries, strawberries and pecans or almonds in a large salad bowl.

Toss well. Salad is ready to serve.

IF you want to dress the salad with the strawberry vinaigrette, just add to salad and toss. Place salad in fridge for 10 minutes before serving.

OR If you want to serve the salad with the strawberry vinaigrette on the side, the salad is ready as soon as you are done tossing the ingredients together.
Notes:A refreshing, delicious spinach berry salad with strawberry vinaigrette dressing. Great in the summer or anytime.
Recipe Rating: 5 / 5





There are so many delicious simple salad dressing recipes out there that once you whip up a few, you start coming up with your own.  When you do start experimenting, be sure to measure and keep a pen and pad handy so you can jot down your recipe when it comes out awesome.
Related posts: