March 30, 2016
The ginger honey glaze is clearly the star of this recipe. The combination of the ginger, pineapple, honey and cloves from the ham in this recipe are exquisite. Start with making your ginger juice. I use 2 inches of ginger root cut into coins.
The amount of ginger depends on the size of the root itself of course but I like ginger and I use a lot of it.
You'll be reducing this down as well so expect it to become a more intense flavor. Something to keep in mind when you're judging the amount of ginger to use.
Ginger Honey Glaze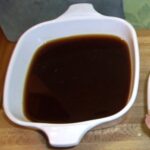 | Prep Time | Cook Time | Total Time |
| --- | --- | --- |
| 5 mins | 30 mins | 35 mins |
Directions:
Cut 2 inches of ginger root into coins.

Place in pan with water and cover.

Heat to a light simmer over medium heat for 15 minutes.

Remover cover from pan and increase heat to Medium-High.

Let boil gently for 10 - 15 minutes until liquid has visibly reduced.

Once reduced, remove from heat and let cool for 5 minutes. Strain juice into a measuring cup. You should have 1 cup of ginger juice.

Add pineapple juice and honey to the ginger juice. Mix until honey dissolves.

Pour half of the glaze over ham and reserve the other half for basting. Baste every 30 minutes until ham is done.
Notes:Score/mark the ginger root and just slice it thin until you reach your mark.  I use 3 cups of water and reduce it down to 1 cup. Generally I shoot for a reduction of half or more and this time it was 1 cup.
Recipe Rating: 5 / 5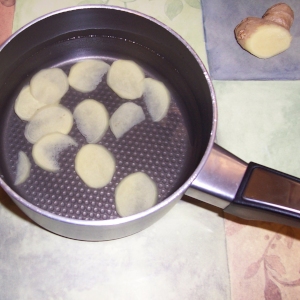 The ginger glaze ham recipe is a delicious and easy-to-make dish that is perfect for any occasion. The ginger, pineapple, honey, and cloves combine to create a unique and flavorful glaze that will make your ham the star of the show.
The recipe is simple to follow and can be prepared in advance, so you can relax and enjoy your guests without having to worry about cooking.
Related posts: