Ginger Honey Glazed Ham with Pineapple
March 30, 2016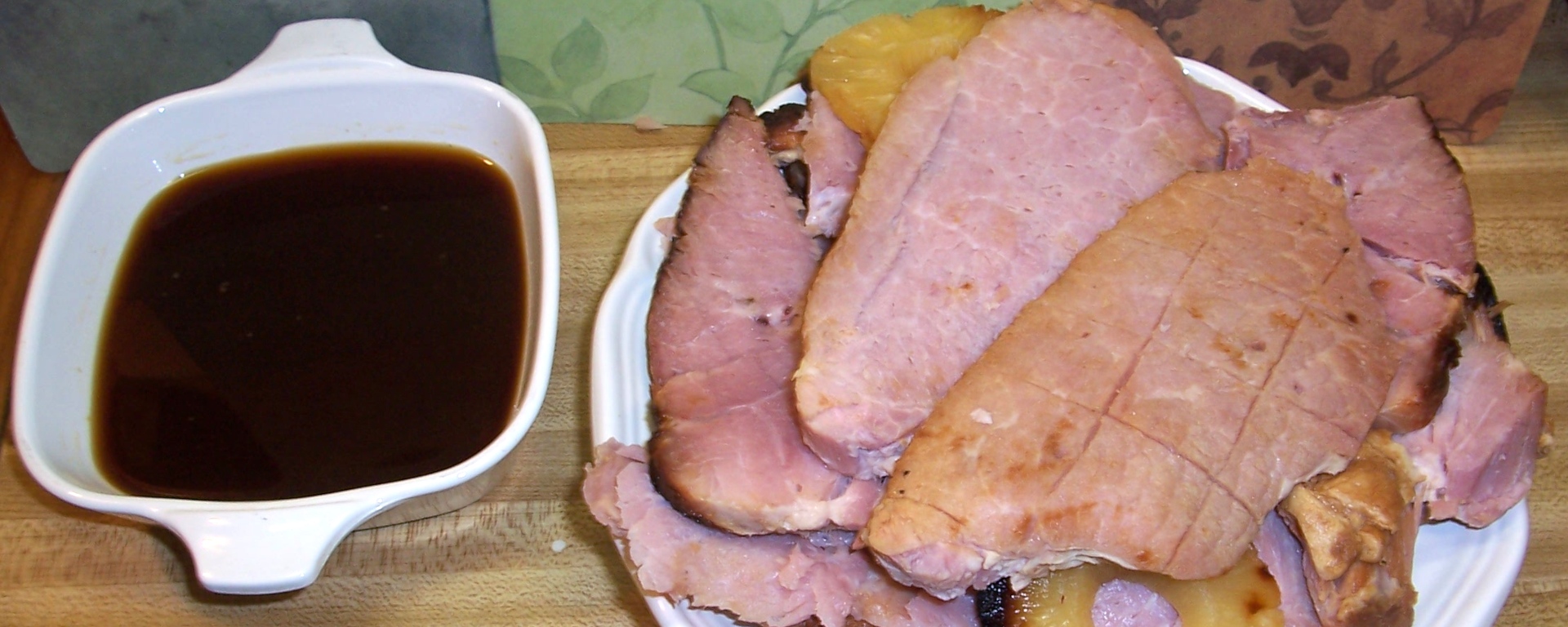 This Ginger Honey Glazed Ham with Pineapple recipe is done with a city ham. City hams are wet-cured, meaning they are either submerged in or injected with brine, and then perhaps smoked. They're sold fully-cooked for you to warm up at home. That's right, "warm up at home" because city hams are sold as already cooked. You can buy a fresh ham and cure it yourself of course (if you have the time), but my usual choice is something I can glaze or put a rub on and just warm the ham up.
Chances are if you're buying a spiral glazed ham and cooking it at home, then your used to buying a cooked ham yourself already whether you realize it or not.
A city ham is generally thought of as an every day ham; readily available and relatively inexpensive. City Hams are typically marked 'ready to cook', 'partially cooked' or 'ready to serve'. I look for a ham that's also labeled 'ham in natural juices', so I'm dealing with a clean slate for my ham.
Any flavorings that are in the ham likely will be lost when glazing it with our Ginger Honey Glaze so don't worry so much about the flavorings already there before you start to put your magic into the ham.
I add 1/2 cup of pineapple juice from the can of pineapple slices (packed in their own juices) that I'll be using on the outside of the ham when cooking. Tasting the ginger juice at this time will pack a punch but adding about 3 tbs of Honey smooths that right out. Glaze baste is ready.
Ginger Honey Glazed Ham with Pineapple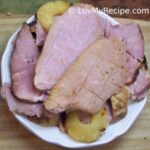 | Prep Time | Cook Time | Total Time |
| --- | --- | --- |
| 30 mins | 2 hours, 30 mins | 3 hours |
Ingredients:
Main
1 Ham (bone in "city ham")
Whole Cloves (approx 20 cloves)
Ginger Glaze
Ginger Root (approx 2 inches off the root, cut into coins)
Directions:
Rinse or quick brine your ham.

Cut into the ham (1/4 inch depth) in the formation of a grid pattern on the outside of the ham.

Stick cloves into intersections of your grid pattern.

Hang pineapple slices on cloves on the outside of the ham. Use toothpicks if necessary.

Poor half of the glaze over ham and save the remainder for basting.

Add 1 cup of water to bottom of pan.

Cook ham (foil tented) according to directions or until you have an internal temperature of 140 degrees

Baste your ham with the glaze every 30 minutes of cooking time.

Remove foil tent for the last 30 minutes of cooking time to crisp up outside of ham.

Remove ham from the oven and let rest with foil tent.

Strain pan juices and pour in a gravy dish.

Plate ham with glaze poured over ham or glaze on the side.

Enjoy!
Notes:This recipe assumes your ham is 10 lbs. My general rule of thumb is 15 minutes cooking time per pound. The important thing is the internal temperature. You're looking for 140-145 degrees internal temperature.
Recipe Rating: 5 / 5





As I've already got a "cooked" ham, this recipe is going to slant more toward what I'm adding to the ham and preparation rather than how to cook the ham itself.  Cooking city hams is simple. If you want to know how to cook your particular city ham, make sure to follow the directions for cooking time on the packaging of your ham.  My best advice here is that instead of cooking time, you should be monitoring the internal temperature of the ham.  Then pull the ham from the oven when it gets to your temperature and let it rest.  The ham will continue to cook slightly when resting.
Internal temperature on city hams via their directions will normally say pull the ham from the oven at 140 degrees internal temperature.  In my experience this will give you a drier ham; which is fine if you like your ham on the dryer side.  If you like your ham on the juicy side, then I pull the ham at 130-135 degrees.  Remember, the ham is in fact already cooked and the ham will continue to warm up and increase internal temperature while it's tented and resting anyway.
If you don't have a probe thermometer to check the ham, then my general rule of thumb for this type of ham is to go 15-18 minutes per pound at 325 degrees (IE: a 10 lb cooked ham, bone in, would go for a little over 2 1/2 hours). If you question the type of ham you have or if you're using this recipe for the ginger honey glaze only and are using a different ham, then visit the foodsafety.gov for your ham and cooking time.
I usually go with a city ham in natural juices (already brined) that way I can just do a simple brine or "rinse" on the ham. I can then prepare the ham the way I'd like without worrying about what was done to the ham before I got a hold of it.  After I rinsed the ham, I scored the outside in a grid pattern with a paring knife.  This allows for the ginger glaze to penetrate into the ham as you baste it.  Basting for me happens at a rate of every 30 minutes no matter the total cooking time.
Prepare and cook your ham. For my preparation, I put cloves into the intersections of the grid I cut into the ham earlier with a paring knife and I use these cloves as holders for the pineapple slices that are laid around the outside of the ham as the ham cooks. Basting the ham every 30 minutes is the schedule I use.
The ham is tented but I take the tent off as the ham comes to the end of it's cooking time. If my ham has 3 hours cooking time. The last half hour of my cooking time is un-tented. This will crisp up the outside of the ham and slightly thicken the glaze you've been carefully cultivating slowly over the course of a few hours.
Drain juice from pan, strain, and let sit for 5 minutes. Skim the fat or use a fat separator to remove the excess fat that will collect at the top of your juice. Serve juice on the side or poor slightly on ham. Enjoy !
Related posts: