Spiced Pork Chops with Sautéed Apples
November 26, 2012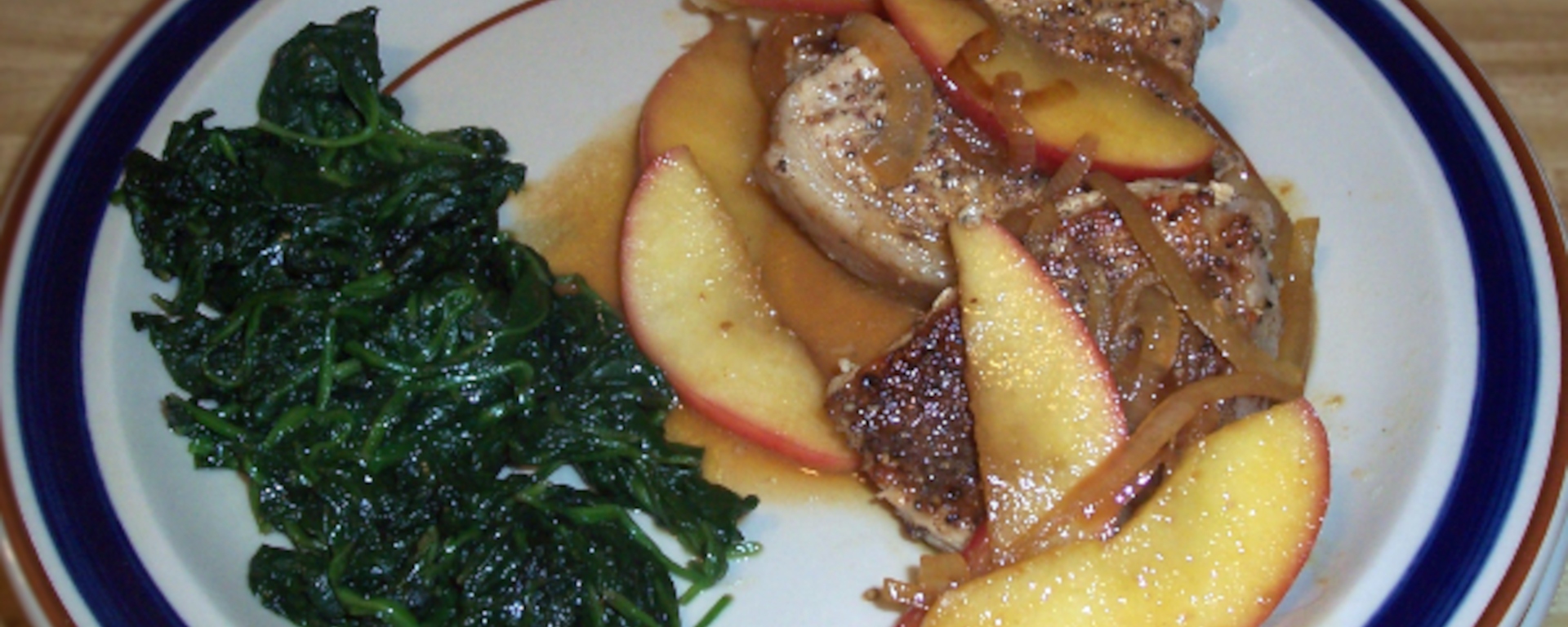 Recipes come from all kinds of places. This Spiced Pork Chops with Sautéed Apples recipe is a good example. I will decide I want to make something then research recipes and come up with my own recipes based on several different versions of the recipe.  It is very rare that I find recipes that I hardly have to tweak or not at all. I recently had the chance to look through the Cooking Light November 2012 Best Recipes issue and decided I had to have this issue.
This recipe is barely tweaked, which is one of the reasons I'm posting it to show that you can adjust any recipe to what you have on hand.  The other is just OMG this is soooo good, I can't not share it and it's relatively quick and easy to make.
The tweaks I made were to use two pounds of pork chops instead of one pound pork tenderloin, reduce the salt in the recipe, double the spice rub because I was using more pork and increase the cook time slightly.  Plus I forgot the thyme, but I will add it next time.
Give it a try, post your comments and don't forget to rate the recipe.
Spiced Pork Chops with Sautéed Apples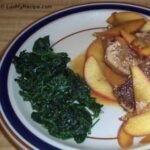 | Prep Time | Cook Time | Total Time |
| --- | --- | --- |
| 15 mins | 15 mins | 30 mins |
Ingredients:
Main
2 pounds thick Pork Chops (boneless, cut in half)
1 teaspoon Extra Virgin Olive Oil
Spice Rub
1/2 teaspoon Ground Coriander
1/2 teaspoon Fresh Ground Black Pepper
Apple / Onion Side
1 Gala Apple (sliced thin)
1/4 cup Shallots or Sweet Onion (sliced thin)
1 teaspoon Fresh Thyme Leaves
Directions:
In a small bowl mix your spice rub - 1/8 tsp sea salt, ground coriander, black pepper, cinnamon and nutmeg.

Cut pork chops in half, spread out on cutting board and lightly cover with spice rub. Rub the spices in, flip pork chops over and cover with spice rub and rub in. (You can do this the morning, wrap well and place in fridge or right before cooking.)

Heat olive oil in a large skillet on Medium-High heat.

Add pork chops to pan, cook 4 1/2 - 5 minutes on each side or until cooked through.

While pork chops are cooking, slice apple and shallot.

Place cooked pork chops on a plate and wrap with foil.

Melt butter in pan, swirl to coat the pan and mix in drippings.

Add sliced shallots, apple slices and 1/8 teaspoon salt to the pan.

Cook 4 - 5 minutes, stirring occasionally until apples start to brown.

Add apple cider, cook 2 - 3 minutes until apple slices are crisp tender.

Stir in thyme leaves and server with the pork chops.
Recipe Rating: 5 / 5





I hope you enjoy this recipe for Spiced Grilled Pork Chops! It's one of my favorites, and I'm always happy to share it with others.
I love how versatile this recipe is. You can adjust the spice rub to your own taste, and you can use any type of pork chop that you like. I've made it with boneless, bone-in, and even thick-cut chops, and they've all been delicious.
The key to this recipe is to not overcook the pork chops. You want them to be cooked through, but you don't want them to be dry. I usually cook them for about 4-5 minutes per side, but you may need to adjust the cooking time depending on the thickness of your chops.
I also like to serve these pork chops with a simple side dish, like roasted vegetables or rice. They're also great on their own with a side of your favorite dipping sauce.
I hope you enjoy this recipe as much as I do!
Here are some additional tips for making Spiced Grilled Pork Chops:
Use a good quality pork chop. The leaner the chop, the better.
Let the pork chops rest for a few minutes before serving. This will allow the juices to redistribute throughout the meat, resulting in a more tender and flavorful chop.
I hope you enjoy this recipe!
Related posts: