November 1, 2012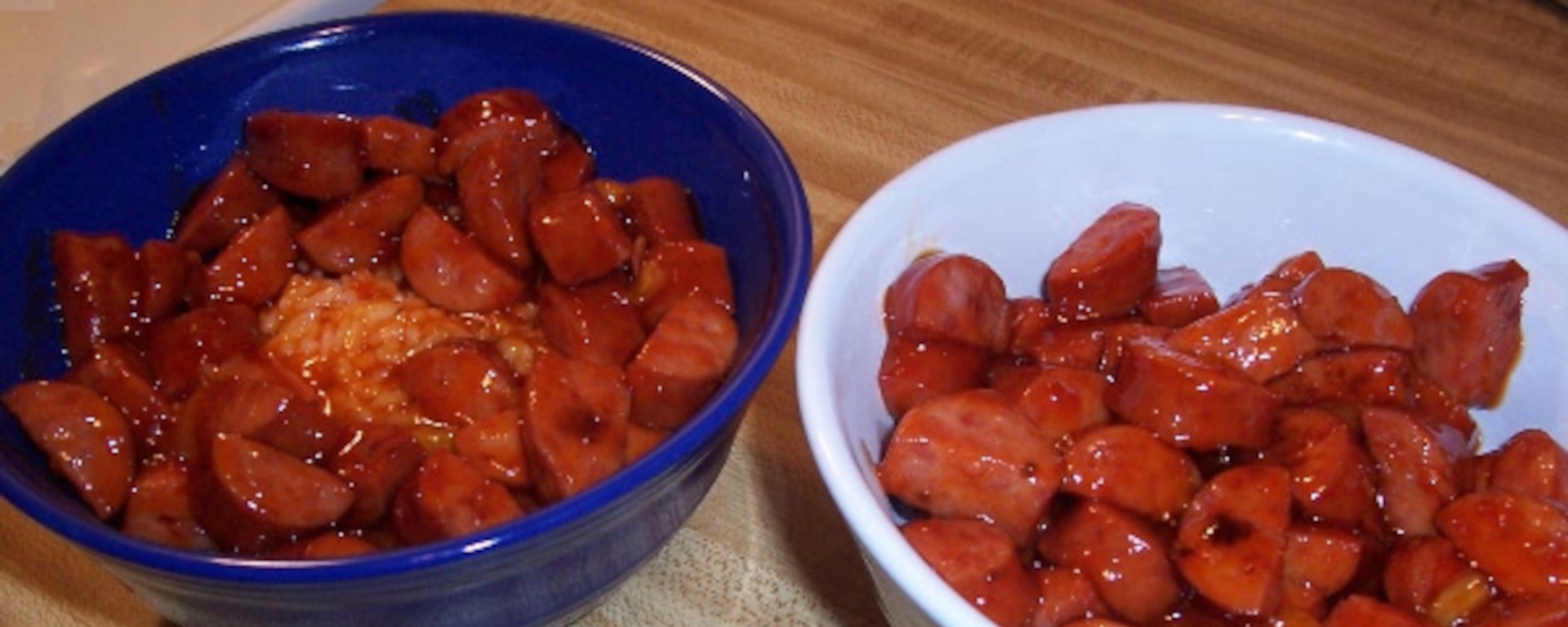 I know, I know…. Sweet and Sour Kielbasa? who really thinks of kielbasa when they think sweet and sour? My sister did and what an awesome idea!
One day I was hanging out at my sister's house and she asked if I would be staying for dinner. I said sure, what's for dinner? She said she would be making Sweet and Sour Kielbasa with rice for dinner. I was kind of like hmmm that's different.   I'm not a big sweet and sour fan and while I love kielbasa it did not sound like something that is meant to go together. But hey, I love to try everything at least once.
So I said what the heck. Well I was quite surprised at how yummy this was and quickly added it to my quick and easy meals list. That's the best part, it's super easy to make and quick.
This is one of the few recipes that I haven't really tweaked because it just works so well. You can use more or less pineapples. Yes, I said pineapples…. what is sweet and sour without a little pineapple? Really, if you haven't tried sweet and sour kielbasa, you are missing out.
Sweet and Sour Kielbasa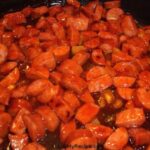 | Prep Time | Cook Time | Total Time |
| --- | --- | --- |
| 10 mins | 20 mins | 30 mins |
Ingredients:
2 lbs Turkey or Polish Kielbasa
1 jar La Choy Sweet and Sour Sauce
2 Bags Boil-a-Bag Jasmine or White Rice
Directions:
For this to come together quick, you need to get everything going at once.

Get your water ready for the rice, add a pinch of salt to water and turn burner on to low heat.

Spray a large frying pan with cooking spray, warm your pan on medium heat.

Cut the kielbasa up. You can slice it how you like. (I normally will cut the kielbasa into a few large pieces, split down the middle and slice half slices.)
Add kielbasa to heated fry pan.

Add kielbasa to heated fry pan.

Turn burner on rice water to high to bring to a boil.

Keep tossing the kielbasa around the fry pan. You just want a light browning on the kielbasa

Kielbasa should be done browning when rice water has come to a boil. Reduce heat to low

Drop your two bags of rice into boiling water and set timer according to box directions

Add sweet and sour sauce and crushed pineapple to kielbasa. You'll also want to add a tiny amount of water to sweet and sour jar and swish around slightly to get any sauce you may have missed. Add to pan, stir well and cover

When rice is done, turn off kielbasa, drain rice bags then cut open and pour into a bowl. Fluff with fork, add a little salt and pepper, stir

Place rice in serving bowls and smother with sweet and sour kielbasa and enjoy!
Recipe Rating: 5 / 5





We absolutely enjoyed my sister's sweet and sour kielbasa! I know it's not a traditional combination, but it really works. The sweetness of the pineapple and the sweet tanginess of the sauce can be on the sweet side, but it does balance because the kielbasa adds a nice savory touch.
The recipe is easy and quick to make. That's one of the things I love about this too. It's perfect for a weeknight meal when you're short on time (as we normally are).
If you're looking for a little more variation, you can try adding different vegetables to the dish. I like to add some chopped carrots, celery, and onions. You could also try using different types of kielbasa, such as smoked kielbasa or Polish sausage.
No matter how you make it, I'm sure you'll enjoy sweet and sour kielbasa. It's a delicious and easy-to-make dish that everyone will love.
Here are some additional tips for making sweet and sour kielbasa:
Use a good quality pineapple. The canned pineapple is fine, but if you can find fresh pineapple, it will really elevate the dish.
Don't overcook the kielbasa. You want it to be cooked through, but you don't want it to be dry.
Serve the sweet and sour kielbasa with rice or noodles. It's also delicious on a bun with some sauerkraut.
Related posts: