White New England Clam Chowder Recipe
October 30, 2012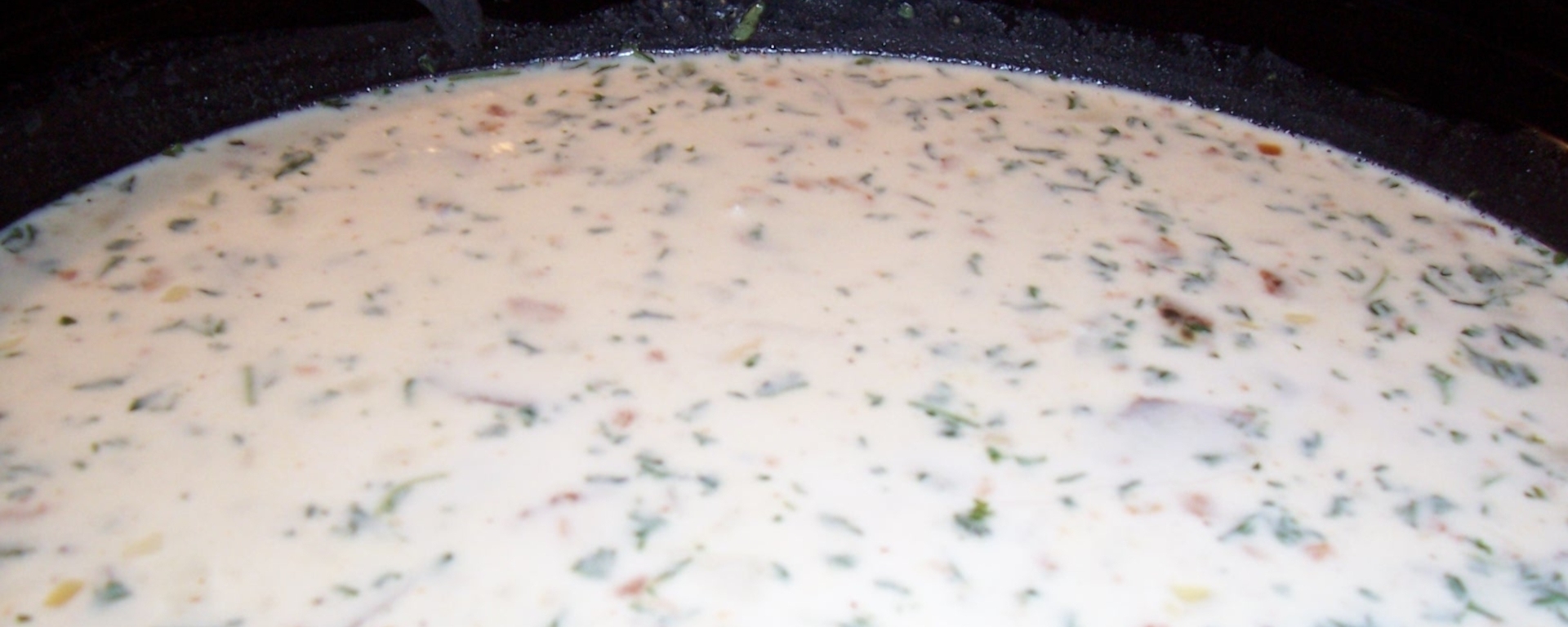 It is my wholehearted belief that every New England cook should have at least one White New England Clam Chowder Recipe in their repertoire, recipe box, notebook, or what have you. Forgetting how easy it is to make or even how 'hassle free' the cooking is in a slow cooker over the course of the day; the bottom line is this… cooks, chefs, and even 'Iron Chefs' alike, should pride themselves in their regional recipes.
Take Louisiana Gumbo, Southern Fried Chicken, or even South Western Quesadillas as examples. If you live in Louisiana, you better know at least one gumbo Recipe. That's all I'm saying. New Englanders, in my opinion, should be no different when carrying the torch for our regional New England recipes, and White Clam Chowder is an excellent place to start. With that in mind, I'm going to give you a good place to start (my version of it of course). I am a New Englander, and who better to learn from?
This (my version) white New England clam chowder recipe is done in a slow cooker, so if you don't have one, you should get one. I absolutely love slow cookers. Their ease of use and the ability to just prep something and leave it to cook while you're going about your day gives a no maintenance kinda feel and is very well received in my world. No maintenance… no hovering over the meal, and plenty of leftovers. If you don't have a slow cooker, then a good sized stock pot will do or even a good sized dutch oven. This recipe will make a gallon and a half of White New England Clam Chowder. It's made in a 6 quart slow cooker, so you'll need at least a stock pot or dutch oven that will hold 6 quarts.
You'll find this recipe very easy to tweak to your liking. Instead of canned clams, you can use 1 quart of shucked clams with the liquid (that kind of thing).
White New England Clam Chowder Recipe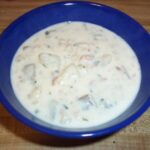 | Prep Time | Cook Time | Total Time |
| --- | --- | --- |
| 30 mins | 6 hours | 6 hours, 30 mins |
Ingredients:
Clams - 4-6 cans chopped clams
1 large onion chopped small
Salt, and Pepper to taste
Directions:
To Start, you're going to boil the chopped potatoes BEFORE they become tender because they'll continue to cook in the chowda. If you feel this will be a QUICK chowda for you, go the extra 5 minutes here to make sure they are just becoming tender.

In another pot, bring your clams and clam juice to a boil. Reduce heat and let simmer (approx 15 minutes).

In another pan (at least 2 quart) you're going to melt the butter and saute the onions until they become translucent. Stir in the flour and keep on low heat for a 2-3 minutes. Yes... you are making a roux.

Slowly stir the hot clams and clam juice into your roux (flour mixture). Slowly bring to a boil and let stand on low while you put everything in the slow cooker.

Add cooked potatoes to slow cooker. Pour clam stock over potatoes. Add (bacon, optional), dill weed, salt and pepper, and then add your half and half. Give an initial SLOW stir to mix the ingredients, cover and cook on low for the day. Faster times can be achieved by bumping it up to high, but then to warm when done.

Cooking it slow over the course of the day gives a nice creamy texture and a full flavor to the chowda. If you can go all day (at least 6 hours?), it's well worth the effort. Stir occasionally, but initially wait 2 hours if you're using a slow cooker..
Recipe Rating: 5 / 5





This recipe works and tastes just fine in a stock pot instead of a slow cooker for faster times, but you'll sacrifice the rich flavor you get by slow cooking ingredients together over the course of the day. You could of course just cook it slow and low on the stove as well in the absence of a slow cooker. It doesn't matter what you use to cook it with because essentially you're just mixing the ingredients together and heating them. Everything is already cooked, and you're now trying to marry those flavors. If you're going to go the stove route, I usually go 20 minutes on medium to medium high heat. Make sure not to boil, but a few bubbles will usually creep in. This 20 minute cooking time usually makes sure the red potatoes are 'right' to my liking.
What you have to remember about potatoes is that the longer they cook, the more starch you may see making it's way into the chowda, which in turn will thicken the longer it's cooked. More so on the russets.. but any potato really. That's not something you'll see with a four to five hour cook time but if you're the type of person that likes to get everything ready the night before and simply turn the slow cooker on low before you go to work in the morning, only to return 10-12 hours later; you might find the chowda start to thicken when you get home. I usually will add more half and half to bring the chowda back to a good consistency.
Related posts: