Buttery CHA! Steamed Mussels with Grilled Bread
June 4, 2014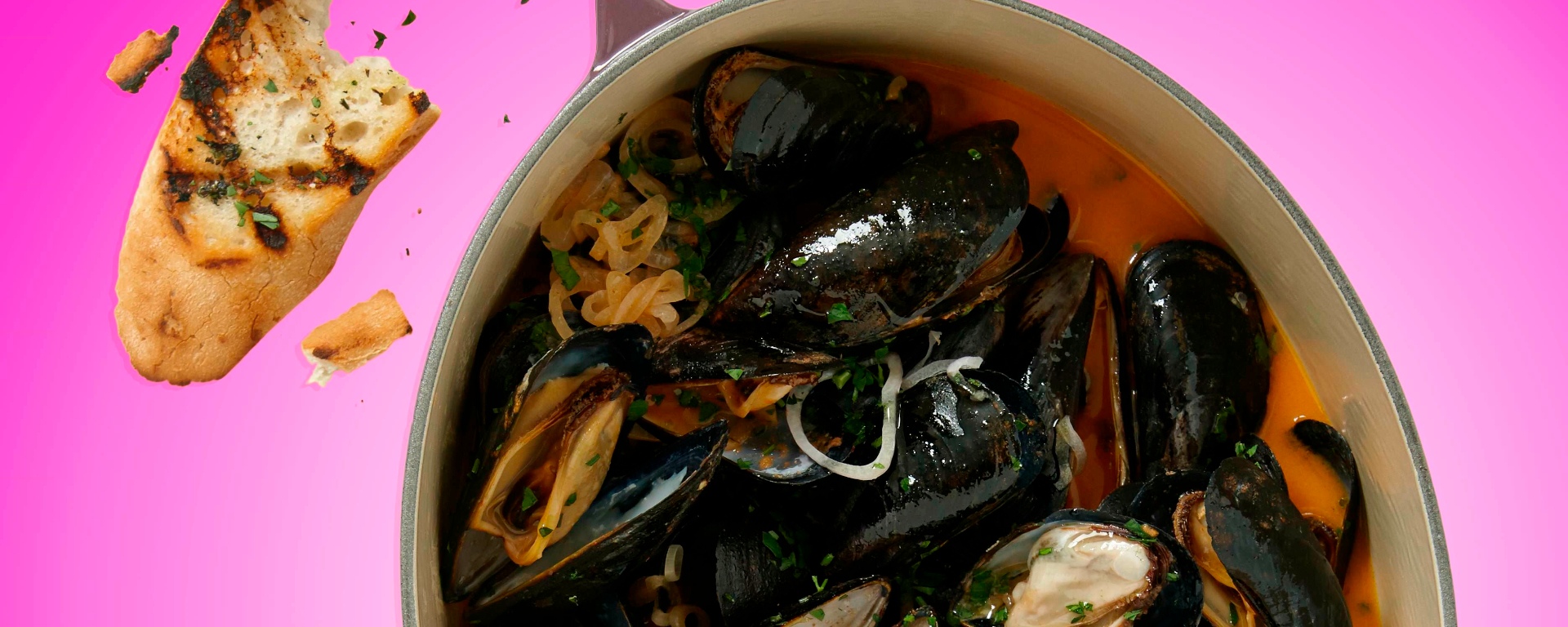 Sabrina from CHA! by Texas Pete® shares this recipe for Buttery CHA! Steamed Mussels with Grilled Bread.
Buttery CHA! Steamed Mussels with Grilled Bread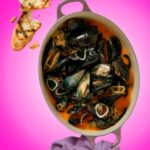 | Prep Time | Cook Time | Total Time |
| --- | --- | --- |
| 20 mins | 3 mins | 23 mins |
Ingredients:
Mussels
4 lbs Mussels, cleaned, beards removed
4 Shallots, sliced into thin rings
1/4 cup CHA! By Texas Pete®
3 TBS Parsley, fresh, rough chopped
3 TBS Chives, fresh, minced
3 TBS Tarragon, fresh, rough chopped
Bread
1 -16 oz. Baguette, sliced ½ inch thick on bias
Directions:
Start by cleaning the mussels well with a wet rag and remove the beards from the hinge of the shell.

Place a large pot with a tight fitting lid on the stove top and turn on high heat.

Add the olive oil and the sliced shallots and cook on high heat for 1-2 minutes.

Next, add the mussels to the pan and cook for 1 more minute on high heat until you can hear the bottom of the pan sizzling. Add the Dijon mustard, CHA! By Texas Pete®, white wine, butter and a pinch of salt and pepper all at the same time. Place the lid on the pan and allow the mussels to steam for approximately 2-3 minutes. Once the mussels begin to open up, remove the lid from the pan and allow the sauce to reduce and thicken by half with the mussels in the pan.

While the mussels are cooking, prepare the toasted bread.

Preheat the broiler in the oven.

Slice the baguette into ½ inch thick slices on a bias and drizzle with olive oil. Place the bread on a sheet tray and place it under the broiler to toast until golden brown and crispy. Remove the bread from the oven.

When the sauce for the mussels has thickened and reduced by half, remove and add the fresh chopped parsley, chives, and tarragon.

Arrange the steamed mussels into a large serving bowl. Pour the sauce over the mussels and serve with the toasted bread dipping.
Recipe Rating: 4 / 5




A skillet loaded with fresh steamed mussels smothered in a spicy white wine butter sauce flavored with CHA! By Texas Pete®, fresh squeezed lemon, Dijon mustard and lots of fresh herbs, served with toasted bread for dipping.
Related posts: