Chings Chicken Hakka Chowmein
July 19, 2017
Chicken Hakka Chowmein recipe shared by Rahul Upadhyay from Ching's Secret.
Chings Chicken Hakka Chowmein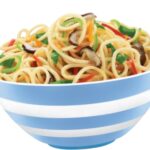 | Prep Time | Cook Time | Total Time |
| --- | --- | --- |
| 10 mins | 5 mins | 15 mins |
Ingredients:
Ching's Secret Egg Hakka Noodles
2 tbsp Ching's Veg Chowmien Masala
1 Boneless Chicken breast (boiled & shredded)
1 cup Chopped Vegetables (carrot, mushroom, cabbage, capsicum & onion)
Directions:
Cooking instruction for Noodles:
Boil 10 cups of water in a large pan, let the water bubble.

Drop the noodles and boil for only 2-3 minutes. The noodles are cooked Al Dente ( Al Dente means partially cooking the noodles or leaving it slightly 'kachcha' )

Drain the noodles & wash under running water. Spread on a flat surface & toss in 1tsp oil to prevent sticking & proceed with your chosen dish
Method:
Cook the noodles as per above instructions

Heat oil in frying pan, add chicken shred & stir-fry for 1 minute. Add all the vegetables & stir-fry for another 1 minute.

Add noodles, Ching's Secret Chowmein Masala & sprinkle 1-2 tsp of water.

Mix well and stir-fry for 3-4 minutes. Adjust salt, garnish wish spring onion and serve hot!
Recipe Rating: 4 / 5




Related posts: