DIY Licorice Allsort Slice
August 26, 2014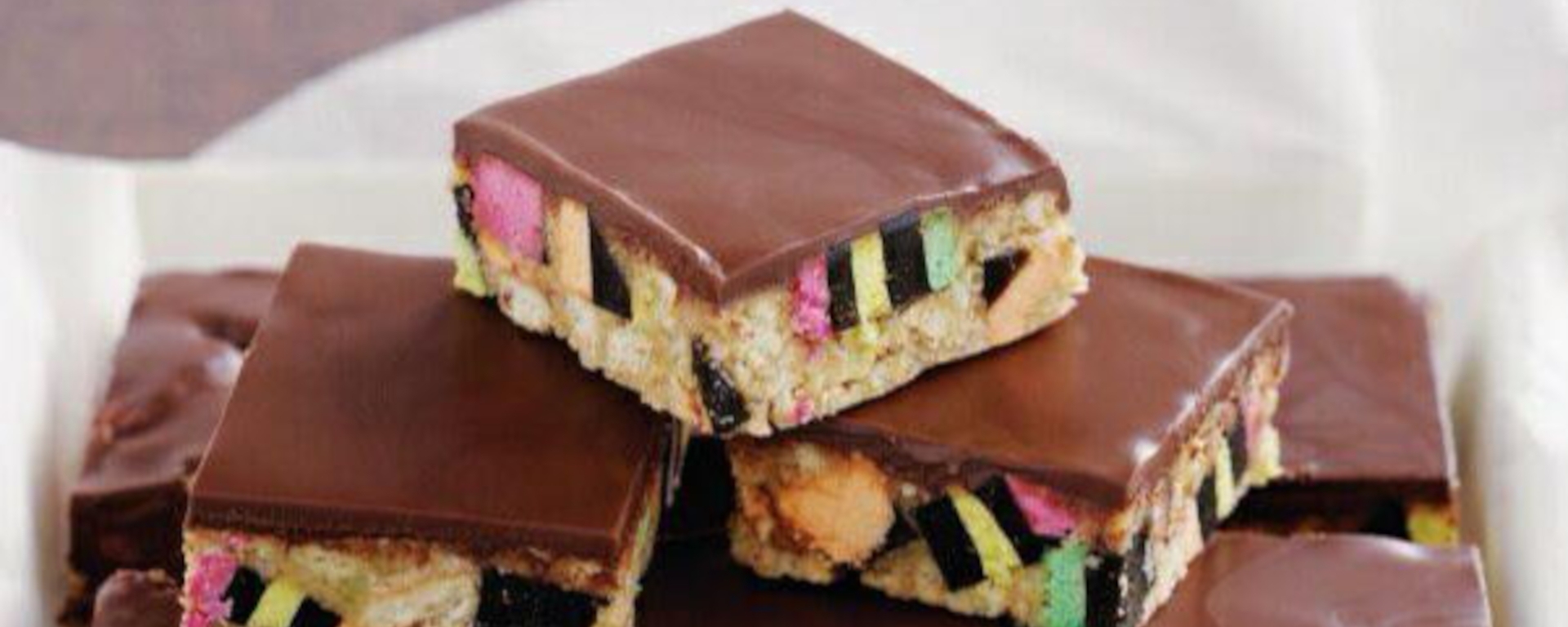 This recipe for DIY Licorice Allsort Slice is provided by Sophie.  Sophie is a blogger, she's also a contributor for news section at Big Lolly.
DIY Licorice Allsort Slice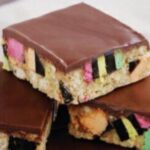 | Prep Time | Cook Time | Total Time |
| --- | --- | --- |
| 1 hour, 30 mins | 5 mins | 1 hour, 35 min |
Ingredients:
125g (9 TBL) butter, chopped
160ml (2/3 cup) sweetened condensed milk
1 Tablespoon golden syrup
1 x 250g pkt plain sweet biscuits (such as Marie), crushed
45g (1/2 cup) desiccated coconut
1 x 375g pkt licorice allsorts, coarsely chopped
200g (1 1/2 cups) dark cooking chocolate, chopped
30g (2 TBL) copha or coconut oil
Directions:
Step 1: Brush a 19 x 29cm (base measurement) lamington pan with melted butter to lightly grease. Line the base and sides with non-stick baking paper, allowing it to overhang slightly.

Step 2: Combine the butter, condensed milk and golden syrup in a medium saucepan over low heat. Cook, stirring, for 5 minutes or until butter melts and mixture is smooth. Transfer to a large heatproof bowl. Add the biscuits, coconut and licorice allsorts and stir until just combined. Press the mixture into the base of the prepared pan and set aside for 30 minutes to set.

Step 3: Place the chocolate and copha in a heatproof bowl over a saucepan half-filled with simmering water (make sure the bowl doesn't touch the water). Use a metal spoon to stir over low heat until chocolate melts and mixture is smooth. Pour the chocolate mixture over the slice in the pan. Place in the fridge for 1 hour to set. Cut into squares to serve.
Recipe Rating: 4 / 5




Surrounded by candies, she became a fan of colorful sweets and cookies.  Sophie spends a lot of time in kitchen, exploring new recipes. She also enjoy decorating food and home.   At the end of the day, she loves to sit down, write and share her everyday experience.
Related posts: