May 5, 2018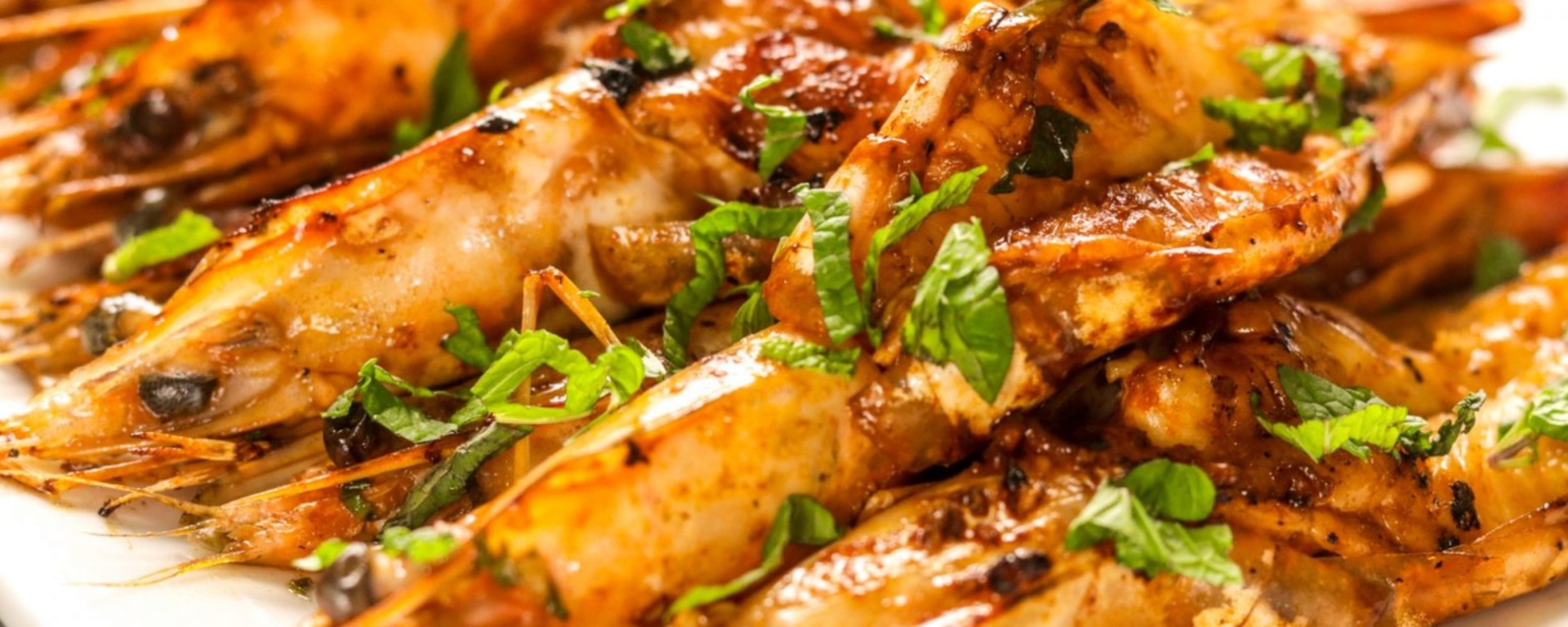 Garlic Sriracha Prawns recipe shared by Nikki from MyNutriCounter.
Traditionally most Thai people didn't rely on the cooking of strangers enjoying homemade meals in the bosom of their families. But in the second half of 20th century things started to change when the rapid urbanization marked the awesome rise of ready-to-eat street foods. The latter relies on an amazingly rich local aquaculture of the overrunning rivers and shore waters of Thailand, the true Land of Smiles. So our grilled prawns recipe is a tasty delicious piece taken directly from the Thai street food culture.
This abundant snack actually uses the French technique of tossing the prawns into a marinade then cooking to give the spicy caramel crispy crust enveloping the tender prawn meat. It comes as no surprise that since the 19th century Thailand neighbored the French-ruled Laos, Cambodia and Vietnam.
And of course Thais couldn't imagine the ubiquitous dish without the iconic Sriracha hot chilli sauce. The sauce won worldwide popularity thanks to David Tran and his Huy Fong Foods, the company named by him after the boat on which he emigrated to the US in 1980.
Garlic Sriracha Prawns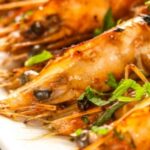 | Prep Time | Cook Time | Total Time |
| --- | --- | --- |
| 20 mins | 5 mins | 25 mins |
Ingredients:
Main
500g/17.5oz prawns, butterflied and deveined
Marinade
20g/0.75oz garlic, minced
15ml/0.5fl oz soy sauce (Gluten-free option)
15ml/0.5fl oz lemon juice
7g/0.25oz mint leaves, chopped
Directions:
Combine all ingredients for the marinade in a bowl. Mix well.

Toss in the prawns and leave to marinate in the chiller for 15 minutes.

Grill the prawns for 2-3 minutes, basting with the marinade.
Recipe Rating: 4 / 5




Prawns are one of the most popular seafoods in coastal diets worldwide. Their lipid profile has unique anti-aging, anti-tumor and anti-inflammatory properties due to the high content of essential omega-3 fatty acids (DHA and EPA), carotenoids and antioxidants. Prawn's meat is rich in a highly-digestible protein and minerals like calcium and iron.
The latter nutrients are necessary for bone strength and blood oxygen transport respectively. Our recipe contains quite a lot of garlic though don't worry about the specific alliaceous breath, as it will be eliminated by the lemon juice. Rather focus on its ability to prevent cardiovascular diseases, protect your liver, stabilize blood sugar level and enhance overall stamina.
Don't forget about the mint, an aromatic herb that has been used by folk medicine for centuries. Indeed there is a reason, as recent studies suggest, that mint exhibits strong neuroprotective, anti-inflammatory and anti-microbial properties.
Related posts: