How to make Persian ice cream at home
February 3, 2016
Bastani Tehran Persian Ice Cream recipe shared by Shahin from BastaniTehran.
Everyone loves ice cream, it's one of the most popular desserts in the world. In the West we tend to stick to the basic flavours like chocolate, vanilla and strawberry, or if we're feeling a little more indulgent then Haagen-Dazs and Ben & Jerry's offer some added luxury. But what if I told you one of the earliest ice cream recipes is actually one of the most exotic?
Today we're going to be making Persian ice cream (Bastani in Farsi), and if you've never tried it you're in for a treat! Its creamy base, infused with saffron spice and rose water is unlike anything you've ever tasted. The traditional recipe can be a little time consuming however, so we're going to skip the hours of churning and jump right in with some pre-made vanilla from the store. Here's what you'll need …
How to make Persian ice cream at home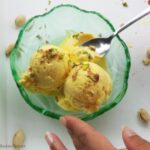 | Prep Time | Cook Time | Total Time |
| --- | --- | --- |
| 4 hours | 0 mins | 8 hours |
Ingredients:
Main
Large Tub of Vanilla Ice Cream
Utensils
Large Wooden Spoon or Whisk
Directions:
Line a small dish with plastic wrap and pour 2 tablespoons of cream so it's evenly spread across the dish. Freeze for 2 to 3 hours. You may wish to do this the night before to save time. This will be added later as a topping for an extra burst of creaminess.

Empty the full tub of vanilla ice cream in to a large bowl and allow it to melt for 10 to 15 minutes so it's easy to mix with other ingredients. Be careful not to let it melt completely as it might refreeze with water crystals and we want it to be as creamy as possible.

Boil some water in a kettle and pour half a cup. Add a quarter teaspoon of granulated saffron and stir until it mostly dissolves, leaving a lovely deep yellow dye. If you have larger pieces of saffron you can use the back of a teaspoon to grind it down before adding it to the water.

Let it brew for 1 to 2 minutes and then pour it in to the bowl with the ice cream. Mix thoroughly so the ice cream turns and even yellow colour throughout, giving it that distinctive bastani tinge

Next add half a cup of rose water and continue to mix thoroughly. This will produce a wonderful light floral flavour that's particularly refreshing on a hot summers day.

Depending on you and your guests' personal preference you may wish to add the pistachio nuts now so they are infused throughout the ice cream, or you can add them later as a topping

To ensure that everything is well mixed you may wish to use a whisk or hand blender, but a large wooden spoon is fine if you put in some elbow grease. The traditional recipe is all made by hand, so a little stirring wont hurt!

Cover the bowl or empty the contents in to a plastic tub and put it in the freezer for 6 hours so it's frozen throughout.

When ready to severe crack the frozen pouring cream in to small flakes and sprinkle evenly on top. (You'll be surprised how satisfying it is to crack!) Next you can add your pistachios if you didn't mix them in earlier. For added flavour and effect you can sprinkle some saffron on top as well.

Serve with two crispy waffles / wafers for a traditional "ice cream sandwich" (Bastani Nooni), and sit back and watch as your guests' taste buds are tantalized.
Notes:8 hours approximate time is 4 hours to prep and 4 hours to freeze through. This is a consistency choice. The longer you leave it in.. the harder it will get. Thought needs to be given to how much ice cream you make as well.. more Ice Cream means longer waiting time for your preferred consistency.
Recipe Rating: 4 / 5




There you have it, Persian ice cream made the easy way with all the same exotic flavors found in Iran. Perfect for dinner parties, snacks or a refreshing summer treat!
Related posts: