November 29, 2017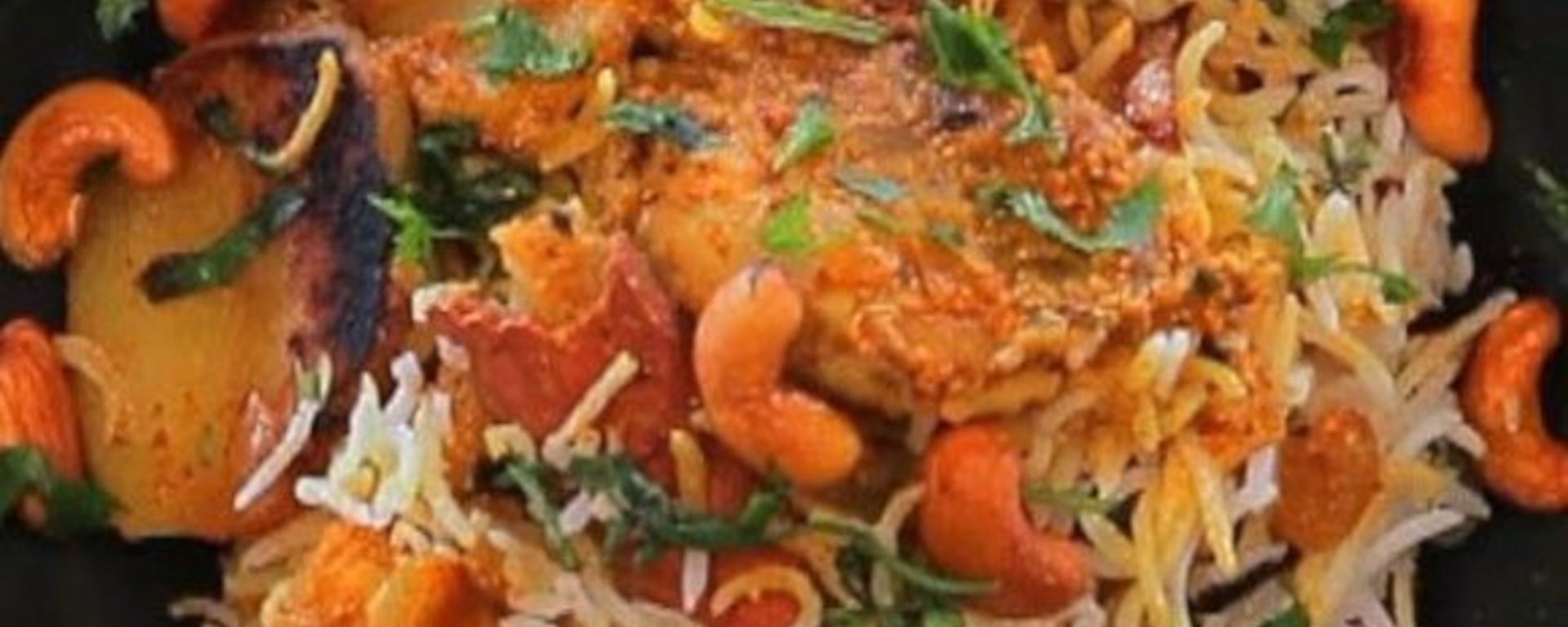 Kolhapur Chicken Biryani recipe shared by Ravi Kumar from India Food Network.
In Kolhapur Chicken Biryani recipe, the marinated chicken is cooked in spicy, tasty Kolhapur masala prepared.  The combination of fresh coconut, onions, and tomatoes along with spices makes the masala unique and gives a great taste to the dish.
Kolhapur Chicken Biryani, is a great Marathi style Chicken Biryani recipe.
Kolhapur Chicken Biryani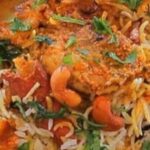 | Prep Time | Cook Time | Total Time |
| --- | --- | --- |
| 30 mins | 30 mins | 1 hour |
Ingredients:
For Rice
For Grounded Paste
For Gravy
1 tsp ginger garlic paste
For Biryani
Directions:
In a blender, add 1/2 cup sago, 1 tsp coriander seeds, 1 tsp cumin seeds, 2 cinnamon sticks, 1 tsp black pepper, 8-10 cloves, 2 star anise, 4-5 red chillies and very little water. Grind it and keep aside.

In a bowl, take 1 cup rice and add 2 cups water. Keep aside to soak for 30 mins.

Once soaked, parboil the rice and keep aside.

Heat a pan, add 2 tbsp oil, 2 bay leaves, 5-6 green cardamoms, 1 cinnamon stick, 1 tsp ginger garlic paste and 1 cup onion chopped, stir for a few mins.

Add 2 tsp chilli powder, 2 tsp turmeric powder and 1 cup curd. Mix well and add 250 gms chicken, cook for 5-7 mins then add the grounded paste and cook for 5 mins. Add salt to taste and 1/2 cup water. Cover and cook for 15-20 mins.

Heat another pan, add 2 tbsp oil, 2 potatoes slices, cooked chicken gravy, parboiled rice, 1 cup saffron soaked in milk, 2 tbsp ghee, 1/4th cup fried onions, coriander leaves, mint leaves, 10 gms cashew nuts, 10 gms raisins and 10 gms almonds. Cover and cook for 15 mins.

Biryani is ready to serve.
Recipe Rating: 4 / 5




Related posts: