Mexican-Style Breakfast Sandwich
December 27, 2015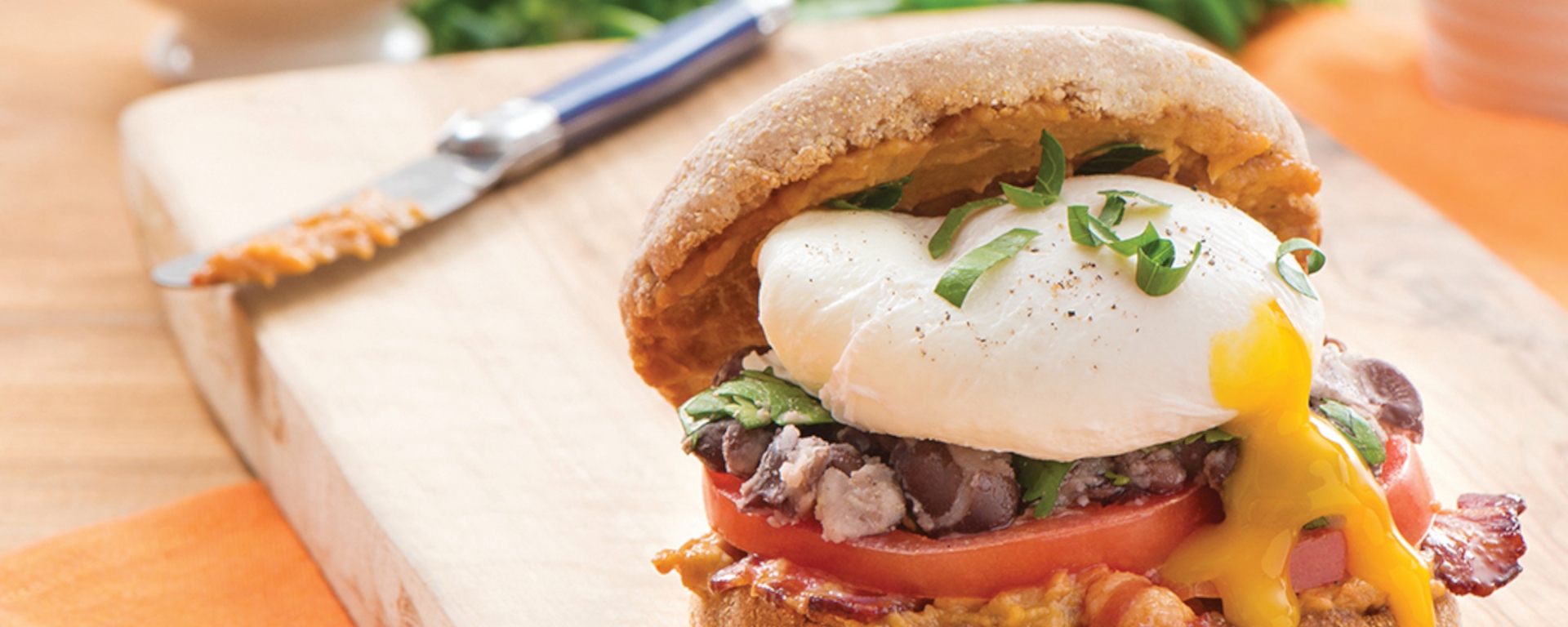 Mexican-Style Breakfast Sandwich recipe shared by Alena Pedra from Peanut Bureau of Canada.
I first had this delicious sandwich at a quaint brunch spot that serves up your favourite breakfast items but with a twist. When I tried this sandwich, bursting with Mexican flavours, oozing with a freshly cracked sunny side up egg and an interesting salty/sweetness from the peanut butter I knew it was something I needed to recreate.
Mexican-Style Breakfast Sandwich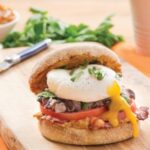 | Prep Time | Cook Time | Total Time |
| --- | --- | --- |
| 10 mins | 5 mins | 15 mins |
Ingredients:
1 tsp (5 ml) white or cider vinegar (optional)
1/3 cup (75 mL) canned black beans, drained or rinsed
Pinch each cumin and salt
3 tbsp (45 ml) coriander, coarsely chopped and divided
3 tbsp (45 ml) peanut butter
2 tbsp (30 ml) mayonnaise
1 tbsp (15 ml) canned adobo peppers in adobo sauce, chopped
2 whole wheat English muffins
2 slices crisp cooked bacon, broken in half (optional)
2 to 4 thin tomato slices
Directions:
Bring a medium pot of water and vinegar to a simmer (vinegar helps the eggs to set). Meanwhile, in a medium bowl, use a fork to coarsely mash the beans with lime juice, cumin and salt. Stir in half the coriander. In a small bowl, stir peanut butter with mayonnaise and adobo peppers.

Crack one egg into a small ramekin or bowl. Slide egg into simmering water. Repeat with the second egg. Simmer for 3 minutes. While eggs are cooking, split and toast English muffins. Remove eggs, one at a time, using a slotted spoon. Pat dry with paper towel and set on a plate.

Spread both sides of English muffins with peanut butter mixture. Top base with bacon if using, then tomato slices, dollops of black bean mash, egg and coriander. Finish with tops of English muffins to form 2 sandwiches.
Notes:Swap out the poached egg for a fried or scrambled egg, if preferred.
Recipe Rating: 4 / 5




Start your morning with these deliciously messy, all-out breakfast sandwiches inspired by traditional Mexican flavours. Meat eaters can kick this sandwich up a notch by adding bacon – a salty and savoury combination with the peanut butter. Serve with hot sauce to add some heat.
Related posts: