Mixed Curry Flavoured Rice with Coconut Milk, Spinach, Chicken
October 3, 2015
Mixed Curry Flavoured Rice recipe shared by Shubho Dutta from YouTube's Cook with Shubho.
An island from Laos is an inspiration for this appetizing rice dish where I met a resort owner, spent a day with her and understood the recipes of how this mixed curry flavoured rice works. It is a really delicious dish with exotic flavours and hot spices that make it a hit.
Mixed Curry Flavoured Rice with Coconut Milk, Spinach, Chicken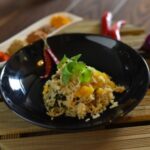 | Prep Time | Cook Time | Total Time |
| --- | --- | --- |
| 8 mins | 20 mins | 28 mins |
Ingredients:
Thai red curry paste (or green curry)
Any vegetables (paprika, courgette or something else)
Directions:
Finely chop the onions and about 6 cloves of garlic.

Finely chop the ginger as well.

Put about 3 TBS of oil in a hot pan.

Put 2 1/2 tsp of Thai curry paste and chilli flakes in pan.

After about 2 minutes, add the ginger and garlic.

After 1 minute of frying, add the onions as well.

Chop the paprika and mix it in as well.

Stir it nicely and then take it off the gas.

Chop the chicken into really fine pieces.

Take some oil in a hot pan and put in the chicken.

Add some grounded pepper to it.

Cover it and fry it for about 5 minutes.

Add some spinach in as well. Cook for 2 minutes.

Add cooked rice into the pan. Add the vegetables.

Add half a can of coconut milk and 1/2 tsp of salt.

Add 1 tsp of sugar and mix it well.

Cook for about 5 minutes as you stir and mix it.

Put down the heat and take it off the gas.

Serve it with a garnishing of coriander leaves.
Recipe Rating: 4 / 5




The best thing about this dish is it that you don't need a lot of things. You can add whatever your fridge has – vegetables, prawns, fish, or whatever you want. Just add all the ingredients, mix the rice and you are ready to feast on this awesome dish.
Related posts: