October 3, 2017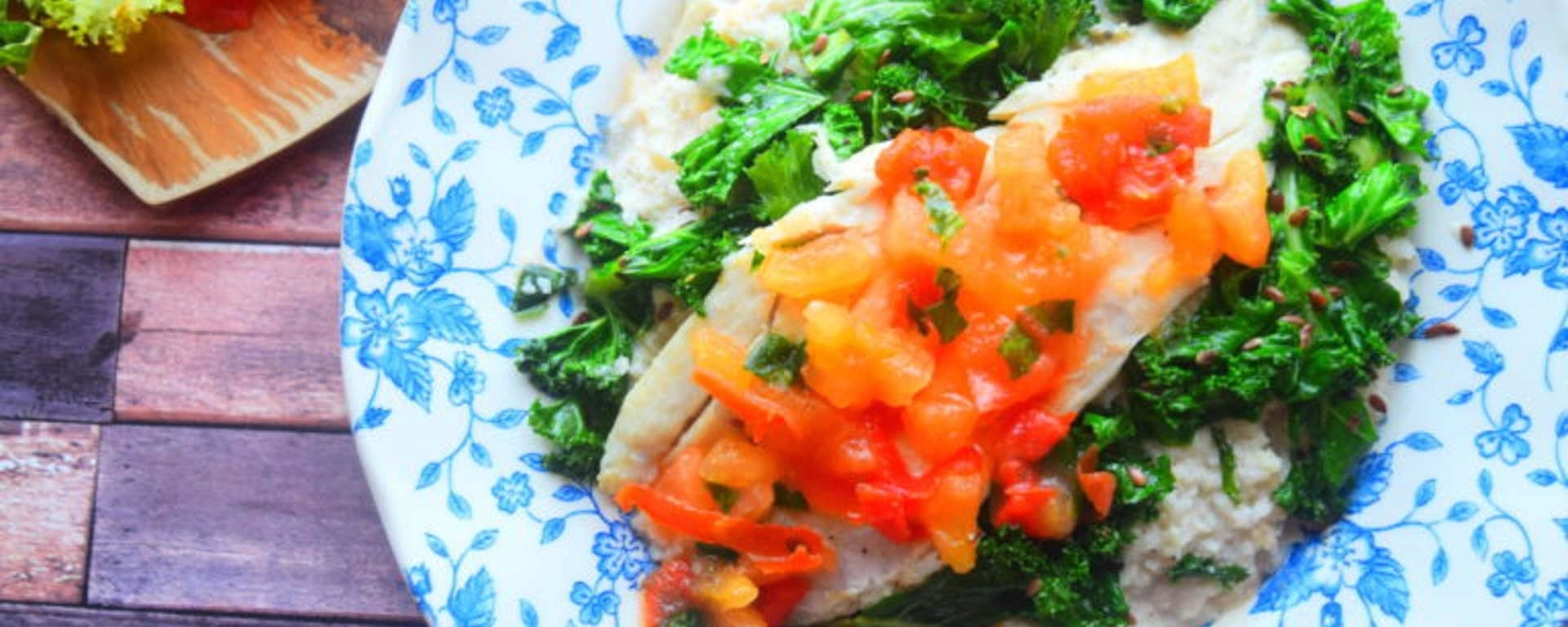 Pan-Fried Sea Bass recipe shared by Nikki.
Pan frying is such an easy and delicious way of cooking sea bass and it only takes 5 minutes to make too. We've served this recipe with our tasty and nutritious cauliflower mash.
This recipe makes a great healthy main and is super nutritious too – you can't go wrong.
Pan-Fried Sea Bass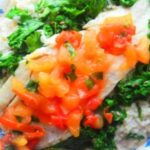 | Prep Time | Cook Time | Total Time |
| --- | --- | --- |
| 15 mins | 15 mins | 30 mins |
Ingredients:
15ml/0.5fl oz coconut oil
2 tsp. linseed (flaxseed)
Directions:
Place the tomatoes in a pan of boiling water and leave for 1 minute (until the skin starts to peel off), then remove the skins. Chop the tomatoes in half and de-seed, then chop into small chunks. Also take the skin and chop this into small strips too.

Wilt the kale in a frying pan for 1-2 mins with the linseed (flaxseed).

Gently fry the sea bass fillets for approximately 2 mins on each side (until cooked and turning golden), then place on top of the kale.

Mix together the lemon juice, coconut oil, shredded basil and chopped tomatoes/tomato skins, then place on top of the sea bass filets.

Plate up and serve with the cauliflower mash!
Recipe Rating: 4 / 5




I hope you enjoyed this recipe and learned how to pan fry sea bass in a simple and tasty way. This dish is perfect for a quick and satisfying dinner that is also low in carbs and high in protein and healthy fats. The cauliflower mash is a great alternative to potatoes and adds more fiber and vitamins to your meal. The tomato and basil sauce adds a burst of freshness and flavor to the fish, while the kale and linseed provide some extra greens and omega-3s. This is a well-balanced and nutritious dish that you can make in no time.
If you liked this recipe, please share it with your friends and family, or leave a comment below. I would love to hear your feedback and suggestions for future recipes. Thank you for reading and happy cooking!
Related posts: