Spicy Potato and Leek Filo Pie
February 17, 2017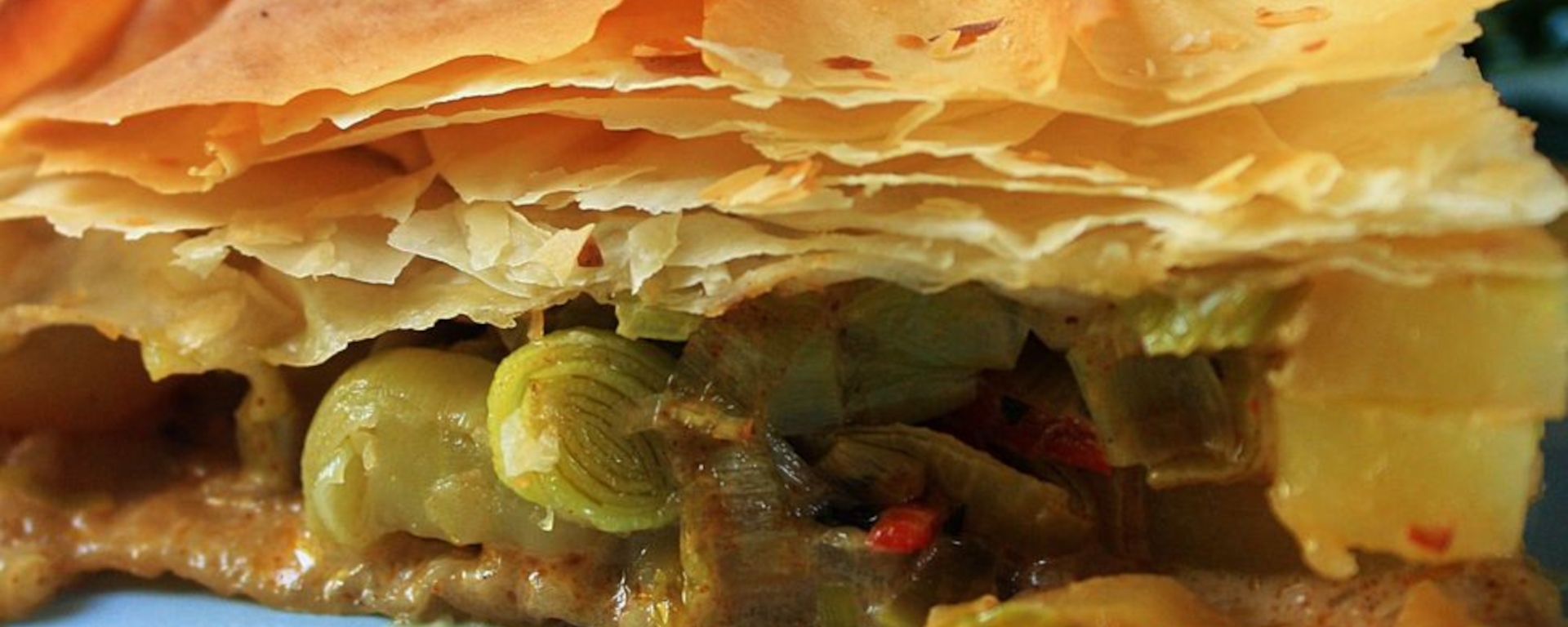 Spicy Potato and Leek Filo Pie recipe shared by Julia at vegan.io.
Spicy Potato and Leek Filo Pie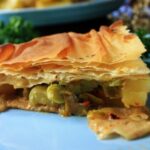 | Prep Time | Cook Time | Total Time |
| --- | --- | --- |
| 10 mins | 25 mins | 35 mins |
Ingredients:
1⁄2 tsp black pepper (ground)
5 1⁄3 oz filo pastry sheets
1⁄2 bunch fresh thyme (stalks removed)
1 medium onion (thinly sliced)
5 small potato (peeled and thickly sliced)
1 red chili (finely sliced)
1 sprig rosemary (chopped)
Directions:
Thaw the filo pastry at room temperature in its container for at least half an hour.

Place sliced potatoes in a pot filled with water, bring to a boil and let it cook for 8-10 minutes, drain and set aside.

Meanwhile, heat up olive oil in a sauce pot, sauté onion, leeks and chili for 2-3 minutes, until fragrant.

Add paprika, bay leaf, rosemary and thyme, stir well and cook for another minute.

Add the coconut milk and stir to thoroughly mix, turn off the heat and set aside.

Preheat the oven to 180°C/350°F and line a pie tin with parchment paper.

Place 1 sheet of filo pastry on the pie tin, letting the sides overhanging the pie tin.

Brush the filo sheet with olive oil and stick another sheet of filo pastry on top.

Repeat the brushing and layering of filo sheets until all of them are used up.

Arrange the sliced, half-cooked potato in the pie tin. Drizzle with salt and sprinkle the chili flakes on top.

Next, pour the onion and leek mixture onto the potatoes and spread evenly.

Fold the overhanging filo sheets inwards, layer by layer, and brush them with olive oil to seal it close, brush the top of the pie as well.

Bake in the preheated oven for 20-25 minutes, or until the filo pastry is golden brown, let it cool slightly before serving.
Recipe Rating: 4 / 5




Treat yourself with this delicious and comforting potato and leek filo pie.
Related posts: