June 20, 2017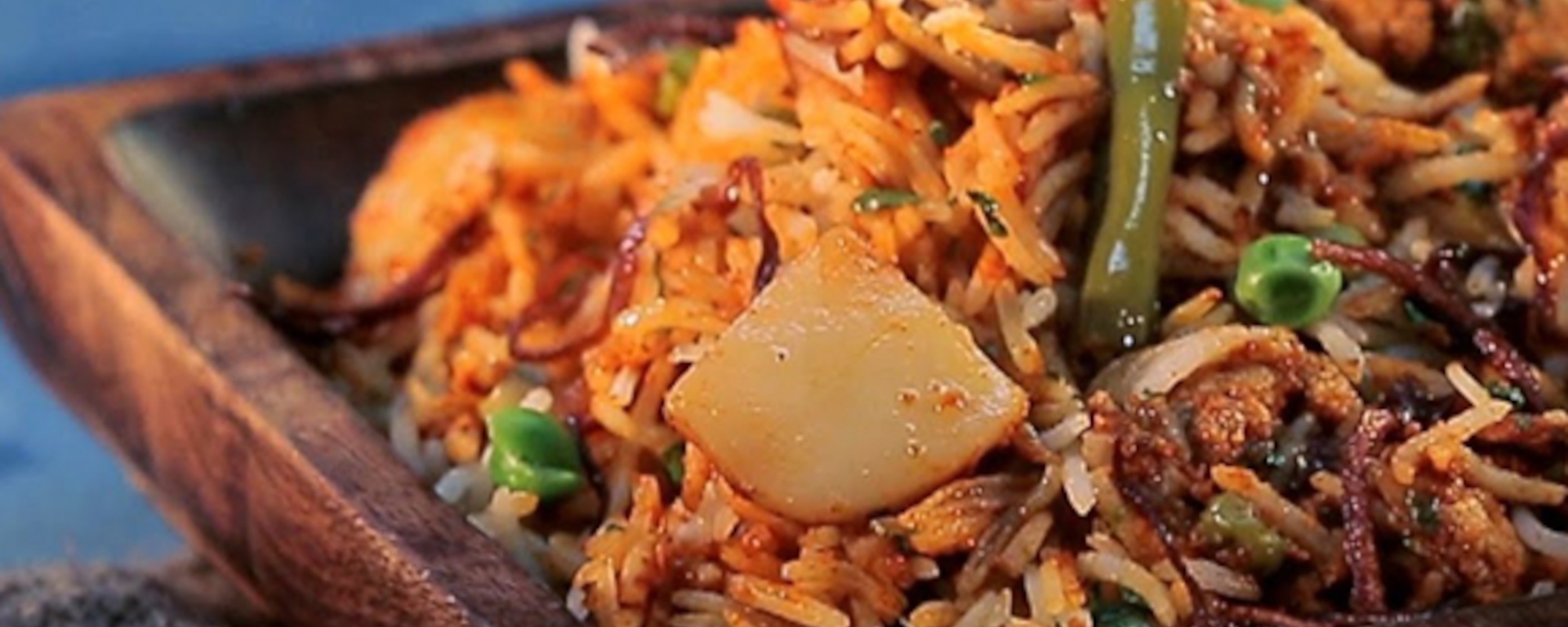 Vegetarian Biryani recipe shared by Riddhima Nair from India Food Network.
Biryani is also known as "biryani" or "beriani" is a rice based food which is spicy and delicious that people love to eat.  People usually use basmati rice to prepare biryani with mixed vegetables. Every person has their own method of preparing biryani which goes good with salad.  People usually prefer to eat this dish as dinner meal.
Vegetarian Biryani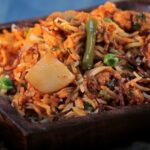 | Prep Time | Cook Time | Total Time |
| --- | --- | --- |
| 1 hour | 1 hour, 30 mins | 2 hours |
Ingredients:
500 gms of half cooked basmati rice
For the ground masalas - 2 onions, 2 tomatoes, 15-16 garlic pods, 4 black pepper, 2 cloves,1/2 inch cinnamon, 1/2 inch ginger, 4-5 dried red chlies.
1 Cup - 3/4 cooked mix vegetables (caulifower,french beans,Green peas, potatoes)
1 tsp - Coriander powder, cumin powder
1 cup fried onion [Birsta]
1 cup finely chopped green coriander
Directions:
To make the mix masala paste: Grind 2 onions, 2 tomatoes, 15-16 garlic pods,4 black pepper, 2 cloves,1/2 inch cinnmon, 1/2inch ginger,4-5 dried red chlies to a fine paste and keep aside.

How to make the Mixed vegetables: First heat water in a pan with some salt, bring it to a boil, add cut vegetables – potatoes, green peas,french beans, caulifower till the all the vegetables are 3/4 cooked.

How to cook Basmati Rice: Soak 1 and half cup or 400-4500 gms of rice in water for 15 mins. Drain water then cook it in boiling water with a little salt till the rice is 3/4 cooked and drain and keep aside.

How to prep cooked rice: Take a blow of pre cooked rice, mix salt to taste, fried onions, and green coriander well. Making sure the rice is separate and non sticky.

Heat 4tbsp of oil in a pan.

When the oil is heated add the mixed maslas paste and fry for a few mins, not too much. Just make sure to get this done quickly. Recipe for the mix masala paste as given in the method.

Then add 1 bowl of mixed vegetables that is cooked 3/4 [as given in the method], add a pinch of salt and stir a little, add 1/2 tsp cumin powder,1/2 tsp coriander powder,1/2 tsp of mixed masala, mix all the ingredients well, add some water and cook for 5 mins, put the lid on and cook for few more mins.

Once the vegetables are cooked we take the blow of pre-cooked rice and spread it evenly and loosely over the cooked vegetables making sure that rice grains are intact and long grained and each grain is separate. An important tip to make great looking and tasting biryanis

Make little gaps in the rice to allow steam to cook the rice completely.

Cover the pan with the lid and cook for 10 mins allowing the rice and the vegetables to cook in the steam.

Open the lid after 10 mins, the Biryani is cooked and the great aroma coming out gives everyone a nice feeling.

Serve the Biryani with condiments like Raita.
Recipe Rating: 4 / 5




Related posts: