June 22, 2017
Turmeric Paste for Dogs recipe shared by Mrs.C.. A member of our community.
My Rottweiler, Diesel, is getting of an age where overdoing it while frolicking in the snow, usually causes him to limp the next day. Well, after the year he's had, having to have emergency surgery for Bloat back in November, we couldn't afford any extra trips to the vet! So I looked up home remedies, and learned to make turmeric paste.
Turmeric Paste for Dogs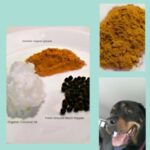 | Prep Time | Cook Time | Total Time |
| --- | --- | --- |
| 5 mins | 10 mins | 15 mins |
Ingredients:
1/4 cup organic turmeric powder
1/2 - 3/4 cup filtered water
3/4 tsp fresh ground black pepper
1/8 c (1 TBL) Organic coconut oil
Directions:
Put turmeric and water in a pan on low heat and stir with a whisk until paste forms-start with ½ c water (eyeball the consistency to see if you need ½ or ¾ c of water). (About 10 min)

Add pepper and oil-stir to combine

Take off the heat and let cool

Store in a sterilized glass jar in the fridge for up to 4 weeks. I have actually cut the above amounts in half and it lasts me a while.

Start with about ¼ to ½ tsp, per meal depending on the size of your dog. You can increase the amount from there, up to about a Tbsp (per meal) for larger dogs.
Recipe Rating: 5 / 5





I started giving Diesel turmeric paste with his meals every day, and I noticed a difference in his mood and energy. He seemed more playful and happy, and he didn't limp as much as before. He still loved to run and jump in the snow, but he was more careful not to overdo it. He also slept better at night, and snored less loudly.
One day, I decided to take him to the park for a special treat. He was so excited when he saw the other dogs and the wide open space. He ran around like a puppy. He even tried to climb a tree after a squirrel, but he quickly realized that was not his forte.
I watched him with a smile on my face, feeling proud and grateful for having such a loyal and loving companion. He was my best friend, and I wanted him to be happy and healthy for as long as possible. I knew turmeric paste was not a miracle cure, but it was a natural and simple way to improve his quality of life. And that was enough for me.
Related posts: