Asian Style Haddock with Wilted Spinach
March 28, 2013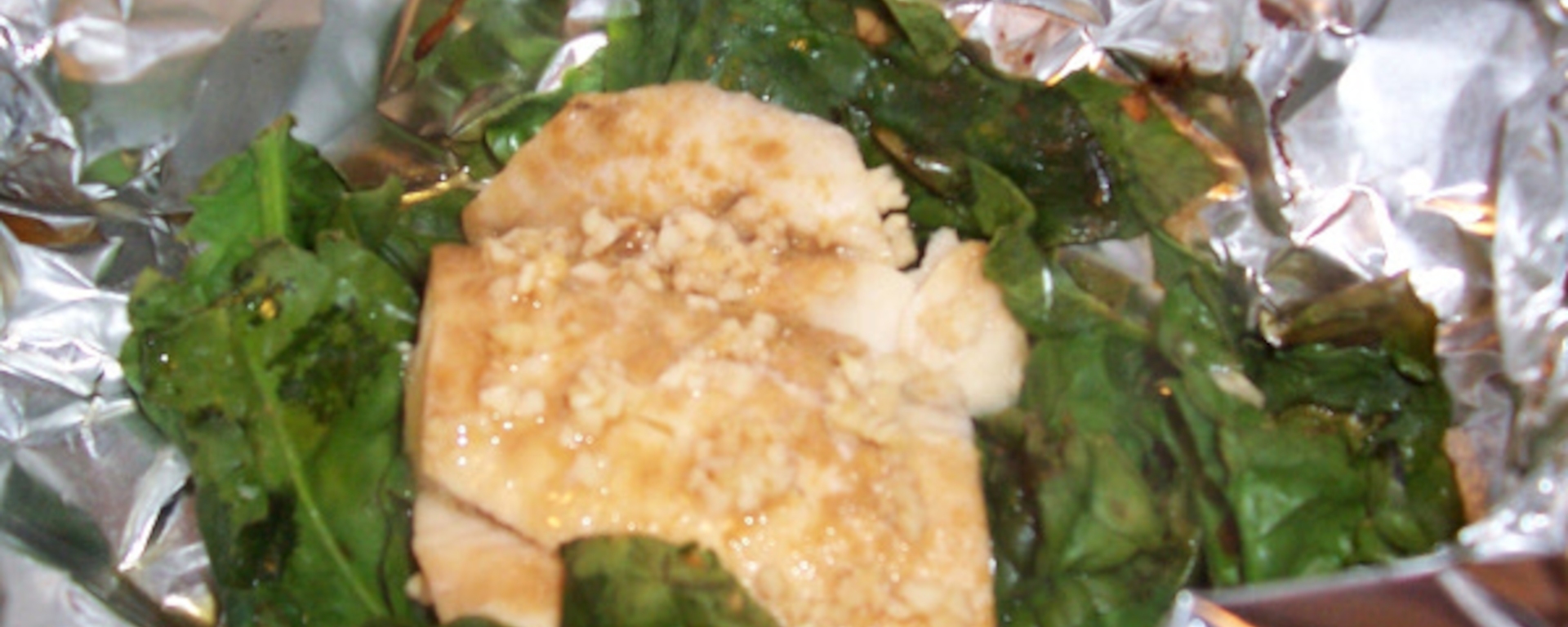 This Asian Style Haddock with Wilted Spinach recipe is super easy to make and bake. You make little foil pouches to cook the haddock and spinach in, so clean up is a breeze. Any other white flaky fish will work with this recipe too.
I like to make either rice pilaf or coconut white rice with this. Jasmine rice also works well with this dish.
Asian Style Haddock with Wilted Spinach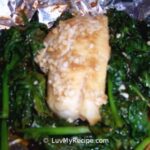 | Prep Time | Cook Time | Total Time |
| --- | --- | --- |
| 10 mins | 10 mins | 20 mins |
Ingredients:
1 bag of fresh Spinach or Baby Spinach leaves
2 tsp Ground Ginger (minced fresh ginger can be used)
4 tsp Low Sodium Soy Sauce
1 lime (sliced into wedges)
Directions:
Preheat oven to 400 degrees.

Cut 4 (14 inch square pieces of foil) to make your pouches with.

Spread fish on a cutting board or plate with the side that will go down on top of spinach.

Season lightly with salt and pepper.

Making one pouch at a time, place 2 cups of spinach in a pile in the center of foil square.

Drizzle 1/2 tablespoon of water over spinach.

Place 1 fish fillet on top of spinach pile.

Sprinkle fish and spinach with 1/2 tsp ginger and 1/2 tsp minced garlic.

Drizzle 1 tsp Soy Sauce and 1/2 tsp Sesame Oil over fish and spinach.

Pinch corners of foil and gather edges together to seal foil and form pouch.

Place pouch on a foil lined baking sheet.

Follow steps above to make other pouches.

Bake 8-10 minutes, until the fish is cooked through and the spinach wilts.

You can serve either in the pouch or transfer to a plate. Top fish and spinach with a squeeze of lime or place wedge on plate.
Recipe Rating: 5 / 5





I love how easy this recipe is to make. You just need a few simple ingredients, and you can have a delicious and healthy meal on the table in no time. The key to this recipe is to not overcook the fish. You want it to be cooked through, but you don't want it to be dry. I usually cook it for about 8-10 minutes, but you may need to adjust the cooking time depending on the thickness of your fish.
I also like to serve these haddock pouches with a simple side dish, like rice or roasted vegetables. They're also great on their own with a side of your favorite dipping sauce.
I hope you enjoy this recipe as much as I do!
Here are some additional tips for making Asian Style Haddock with Wilted Spinach:
Use a good quality haddock fillet. The leaner the fillet, the better.
Don't overcrowd the baking sheet. You want the haddock pouches to have enough space to cook evenly.
If you don't have fresh ginger, you can use ground ginger. Just be sure to use less ground ginger than you would fresh ginger, as it is more potent.
You can use any type of white flaky fish in this recipe. I've made it with cod, tilapia, and even halibut, and they've all been delicious.
I hope you enjoy this recipe!
Related posts: