February 5, 2014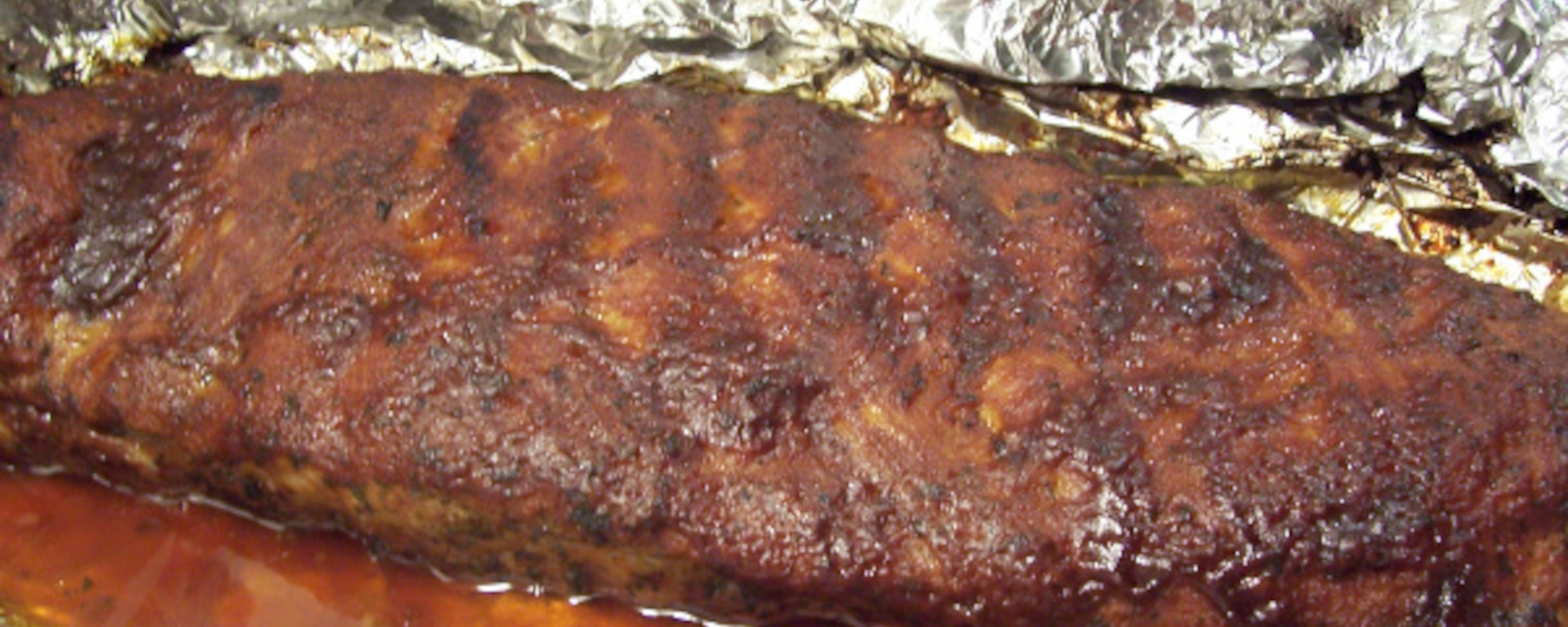 Tender, juicy, barbecue pork spare ribs are so good and easy to make! The only thing you really need to worry about is how long to let the ribs marinate with the spice rub before you wrap them up and cook them. I try to shoot for at least an hour but 20 minutes will do or just wrap them up after you rub them and pop in oven.
Did I mention how easy these ribs are? Just mix up your spice rub. Lightly coat your ribs with oil and rub on the spice rub. Wrap and seal ribs in foil, place on a pan and stick in oven for 1 1/2 hours. Take them out, open the foil, coat with barbecue sauce and stick under the broiler for 5 minutes. YUM!
Barbecue Pork Spare Ribs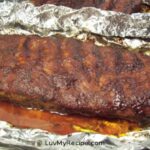 | Prep Time | Cook Time | Total Time |
| --- | --- | --- |
| 10 mins | 1 hour, 40 mins | 1 hour, 50 mins |
Directions:
Spice Rub
Mix all ingredients together until well blended. Set aside.
The Ribs
Pre-heat oven to 325 degrees.

Prepare a sheet of foil large enough to wrap the ribs up completely.

Lightly drizzle Olive Oil over both sides of ribs and rub in to spread evenly.

Sprinkle a little less then half of the spice rub on the bone side of ribs, massage spice rub in.

Flip ribs over and move to center of foil sheet.

Sprinkle the rest of spice rub on the meat and massage spice rub in.

Wrap foil around ribs to completely seal. Set ribs aside for at least 20 minutes to marinate. You can marinate ribs overnight in the fridge.

Place on baking sheet and place in oven for 1 1/2 hours.

Remove from oven and carefully open rib package.

Switch oven to Broil @ 500 degrees

At this point you can slather barbecue sauce all over the top of the ribs before you place them under the broiler.

Place ribs under the broiler for 5 minutes.

Remove from oven and let rest for 5 minutes before serving.
Recipe Rating: 5 / 5





These pork spare ribs are a delicious and easy-to-make meal that is perfect for a weekend barbecue or a weeknight dinner. The ribs are marinated in a flavorful spice rub that infuses the meat with flavor. The ribs are then cooked in the oven until they are tender and juicy. Finally, the ribs are broiled for a few minutes to create a crispy, caramelized crust.
I like to serve these ribs with my favorite barbecue sauce. The ribs are also delicious on their own.
Here are some additional tips for making pork spare ribs:
Use a good quality spice rub. The spice rub is the key to the flavor of these ribs, so use a good quality spice rub that you like.
Don't overcook the ribs. The ribs are done when they are tender and fall off the bone.
If you don't have a broiler, you can bake the ribs for an additional 10-15 minutes, or until they are crispy.
Additional thoughts:
If you have time, you can marinate the ribs overnight in the refrigerator. This will allow the flavors to really penetrate the meat.
You can also use any type of barbecue sauce that you like. I like to use a sweet and smoky barbecue sauce.
Related posts: