Basic Roasted Potatoes (and roasted vegetables)
January 6, 2014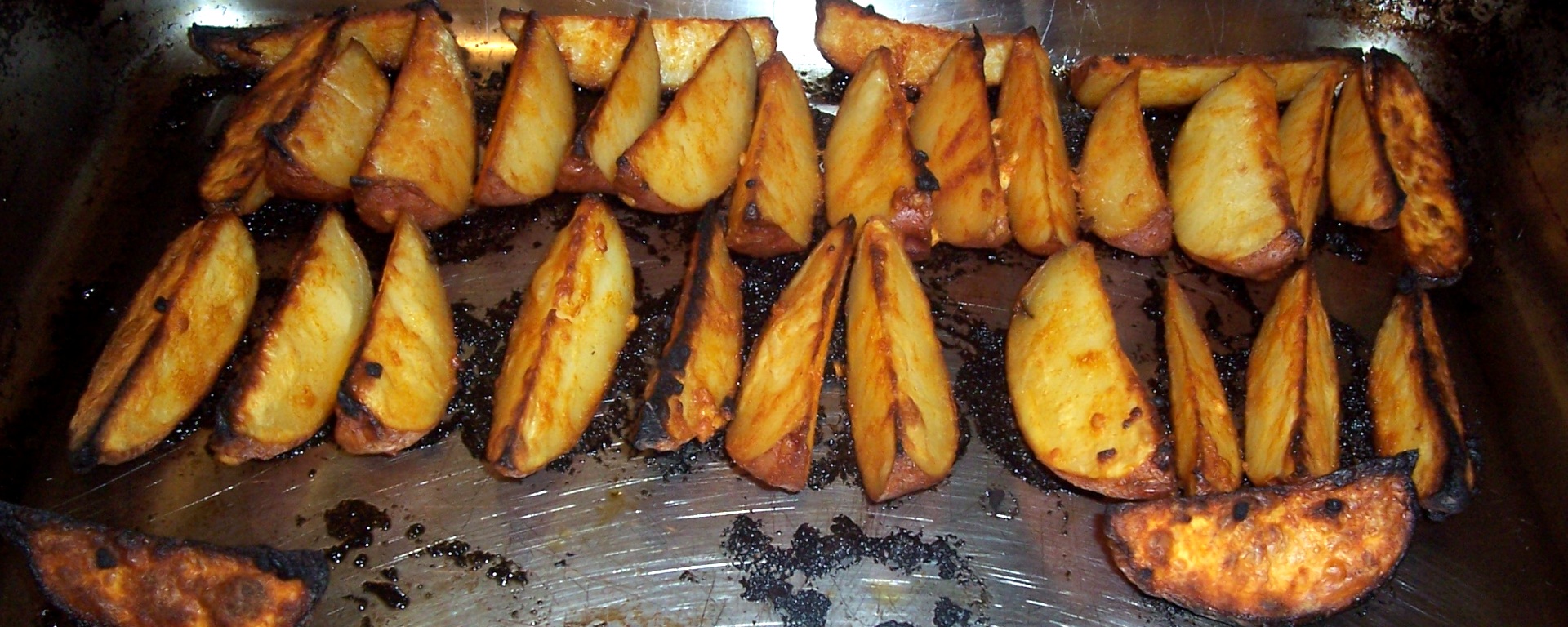 I've gotten a few requests for the basic roasted potatoes recipe that went along with the steak featured in the posted Asian Marinade article some time ago. Having gone through my photos, I realized that I did indeed take pictures that day of the potatoes.
Today finds the wind at my back for getting through things (while deleting excess from my computer) so I'd like to share that recipe for those that requested it and for those of you that didn't, you'll find this an excellent side dish without too much effort.
This recipe will work for most roasted vegetables… 'generally'. I say 'generally' because you can use this recipe for roasting any vegetable. Well… any meaty vegetable like potatoes, carrots, squash, etc.. I chose potatoes here because that's what I was in the mood for that day with the steak. I could have easily had some carrots or even had a mix of veggies.
I singled out potatoes this time around because I have several recipes for other roasted vegetables (including potatoes) that are prepared slightly different. Eggplant is a good example. But as a general rule, you can use this preparation for pretty much any vegetable. When I'm roasting vegetables, I'm looking for a slight caramelization of the vegetables. The slight crispiness on the edges deliver some great texture while the light seasoning brings out the natural flavors of the vegetables.
For the potatoes, you'll leave the skin on and wash them thoroughly. I use a vegetable brush myself but vigorously rinsing them in your hands is usually enough. Cut them into wedges and inspect them for ones that look discolored or are obviously bad; and toss them. My version of potatoes here has me using olive oil with a mixture of butter for the taste and allows a higher temperature for some crispiness.
Basic Roasted Potatoes (and roasted vegetables)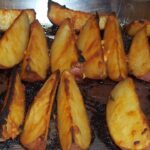 | Prep Time | Cook Time | Total Time |
| --- | --- | --- |
| 15 mins | 30 mins | 45 mins |
Directions:
Cut Potatoes into wedges after wash and inspection. Toss the bad ones.

Place potatoes in a bowl and mix with other ingredients.

Let sit at least 10 minutes.

Place Potatoes in roasting pan or cookie sheet with raised sides.

Cook in oven at 450 degrees for at least 30 minutes stirring occasionally.

Enjoy your roasted potatoes.
Recipe Rating: 5 / 5





I'm using some paprika and garlic but if you're making this your own recipe, I can see you replacing my chosen spices here with rosemary and Parmesan… or using scallions and soy sauce to make some teriyaki potatoes. Just a throwing out a few ideas. If you're making these teriyaki potatoes be sure to include the sesame oil !
Initially, I try and get all the potatoes wedge up so the potato is sitting on it's skin.  I'll usually bake these at 450 degrees because usually their done in about 30-45 minutes stirring occasionally. That's in my oven and I do like them crispy; which means you'll have to check yours at 30 minutes and cook them to your liking.
Related posts: