Corned Beef and Cabbage with Vegetables
March 15, 2016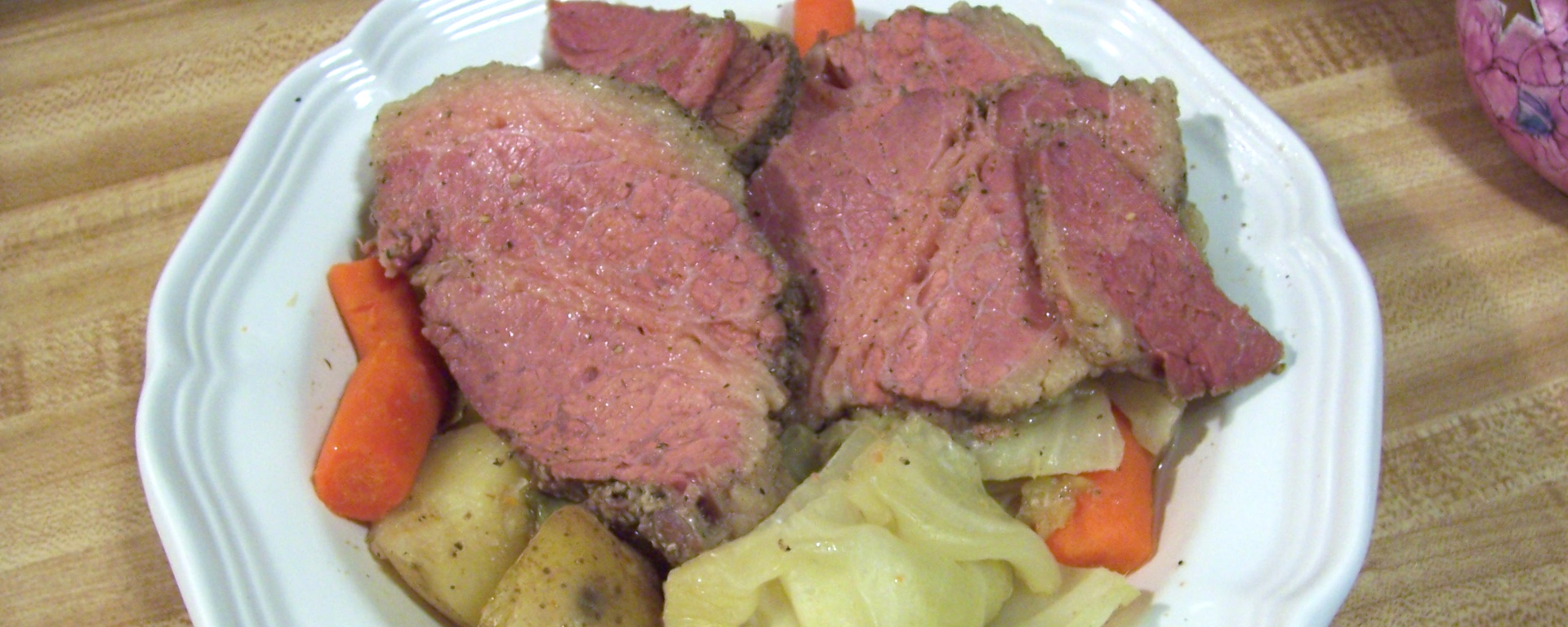 Corned Beef and Cabbage with Vegetables is a favorite recipe in my family and for those looking to celebrate St. Patrick's Day with a classic comfort food. Having grown up with an Irish grandmother myself, I take on the Irish Comfort Food category here at LuvMyRecipe. St. Patrick's day was a holiday to be celebrated around our household when I was growing up and it was Corned Beef with Cabbage every year with potatoes and veggies.
Corned Beef Roast has already been featured here at LuvMyRecipe. Fantastic recipe, however; it's more of long version. Especially long if you're corning the beef yourself or doing a brine for any length of time.
I'm going to do the quick version here today. Happy St. Patrick's Day! This is something you can throw together with very little effort if you're looking for a nice Corned Beef and Cabbage meal. I used a "point cut" of beef this time around. The previous recipe here at the site used a "flat cut".
I like both cuts of meat but if you're looking for a "what's the difference" between the two, try and think of the "flat cut" as more of a roast. It's more desirable for cooks and consequently the "flat cut" is usually more expensive. The "point cut" is cheaper money than the "flat cut" but in my opinion you don't sacrifice in flavor. You tend to get more smaller pieces and less meat compared to the large roast-like pieces that you'll get from the "flat cut" and its generally a more fatty piece of meat on the point end. However; it was cheaper on the wallet and I expect to make some hash or slice it thin for sandwiches… so point cut it is.
Corned Beef and Cabbage with Vegetables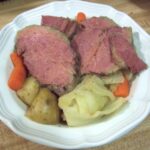 | Prep Time | Cook Time | Total Time |
| --- | --- | --- |
| 30 mins | 3 hours, 30 mins | 4 hours |
Ingredients:
1 Corned Beef Brisket, (2-3 lbs.)
1 cup Beef Stock or Water
Parsnips & Turnips (optional)
Directions:
Chop your vegetables and start cooking them in the slow cooker on "HIGH" with the beef stock and water.

Combine your spices and grind them (spice grinder).

Completely cover the brisket with your dry spice rub.. and "rub" in.

After an hour, place your corned beef on top of the vegetables. Continue on "HIGH".

After another hour, turn temperature to "LOW".

Add the cabbage on top and on the sides of the meat.

Check for internal meat temperature of 145 degrees for done.

Remove the meat to rest.

Check vegetables and cabbage so they're cooked to satisfaction.

Plate your food
Recipe Rating: 5 / 5





Happy St. Patrick's Day !
Related posts: