February 21, 2012

Candied Pecans is always a favorite of mine. Every year my father and stepmother send my sister and I a TON of pecans from Alabama. I personally am not a nut person but my boyfriend is a little nutty… I mean a nut person.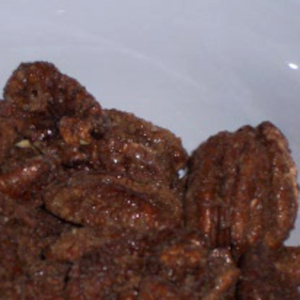 This year we received another huge box of pecans and my boyfriend asked if I could "do something" with the nuts. So I went into nutty research mode, hunting down pecan recipes, testing them out and tweaking them to my liking.
After trying several different ways of making candied pecans, we agreed that the recipe I came up with below was the recipe that we would stick with.
Candied Pecans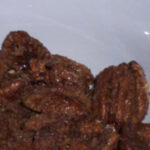 | Prep Time | Cook Time | Total Time |
| --- | --- | --- |
| 10 Mins | 1 Hour | 1 Hour, 10 mins |
Ingredients:
1 1/2 tsp Vanilla Extract
Directions:
Preheat oven to 250. Line a pan with parchment paper and spray with cooking spray or grease pan with cooking oil. A cookie sheet with sides is great to use.

In a mixing bowl (or large ziplock bag) Mix sugar, salt and cinnamon, set aside.

In a separate bowl mix egg white, water and vanilla until frothy.

Add pecans to egg mixture, stir to coat the pecans evenly.

Add coated pecans to the sugar mixture and toss until well coated.

Spread the nuts onto the pan.

Bake at 250 for 1 hour, stirring every 15 minutes.
Recipe Rating: 5 / 5





What a fantastic recipe that puts a spin on those plain pecans. Not overly sweet and and excellent snack food. Enjoy!
Related posts: