Corned Beef Hash from Leftover Corned Beef
March 19, 2016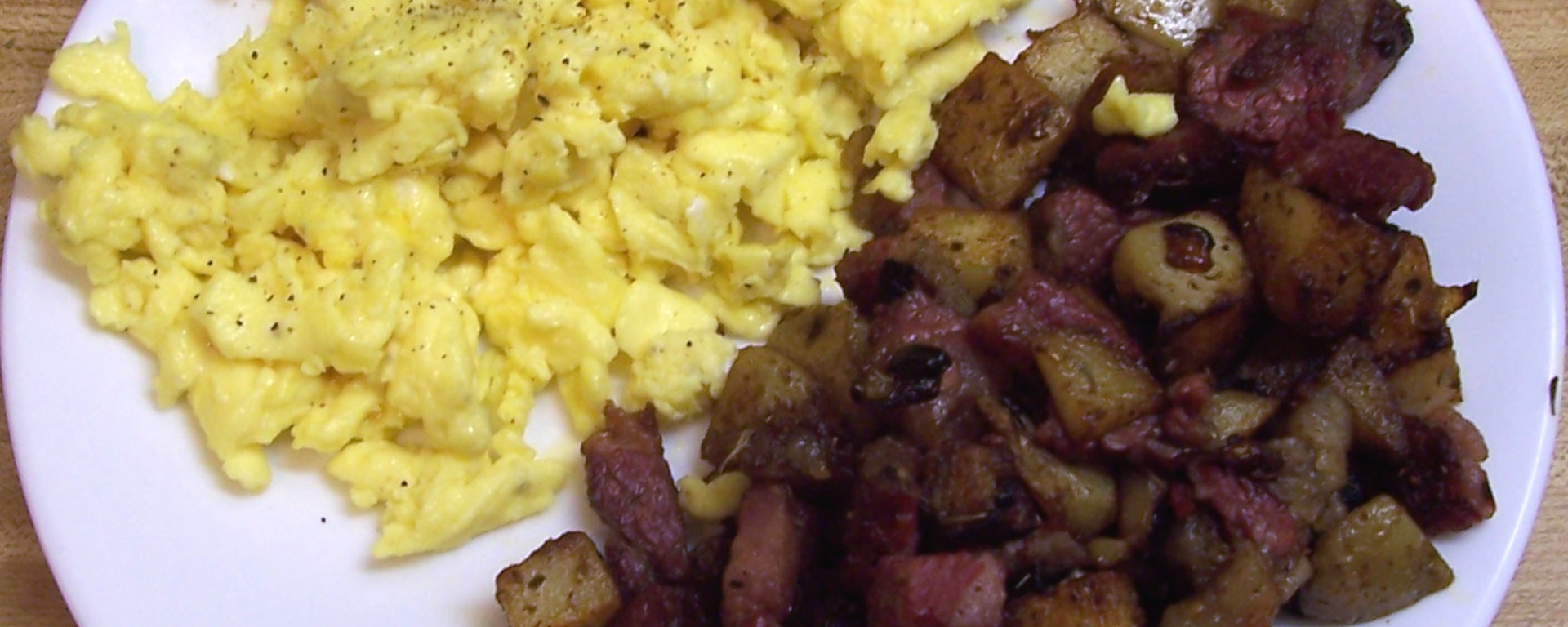 In the spirit of keeping things quick, easy, and no hassle, from the Corned Beef and Cabbage with Vegetables recipe previously featured here and here, this Corned Beef Hash from Leftover Corned Beef recipe is going to follow suit. Essentially, you already have a cooked meal to start with… so it's going to be REAL quick right?
Well, not so fast it turns out. In my case, there were leftovers but not as many "vegetable" leftovers as you would think. In fact "zero" was the number. Unless you want your hash with a hint of cabbage in there, it might be a good idea to start from scratch as well.
With that in mind, leftover corned beef and no veggies means that I'm going to need potatoes. With the corned beef already cooked, it then becomes making hash browns and adding my meat in to the pan at the end… no? As a matter of fact… Yes. So let's go with it.
Corned Beef Hash from Leftover Corned Beef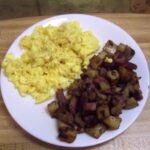 | Prep Time | Cook Time | Total Time |
| --- | --- | --- |
| 5 mins | 10 mins | 15 mins |
Ingredients:
Corned Beef Leftovers (Portion size: enough for hash)
3-4 chopped medium potatoes (optionally peeled)
Directions:
Pre-cook the potatoes covered in a bowl for 7 min. in microwave on "high" (al dente).

Dice up your leftover corned beef.

Pan on Med/High heat. Add 2 tbs butter, 1 tbs Olive oil. Add Onions.

Cook Onions 2-3 minutes, then add Potatoes, Thyme, Oregano, Paprika, Black Pepper and White Pepper. Stir together.

When Potatoes start to change color (5-6 minutes), add corned beef.

Add garlic and the rest of the butter.

Cook 5-6 minutes and plate.

Garnish with Chives.
Notes:Basically, home fried potatoes with leftover corned beef added in making a hash.
Recipe Rating: 5 / 5





First, you're going to need potatoes cooking. The term "Quick and easy" (for me here) means pre-cooking the potato before it hits the pan for hash browns. It really doesn't matter how you cook the potatoes as long as they're cooked and relatively still chunky. Leftover roasted potatoes are perfect and usually crisp up nice and the bonus… they're already made. I don't have any of that so it's a quick cook in the microwave for four chopped medium sized potatoes (4 1/4 cups in my case). I left the skins on here but if you're not a "skins" type of person, here's where you'll peel before chopping them up (*hint).
Generally speaking, it takes me about 7 minutes covered on "HIGH" in the microwave for the potatoes, and that's cooking them to "al dente". Meaning, the potatoes aren't cooked through yet… but almost. That's the way I like them before they hit the pan for hash. Cook them too long at this stage and they'll turn to mush before they crisp up and your left with corned beef mush instead of corned beef hash.
Dice your leftover Corned Beef. I usually go bite size and generally match the size of the potato chopped. If you're not working with leftovers, this is where you add your cooked corned beef (canned or otherwise).
After the potatoes are done, let them cool. Dice the onions and garlic. Pan on high heat. The pan of choice today was a large skillet but I'm also comfortable using a dutch oven and would be fine to use. I would have opted for the cast iron skillet here as well but there's a "home fries" itch I'm dying to scratch, and I'll be using it there for another recipe.
Add your butter or oil to the pan. Get the onions going. After 2-3 minutes, throw in your potatoes, salt, pepper, paprika, and I also add thyme and oregano in there. Once you start noticing a color change on the potatoes, it's time to add in your cooked corned beef and add your garlic to the pan too. When the potatoes reach the golden brown you're looking for, you're done. I usually garnish with chives…. when I have them to garnish with. Enjoy !
Related posts: