May 9, 2022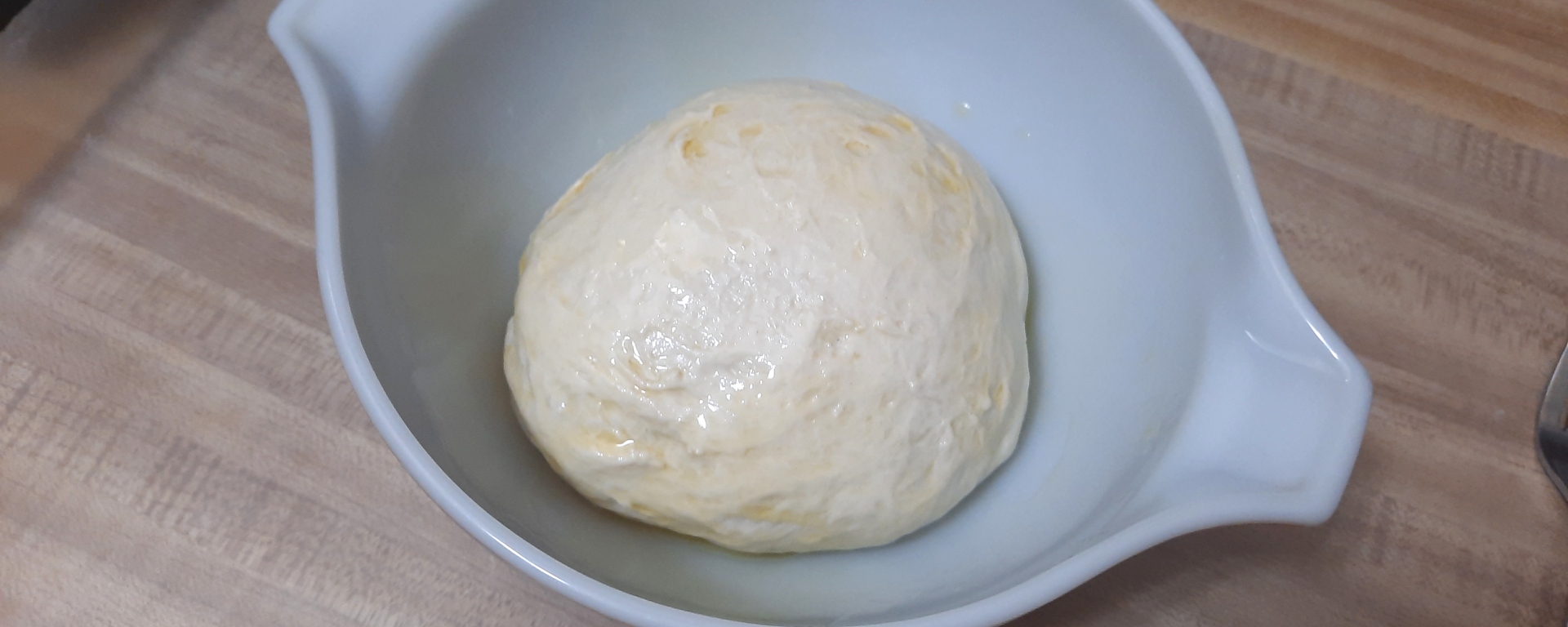 This is my go to recipe for an Easy Pizza Dough. I use rapid rise yeast to shorten the rise time down to 10 minutes so my dough is usually ready to roll out once I've got my pizza toppings in order. This recipe for easy pizza dough is a great way to make a delicious and quick pizza at home.
The key to making any good pizza dough is to use high-quality ingredients. Use fresh, warm water, and good quality olive oil. The flour is also important. For this recipe I use a combination of all-purpose flour and whole wheat flour. I just like the crispy texture I get when the two are combined here for a quick pizza.
Once you have made the dough, you can really use it for a number of different foods besides pizza. I use this for pizza of course but also breadsticks, garlic knots, doughboys, etc.. It's very versatile.
For pizza, top it with your favorite toppings. I like to use a simple sauce of crushed tomatoes, garlic, and oregano. Then, I top it with mozzarella cheese, pepperoni, and mushrooms.
Easy Pizza Dough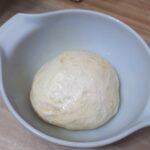 | Prep Time | Cook Time | Total Time |
| --- | --- | --- |
| 20 mins | 20 mins | 40 mins |
Ingredients:
1 cup Warm Water (110 - 120 degrees)
1 package Rapid Rise Yeast
1/4 cup Extra Virgin Olive Oil
1 1/2 cups All Purpose Flour
1/2 cup Whole Wheat Flour (sifted)
Cornmeal or semolina to dust pan or parchment paper
Directions:
Add Warm Water, Rapid Rise Yeast, Sea Salt and Sugar to food processor or mixing bowl and blend for 10 seconds.

Add Olive Oil and 1 cup of All Purpose Flour and blend for 20 seconds.

Scrape down sides and add remaining All Purpose Flour and Whole Wheat Flour and blend until dough comes together and is smooth. (about 1 - 2 minutes).

Roll dough into ball, place in oiled bowl lightly covered and let rise for 10 minutes.

Split dough into two and roll out.

This recipe will yield two 10 - 12 inch thin crusts or two 6 inch calzones or one 16 inch thick crust.
To Bake
Preheat oven to 400 degrees.

Place parchment paper on pizza pan for easy clean-up. Grease with oil and sprinkle with light dusting of cornmeal before placing rolled dough on pan.

Top as desired.

Bake for 18 - 23 minutes.
For a Crispier Crust - Par Cook it First
Bake dough in oven for 10 minutes.

Remove from oven, top as desired. Place back in oven for 10 - 12 minutes.
For a calzone
Roll out dough, lightly coat with olive oil or sauce. Add your filling.

Fold in half, then fold over edges pressing to seal.

Place calzone seams down on cornmeal dusted pizza pan, brush with olive oil and dust with garlic powder if desired. Cut 3 - 5 slits in top of calzone to prevent exploding or leaking.

Bake for 18 - 23 minutes, until golden brown.
Recipe Rating: 5 / 5





For calzones, simply roll out the dough, fill it with your favorite fillings, and fold it in half. Then, brush the calzone with olive oil and bake it until golden brown. I will usually cut a few slits on top to let it breathe.
It's so easy to use this for so many things besides pizza and calzones. I will use this for hot pockets, mini calzones and pizzas, pretzels and for a sweet take on the recipe you can go the cinnamon sugar route. Once you start with experimenting with the flavor combinations, the ideas for this dough will start popping up. I make a nice cheddar bread with little country ham chunks for another great idea.
Related posts: