October 22, 2023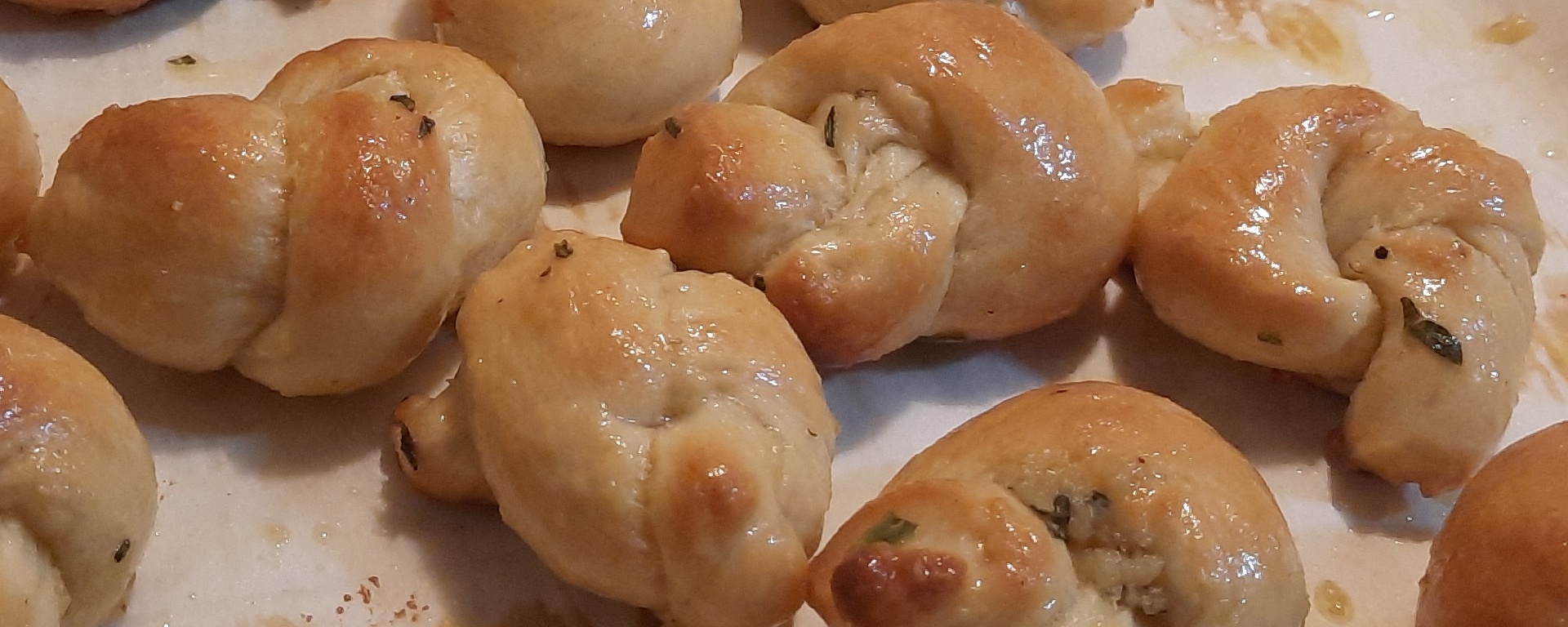 This garlic knots recipe assumes you already have the dough. The garlic sauce has a nice full flavor and opens itself to any number of additions. Chili flakes scream here but there really are so many possibilities that you can build into.
I used standard marinara sauce for dipping. I'll share my marinara sauce in another recipe but your favorite marinara or tomato sauce is the way to go here. Next time I'll also add some parmesan cheese.
I used the pizza dough recipe here from LuvMyRecipe. I was actually inspired by this other gruyere pizza with caramelized onions recipe. I was searching here one day for pizza dough and came across the caramelized onions pizza and the first ingredient was just pizza dough.
I started thinking that I make things with JUST pizza dough all the time. It's a great way to make some quick snacks that taste just like they would make at a real pizzeria and garlic knots tops the list. Bread sticks and stuffed cheesy bread are two others. I can LITERALLY go on.
We're being encouraged to start sharing recipes and I figured garlic knots would be a good place to start for me. The dough is already made first of all, and the rest is garlic sauce and technique. It's easy for a quick snack.
Garlic Knots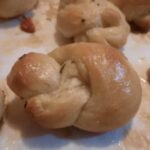 | Prep Time | Cook Time | Total Time |
| --- | --- | --- |
| 10 mins | 20 mins | 30 mins |
Ingredients:
1 teaspoon minced fresh garlic
1/2 teaspoon garlic powder
1 teaspoon dried parsley (fresh parsley is definitely OK)
1/2 teaspoon Black Pepper
Directions:
The Knots
Your pizza dough should already be made. Pinch off a golf ball size piece of dough and roll thin enough to actually tie a knot. The dough is sticky and you're not making pretzels.

Place dough "knot" on a cookie sheet with parchment paper. and repeat the process until you are out of dough.

Do NOT brush with butter. The dough still has some olive oil from the proof and rest. This is enough oil for baking.

Bake at 400 degrees for 20 minutes. (22 minutes for larger knots)

Take out of the oven and let cool for 3 minutes.
The sauce
Melt 1/4 cup of butter in a small sauce pan.

Once the butter is melted, add the minced garlic, garlic powder, and parsley.

Keep warm without simmering.
Finally The Toss
In a large bowl, pour your warm garlic sauce.

Add dough Knots, Salt and Pepper.

Toss the knots in the garlic sauce (like you would chicken wings). You can use a spoon or simply toss.

Once the garlic knots are completely coated, immediately remove them from the bowl and plate. Enjoy with your favorite marinara sauce.
Recipe Rating: 5 / 5





I like them garlic heavy so I add garlic accordingly. I also like a kick so I've been known to add hot sauce as well. I can't help but sprinkle some grated parmesan over the top of these when I have the cheese. 
You can add whatever you want really. I have a friend who adds soy sauce to the toss and dips them in hot mustard. Wow… don't knock it until you try it. I was surprised.
A sweet twist will have cinnamon and sugar or honey. The dough already has that soft pretzel chew for cinnamon and sugar. Honey and crushed pistachios is a really nice take I enjoy as well. Just keep the recipe the exactly the same except when it's time to plate. After plating the garlic knots, drizzle honey and sprinkle crushed pistachios. OMG!
I hope you like my recipe and experiment with other flavorings. Let me know in the comments.
Related posts: