Cauliflower Caraway Potato Soup
December 24, 2015
Cauliflower Caraway Potato Soup recipe shared by Rebecca from RawSpiceBar.
Cauliflower Caraway Potato Soup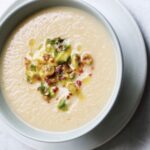 | Prep Time | Cook Time | Total Time |
| --- | --- | --- |
| 20 mins | 20 mins | 40 mins |
Ingredients:
1 pouch RawSpiceBar's Gravlax Spices
1/2 pound boiling potatoes
1/4 cup scallions, chopped
1/4 teaspoon caraway seeds
2 cups 1-inch cauliflower florets
1/3 cup thinly sliced scallion greens
Freshly grated Parmesan to taste
Directions:
Heat oil in a large saucepan over medium high heat. Add chopped onion and cook until softened, about 5 minutes, stirring often. Add the cauliflower, potato and RawSpiceBar's Gravlax Spices and stir, about 10 minutes. Add stock, milk and salt to taste. Bring to a boil, then reduce heat and leave to simmer for about 30 mins until the cauliflower is soft and the potato almost collapsing. Serve the soup sprinkled with the Parmesan.

Whizz in a food processor or crush with a potato masher until you get a creamy, thick soup. Top up with more milk to thin a little if serving in mugs. You can make ahead up to 2 days in advance, cool, cover and leave in the fridge until needed, or freeze for up to 1 month. When ready to serve, warm through, ladle into mugs or bowls, top with the Parmesan and stir through before eating.
Recipe Rating: 4 / 5




Related posts: