Chia Seed Carrot Cake Pancakes
November 12, 2013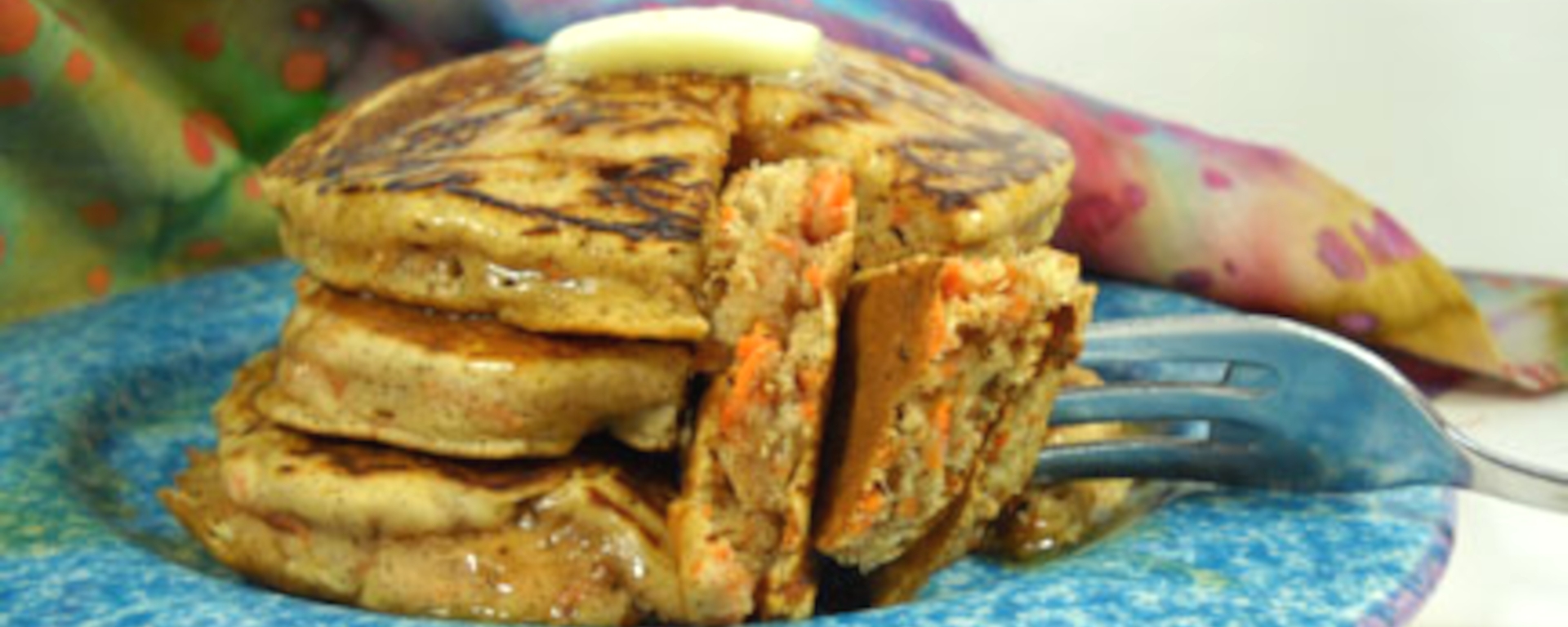 MySeeds from www.mychiaseeds.com shares this recipe for Chia Seed Spiced Carrot Cake Pancakes.
These fluffy spiced carrot pancakes just taste like autumn. Not too sweet, delicately spiced and so light because of the secret ingredient: seltzer!  We read somewhere that seltzer or club soda was a perfect way to add bubbles to create an even lighter batter for your pancakes.
They were right! We knew that the carrot shreds would make for a heavier batter, so lightening up was important. The next time its "Pancake Sunday" at your house please try these wonderful treats.
Chia Seed Carrot Cake Pancakes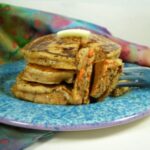 | Prep Time | Cook Time | Total Time |
| --- | --- | --- |
| 12 mins | 10 mins | 22 mins |
Ingredients:
2 medium carrots finely shredded to equal about 1 ½ cups
1 rounded teaspoon baking powder
Directions:
Start by grating the carrot.

In a measuring cup measure out the milk and add the lemon juice to create a substitute for buttermilk. (Of course if you have buttermilk on hand use it instead)

Next, in a medium bowl put the dry ingredients of flour, baking powder, and the spices and stir to combine.

In another bowl blend the brown sugar, the "faux buttermilk", chia gel*, vanilla, and eggs.

Stir in the dry pre-mixed ingredients into the wet ingredients.

Heat your skillet to Medium heat BEFORE adding the seltzer and grated carrot. The seltzer will add bubbles, but only for a while. You want to be able to cook right away to maximize the lightness added by the bubbling.

Add the seltzer and grated carrot.

Coat your skillet with cooking spray. Cook in the usual "pancake way" waiting for the bubbles to form and the edges to look dry, then flip to continue cooking for a minute or so.

This recipe makes about 10 medium pancakes. (Shhhh! You just got everybody eating a vegetable pancake and loving it! After all, who doesn't love a good "Carrot Cake"?)
How to make chia gel
Use 1 tablespoon of dry chia seeds and 9 tablespoons of filtered water.

In a re-seal-able container, add the chia seeds and filtered water.

Shake or stir your container to mix and prevent clumping of the seeds

Wait 10 to 15 minutes for the seeds to gel

Store gel in covered container in the fridge
Notes:Lightly spiced pancakes taste like carrot cake but use no butter or oil. They're higher in fiber than ordinary pancakes too!
Recipe Rating: 4 / 5




Did you notice there is NO OIL or butter in this recipe?
That's due to the chia gel! You can use chia gel to substitute for butter or oil in most baked recipes. With these pancakes though, we were able to replace the whole amount, without affecting the flavor.
Related posts: