Chilled Cucumber and Woodear Mushroom Salad
December 1, 2017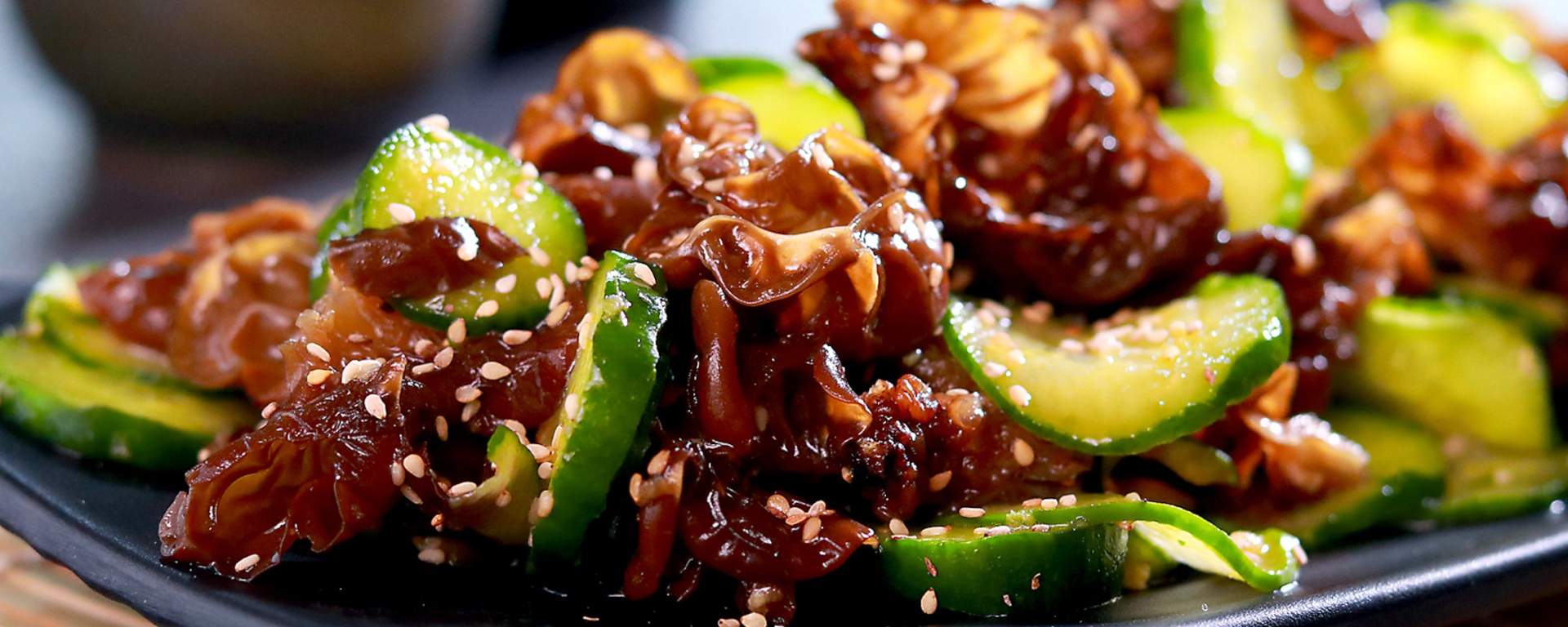 Chilled Cucumber and Woodear Mushroom Salad recipe shared by Nikki.
The recipe is very simple and easy to follow. You just need to soak, boil, and cool the mushrooms, then slice the cucumbers and toss them with the dressing and the sesame seeds. The dressing is a perfect balance of sweet, sour, salty, spicy, and nutty flavors. It has ginger, lime juice, soy sauce, sesame oil, palm sugar, and Thai chili.
Ginger adds a zesty kick and helps with digestion. Lime juice adds a tangy freshness and boosts immunity. Soy sauce adds a savory depth and enhances the umami taste. Sesame oil adds a nutty aroma and moisturizes the skin. Palm sugar adds a natural sweetness and balances the acidity. Thai chili adds a fiery heat and stimulates metabolism.
Chilled Cucumber and Woodear Mushroom Salad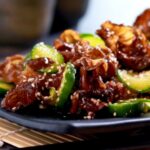 | Prep Time | Cook Time | Total Time |
| --- | --- | --- |
| 1 hour, 30 mins | 0 mins | 1 hour, 30 mins |
Ingredients:
14g/0.5oz dried woodear mushrooms
200g/7oz Japanese cucumber, thinly sliced
15ml/0.5fl oz light soy sauce
1/2 tsp. Thai chilli, chopped
Directions:
Soak woodear mushrooms in cold water for 15-30 minutes to re-hydrate.

Drain mushrooms and boil for 2 minutes. Drain and leave to cool.

Mix ginger, lime juice, soy sauce, sesame oil, sugar, and chili in a bowl.

Toss in sliced cucumbers, cooked mushrooms, and sesame seeds.

Chill for at least an hour before serving.
Recipe Rating: 4 / 5




You can enjoy this salad as a light appetizer or a side dish for any meal. It goes well with rice, noodles, or grilled meat. It is also vegan, gluten-free, and low-carb friendly. You can adjust the amount of sugar and chili according to your preference. You can also add some fresh herbs like cilantro or mint for extra flavor and color.
Related posts: