Egg and Mushroom Biryani recipe
March 20, 2017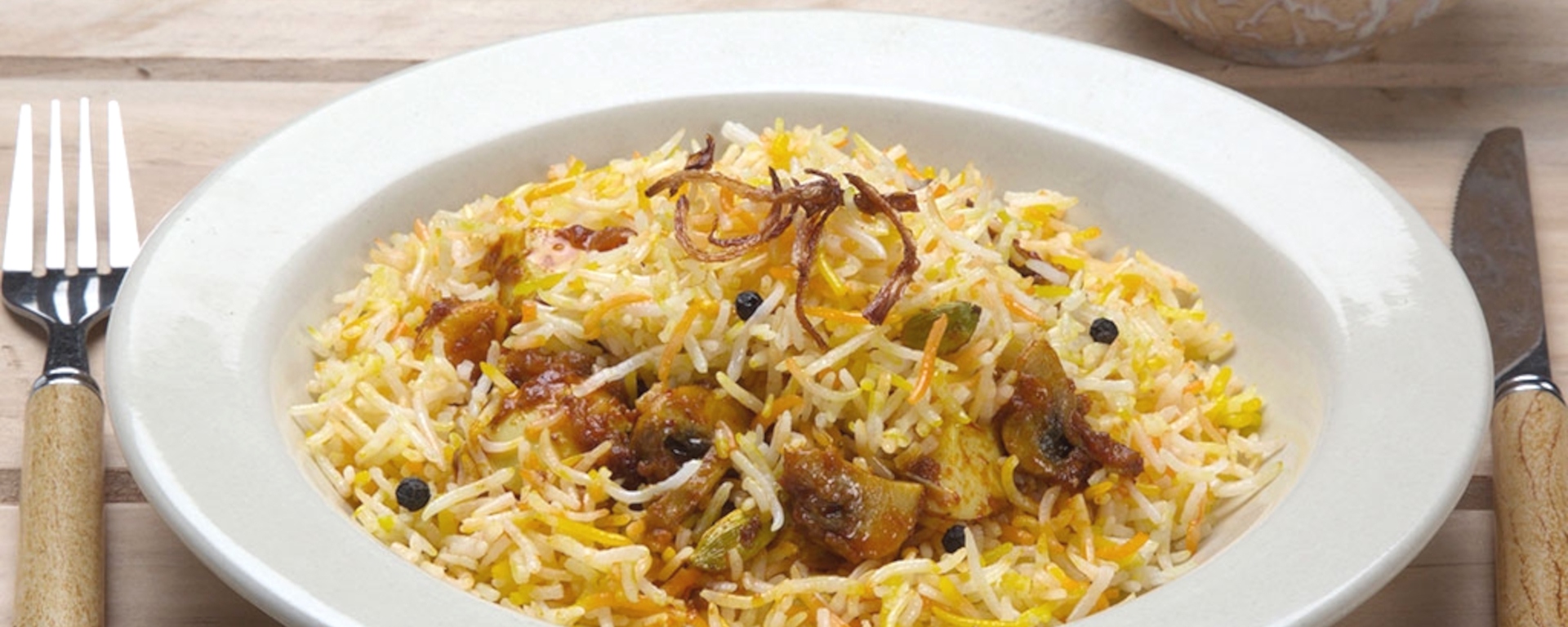 Shared by
Fragrant saffron rice with spicy eggs and mushrooms, topped with golden fried onions.
Egg and Mushroom Biryani recipe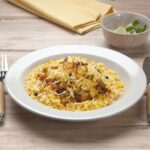 | Prep Time | Cook Time | Total Time |
| --- | --- | --- |
| 30 mins | 1 hour | 1 hour, 30 mins |
Ingredients:
Rice – 200 gm or 1 cup (as per US RATIO). (rinsed twice and soaked for 20 mins).
Hot water - 400ml or 2 cups
Eggs - 4 - 5 nos - boiled and cut into quarters.
Button mushrooms - 1/2 cup diced into quarters.
Onions - 2 nos sliced and fried golden brown for garnish
Biryani masala powder - 1 tbsp.
Red chilly powder - 1 tsp
Ginger garlic paste - 1 tsp.
Green cardamom - 3 - 4 nos
Saffron - 2 pinches soaked in 1 tbsp warm milk.
Mint leaves - 1/4 cup chopped
Directions:
Boil the Basmati Rice until just done or al-dente. Add the soaked saffron to the Basmati Rice, mix and keep aside.

In a cooking vessel, Heat the ghee, to this add the cinnamon and green cardamom and the cumin seeds.

Add the onions and fry till a little golden brown, add the ginger garlic paste.

Now add the biryani powder, red chilly powder, turmeric powder, garam masala, and the curd and continue to saute for another 2-3 mins.

Add the mushrooms and cook for another 2-3 mins. Now add the eggs and gently mix. Add salt to taste. Simmer for another minute or two.

In a deep cooking vessel, add some ghee, than layer with alternating layers of the egg and mushroom mixture and than the boiled Basmati Rice.

Also add the chopped mint between each layer.

Cover the cooking vessel with a lid and cook on simmer for another 15-20 mins or till the Basmati Rice is done.

Garnish with the golden fried onions or dry fruits like cashews or almonds.
Recipe Rating: 4 / 5




Related posts: