Goan Style Mushroom Soya Biryani
August 14, 2017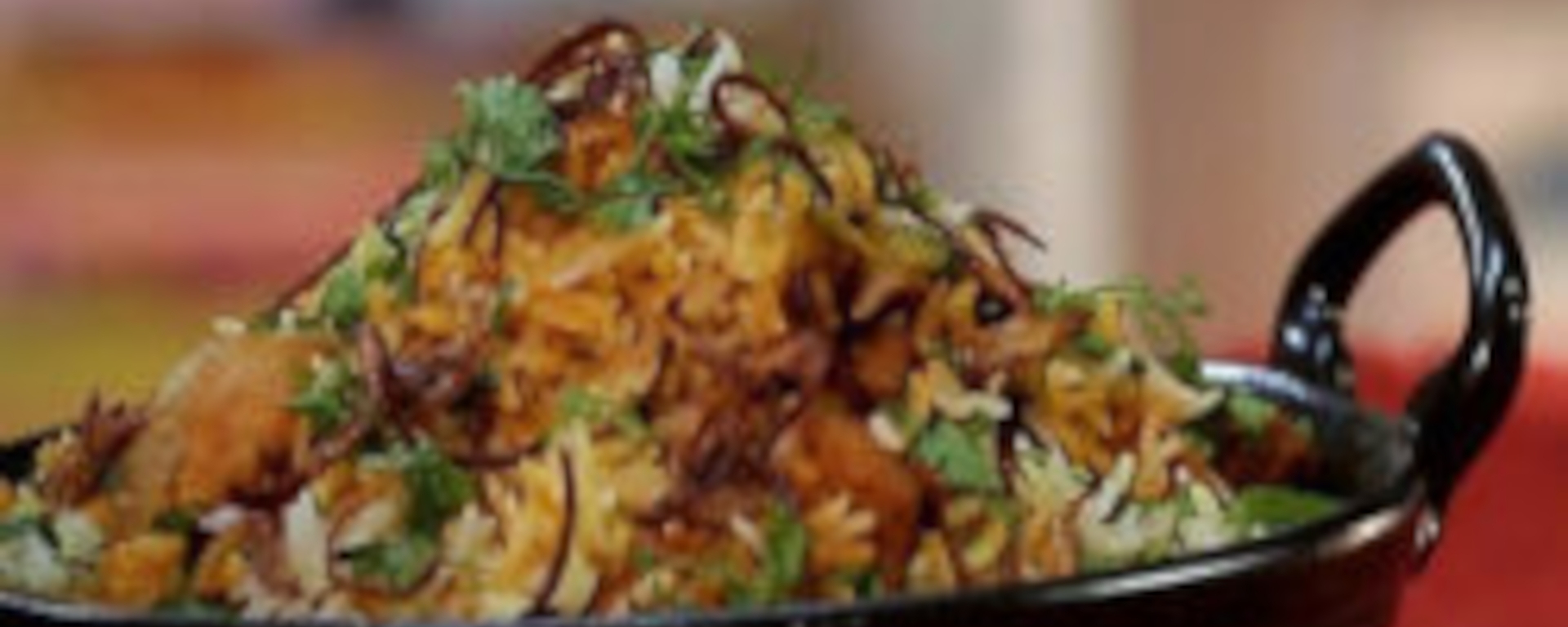 Goan Style Mushroom Soya Biryani recipe shared by Riddhima Nair from India Food Network.
Biryani is also known as "biryani" or "beriani" is a set of rice based food which is spicy and delicious that people love to eat.  A spicy dish made with mushroom and soya that makes a healthy vegetarian dish.  
The rice which people usually use is basmati rice to prepare biryani with mixed vegetables.  Every person has their own method of preparing biryani which goes good with salad and people usually prefer to eat this dish as dinner meal.
Goan Style Mushroom Soya Biryani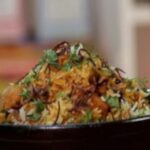 | Prep Time | Cook Time | Total Time |
| --- | --- | --- |
| 30 mins | 30 mins | 1 hour |
Ingredients:
10-12 button mushrooms, halved
1 cup soya chunks, soaked and drained
2 cups rice, soaked and drained
1 medium onion, finely chopped
1 teaspoon red chilli powder
¼ teaspoon turmeric powder
1 teaspoon coriander powder
2 tablespoons roughly chopped fresh mint leaves
2 tablespoons roughly chopped fresh coriander leaves 4 green chillies, slit
A few strands of saffron, soaked in milk
Directions:
Boil water in a deep non-stick pan, add bay leaf, black cardamoms and salt and bring to a boil. Add rice and cook till the rice is 3/4th done. Drain and keep aside

Heat 1 tablespoon ghee in a non-stick pan, add cinnamon, cardamoms, cloves, mace and sauté for half a minute. Add onion and sauté till translucent. Add mushrooms and soya chunks. Mix well.

Add red chilli powder, turmeric powder, coriander powder, cumin powder and salt and mix well. Add tomato puree and mix well. Add coconut cream and mix well.

Add yogurt and mix well. Cook for 2-3 minutes. Add little water and cook for 2 minutes.

Add half of the fried onions, mint leaves, coriander leaves, green chillies, lemon juice. Spread rice on the top. Drizzle saffron and remaining ghee.

Cover the assembled biryani with a tight-fitting lid and seal the edges with atta (dough). Cook for 15-20 minutes.

Serve hot garnished with remaining fried onions.
Recipe Rating: 4 / 5




Related posts: