June 23, 2015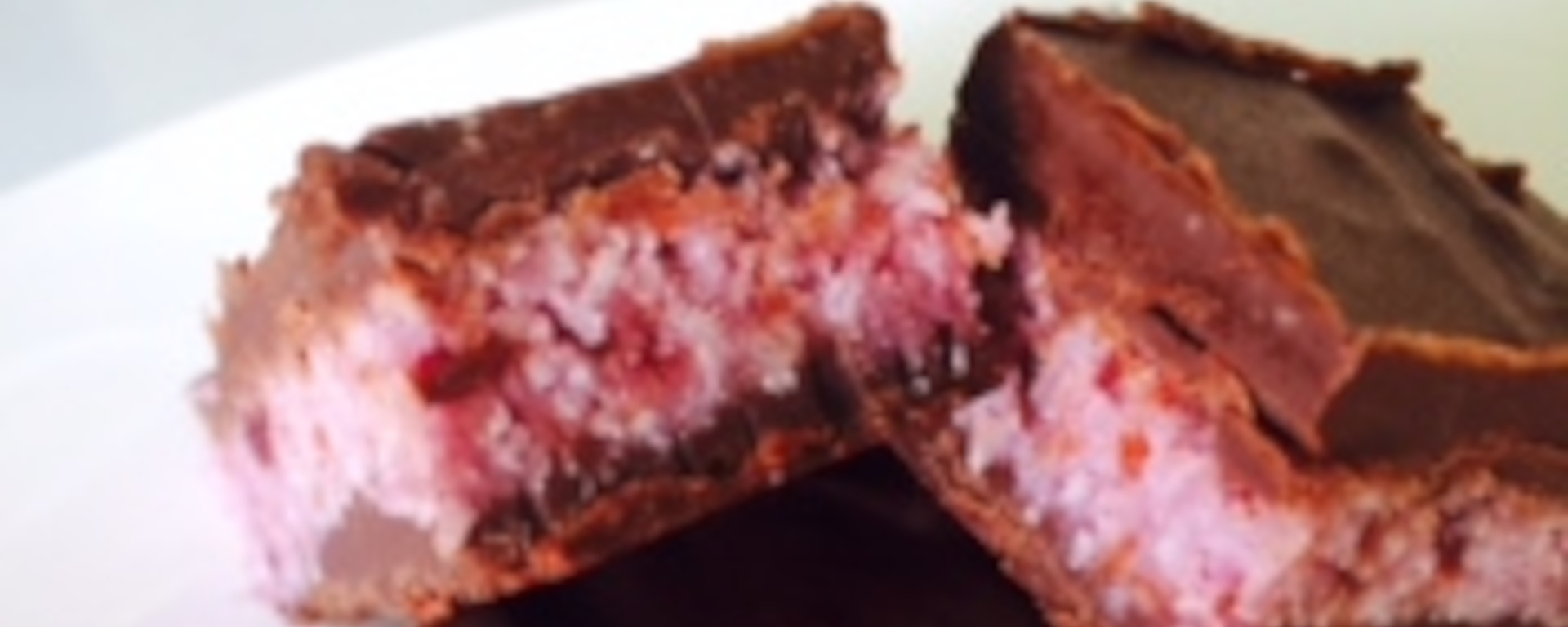 Homemade Cherry Ripe recipe shared by Gabriella Diesendorf from Organics on a budget.
Have you ever felt guilt for eating too many sweet? I know I have! Well, this cherry ripe is made for all healthy  things. It is sweet and delicious and healthy. You can eat it guilt free.
Homemade Cherry Ripe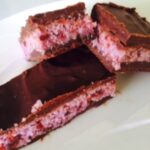 | Prep Time | Cook Time | Total Time |
| --- | --- | --- |
| 10 mins | 1 hour | 1 hour, 10 mins |
Ingredients:
Dark Chocolate drops (200g)
Desiccated Coconut (100g)
Alcohol Free Vanilla Extract (1tsp)
Cherry Red Natural Food Colouring (1/2 tsp)
Cold Pressed Coconut Oil (10g)
Directions:
Place 100g dark chocolate drops and 10g butter into thermomix bowl and set to 50degrees/ Speed 1/ 3 mins (stop halfway and push unmelted chocolate drops down, this may need to be done twice throughout the 3 mins) Place into loaf tin and spread to make an even layer (if not using a silicone style loaf pan- you might need to line it for easy removal) Pop into fridge to set for a couple of hours (mine was set within 2 hours- I was impatient!)

Place desiccated coconut, dried cherries, maple syrup, vanilla extract, cherry red food colouring, and coconut oil into bowl. Mix 15sec/ speed 5 Place on top of chocolate layer (ensure chocolate is set otherwise it will not be proper layers of chocolate and coconut) Press firmly into tin and pop back into fridge to keep cool whilst making the top layer of chocolate.

Top layer chocolate. Repeat Step 1 of making the chocolate again and spread over coconut mixture and pop back into fridge for as long as you can wait (I left mine 3 hours) Cut into slices carefully to try not to crack the chocolate and there you have it completely organic, additive free, soy free cherry ripe!
Recipe Rating: 4 / 5




My baby girls love it and it is gone in a blink of an eye. I usually make two plates if we have guests. Only down side is that you have to wait for about 3 hours before you eat it.
I recommend that you use organic ingredients for making this delicious dessert. You can find all you need in online organic stores such as Organics on a budget. They are the ones who discovered this recipe and decided to share it with the world.
Related posts: