June 22, 2016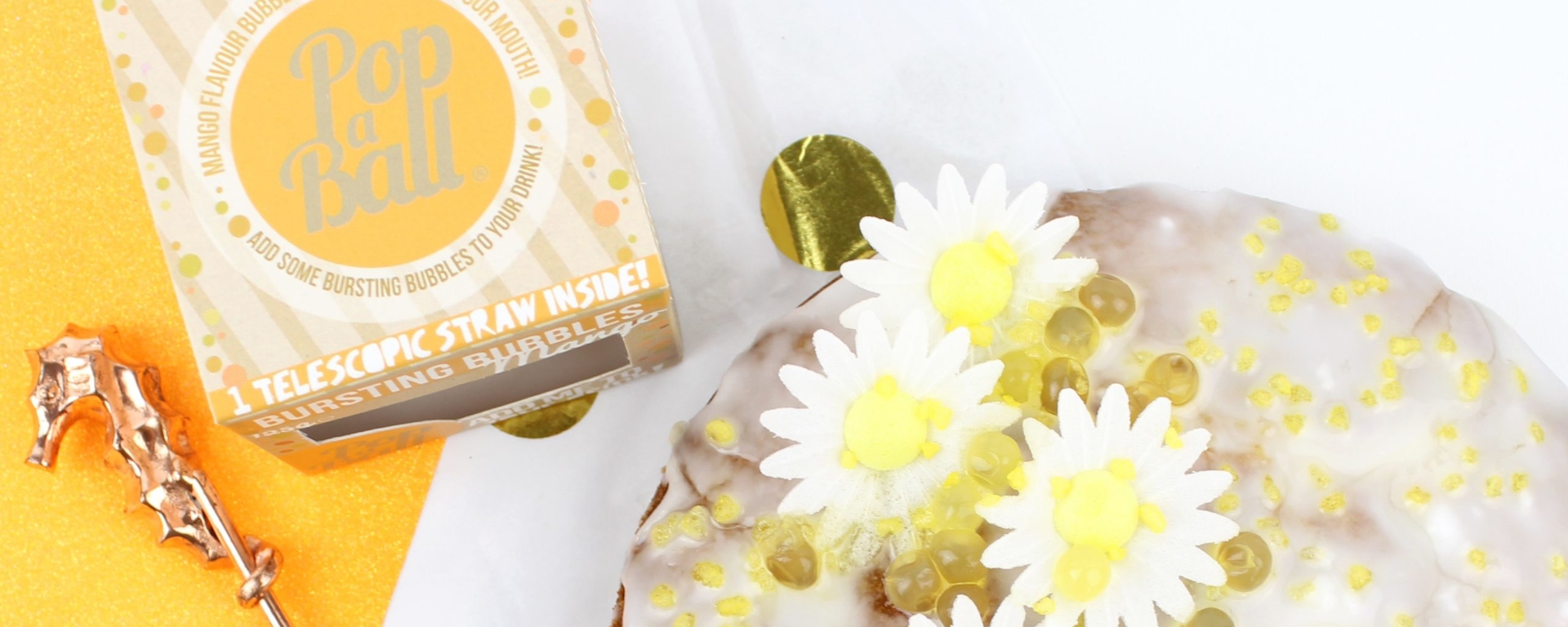 Mango Bubble Tea Cake recipe shared by The TeaShed.
The TeaShed recipe imaginarium has another bubble tea and baking crossover for you – Mango Bubble Tea Cake! Made using our tasty mango bubble tea powder, this cake is a great alternative use for your PopaBall powders apart from the obvious yet yummy milk bubble teas. Apart from smelling wonderful this cake is a sweet, fruity treat for the tastebuds especially with bursts of mango flavour hidden within the sponge (courtesy of Mango Bursting Bubbles).
To play up to the slight yellow colour that the mango bubble tea powder adds to the cake, we have decorated it in a bright, spring inspired fashion with drizzles of sweet icing, yellow sugar crystals, edible daisies and another cheeky helping of Mango Bursting Bubbles.
PopaBall Bursting Juice Bubbles are also known as popping boba which are sometimes used as an alternative to tapioca pearls in boba tea. We certainly prefer our bubbles juicy to chewy, but there are many people who opt for a traditional tapioca pearl tea.
To make your own Mango Bubble Tea Cake at home get your supplies from the 'Bubble Tea' tab on The TeaShed website and follow the recipe below!
Mango Bubble Tea Cake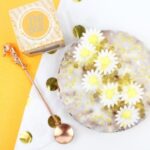 | Prep Time | Cook Time | Total Time |
| --- | --- | --- |
| 1 hour, 20 mins | 40 mins | 2 hours |
Ingredients:
110g butter, room temperature
50g Mango Bubble Tea Powder
2 tbsp Mango Bursting Bubbles
Directions:
Preheat the oven to 150 degrees C and line a cake tin with grease proof paper.

Cream the butter, sugar and mango powder together with a wooden spoon until smooth and fluffy in consistency, it should easily drop off the spoon.

Beat the eggs in a separate container and add the little by little, mixing well in between each addition. This is to avoid the mixture curdling.

Next sift the self raising flour and fold it into the batter using a metal spoon until there are no streaks of flour left.

Add two heaped, drained spoonfuls of mango bubbles and stir them through so that they're evenly distributed.

Pour the mango bubble tea cake batter into the lined tin then bake it in the oven for 35-40 minutes, maybe a little longer depending on the size of your cake tin so check to see if a skewer comes out clean.

Let the cake cool completely on a wire rack before decorating. To decorate your mango bubble tea cake, mix icing sugar with a few drops of water until you reach the desired consistency then drizzle it over the surface of the cake. Don't worry if the icing drips down the sides, work with the messiness!

Top the cake with edible sugar daisies, juicy mango bubbles and a dusting of mango bubble tea powder!
Recipe Rating: 4 / 5




A delicious Mango Bubble Tea Cake made using TeaShed mango bubble tea powder and PopaBall mango bursting bubbles, also known as popping boba.
Related posts: