June 25, 2016
Mojo Picon recipe shared by Virginia from Mama's Box.
Mojo Picon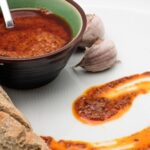 | Prep Time | Cook Time | Total Time |
| --- | --- | --- |
| 10 mins | 0 mins | 10 mins |
Ingredients:
125 ml. vinegar (either sherry vinegar or red wine)
Directions:
Rinse the dried pepper under water and remove all the seeds. After dried, chop the pepper and grind it up using the grinder for one minute. Once done, place it in the blender glass.

Repeat this same step with the chilli peppers and add them together with the dried pepper inside the blender glass or the food processor (you can also use a mortar)

Finally, drop the cloves of garlic (as smaller better) and put them in the blender glass.

Turn on the blender and start to mix all the ingredients until smooth, adding the olive oil towards the end.

Continue mixing all the ingredients, adding now the vinegar and the cumin.

The last step is to adjust the salt and voila! You already have a delicious homemade mojo picon sauce to enjoy with potatoes or some meat!.
Recipe Rating: 4 / 5




Related posts: