Spinach and Sweet Potato Tofu Scramble
July 18, 2016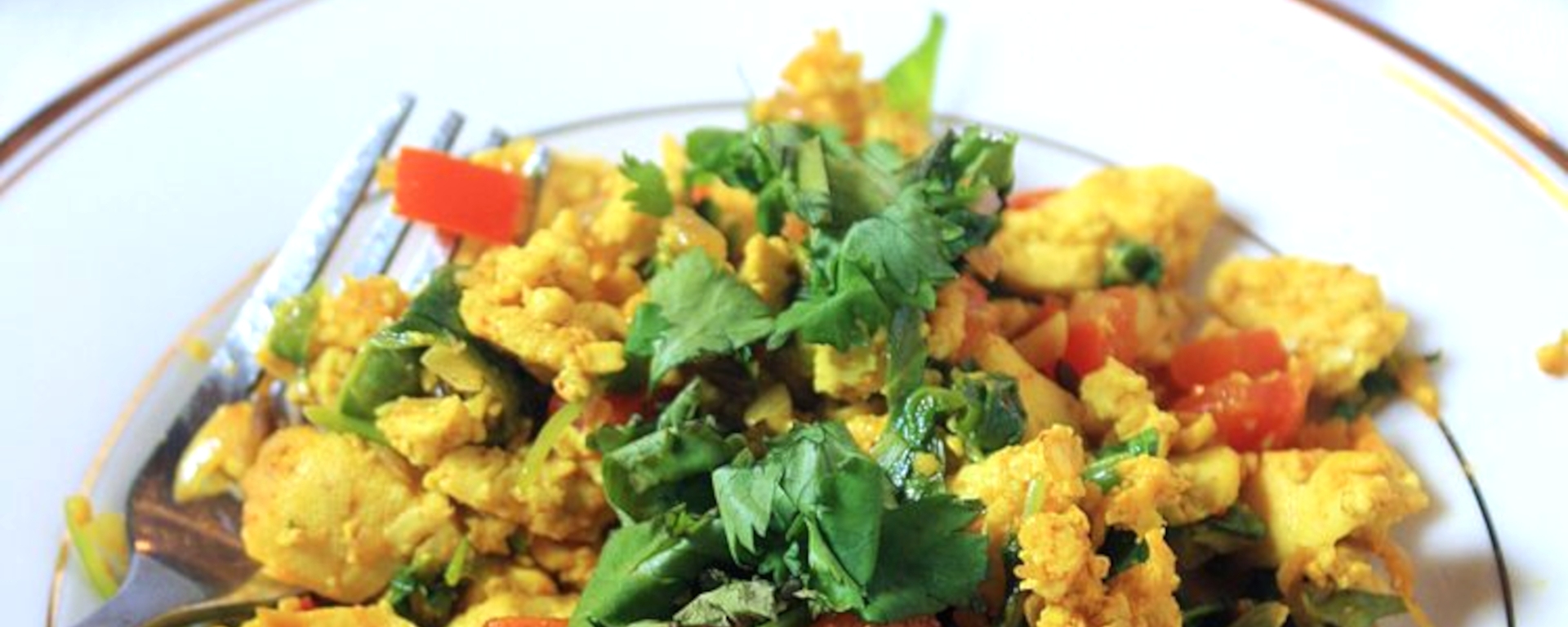 Spinach and Sweet Potato Tofu Scramble recipe shared by Matt from Vegan.io.
Spinach and Sweet Potato Tofu Scramble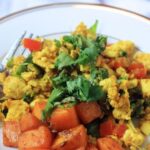 | Prep Time | Cook Time | Total Time |
| --- | --- | --- |
| 10 mins | 15 mins | 25 mins |
Ingredients:
For the Scramble
1 cup baby spinach (roughly chopped)
1 tbsp extra virgin coconut oil
28 oz firm tofu (drained)
1 large sweet potato (diced)
0.5 onions (finely chopped)
0.25 red bell peppers (finely diced)
For the seasoning
Directions:
Heat up the oil in a frying pan over medium heat. Fry the sweet potato, adding salt, pepper and a pinch of paprika. Continue cooking for 5-7 minutes until cooked through. Set aside.

In the same frying pan, sauté onion until soft. Add the bell peppers and continue cooking until it is soft as well. Add the tofu and scramble it using your cooking spatula or a fork.

In a small bowl, mix together the spices: turmeric powder, ground cumin, paprika, salt and pepper. Add water and mix well. Pour the spice mix onto the scrambled tofu and stir.

Add the chopped spinach and cook for another 2-3 minutes until the spinach is wilted and the tofu is slightly browned. Serve immediately with the sweet potatoes and avocado slices on the side.
Notes:Serving size: 2 Calories: 700 Fat: 36g Saturated fat: 10g Unsaturated fat: 26g Trans fat: 0g Carbohydrates: 41g Sugar: 13g Sodium: 76.2 Fiber: 16g Protein: 42g Cholesterol: 0mg Tastes great with Braggs Liquid Aminos!
Recipe Rating: 4 / 5




Tofu scramble with spinach, fried sweet potato, sautéd onions, bell pepper and spices. A delicious, quick, filling breakfast.
Related posts: