Pasta With Mushrooms, Red Bell Pepper And Pumpkin
October 28, 2015
Pasta With Mushrooms, Red Bell Pepper And Pumpkin recipe shared by RecipesnFood.
Pasta With Mushrooms, Red Bell Pepper And Pumpkin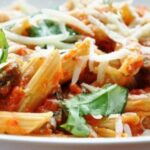 | Prep Time | Cook Time | Total Time |
| --- | --- | --- |
| 20 mins | 10 mins | 30 mins |
Ingredients:
½ pound pumpkin, peeled, seeded, cut into 2-inch pieces
¼ cup (1/2 stick) unsalted butter
1 teaspoon minced shallot
½ pound fresh shiitake mushrooms, stemmed and sliced
Salt and freshly ground pepper
¼ cup minced fresh Italian parsley
Directions:
Char pepper over gas flame or in broiler until blackened on all sides. Wrap in paper bag and let stand 10 minutes to steam. Peel, seed and cut pepper into julienne.

Steam pumpkin until tender. Set aside. Melt butter in heavy large skillet over medium heat. Add garlic and shallot and stir 3 minutes. Add mushrooms.

Season with salt and pepper. Saute mushrooms until almost tender, about 3 minutes. Add pumpkin and cook 1 minute.

Add wine and boil until liquid is reduced by half. Add cream and boil until sauce thickens and coats back of spoon, about 5 minutes. Mix in bell pepper and parsley.

Taste and adjust seasoning with salt and pepper. Meanwhile, cook pasta in large pot of boiling salted water until just tender but still firm to bite, stirring occasionally to prevent sticking.

Drain pasta. Add to sauce and bring to simmer. Toss gently. Divide pasta among plates.

Serve immediately.
Recipe Rating: 4 / 5




Related posts: