My Favorite Blueberry Muffins
November 16, 2015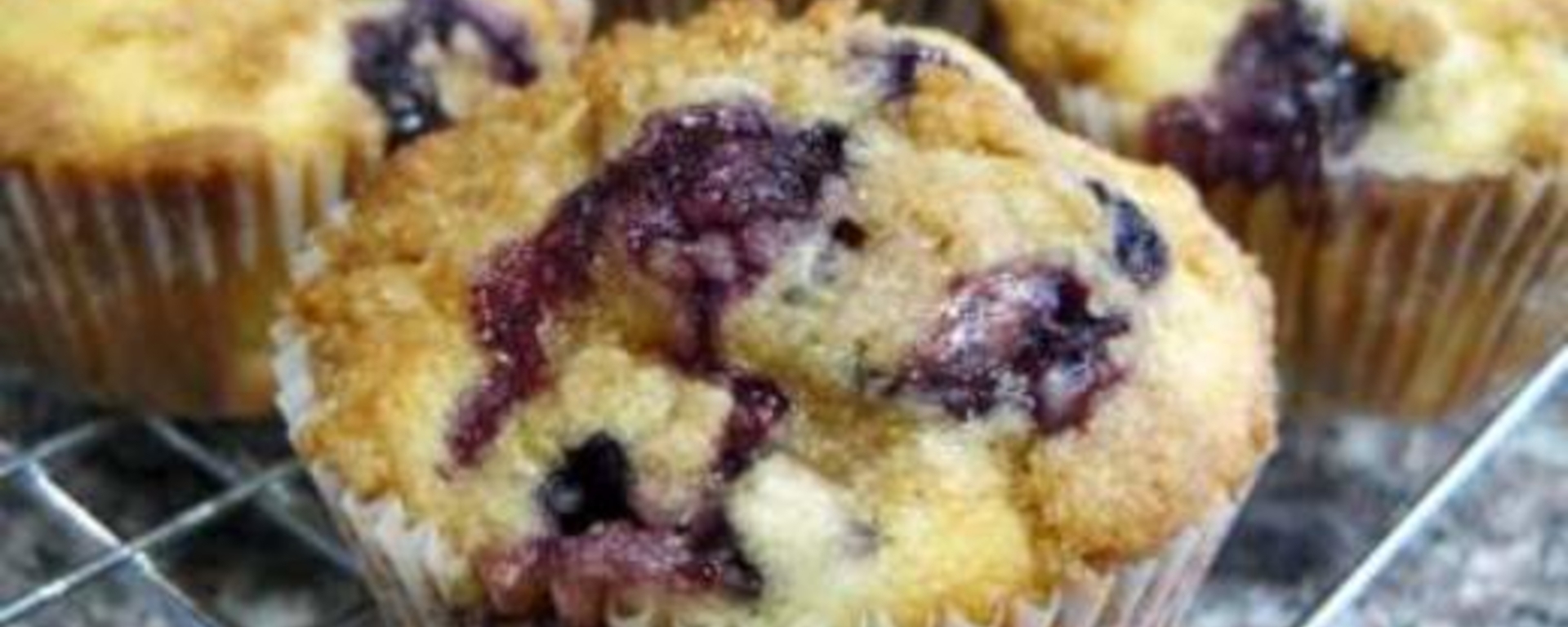 My Favorite Blueberry Muffins recipe shared by RecipesnFood.
My Favorite Blueberry Muffins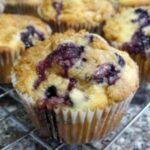 | Prep Time | Cook Time | Total Time |
| --- | --- | --- |
| 20 mins | 30 mins | 50 mins |
Ingredients:
Main
2 cups (475 ml) unbleached all purpose flour
1 tbsp (15 ml) baking powder
4 tbsp (60 ml) unsalted butter, melted and cooled slightly
1¼ cups (300 ml) sour cream
1½ cups (350 ml) frozen blueberries
Lemon Glaze and Sugar Topping :
1 tsp (5 ml) to 2 tsp (10 ml) grated lemon zest
¼ cup (60 ml) lemon juice
Directions:
Main
Preheat oven to 350 degrees (175 C.), position oven rack in middle position. You can spray the standard muffin tins with nonstick vegetable cooking spray, but I prefer to use the papers in the muffin pans, then you don't have as big of a mess.

Whisk the flour, baking powder, and salt in a medium to large bowl, and sit it aside. In a separate medium to large bowl, whisk the egg until well blended, for about 20 seconds.

Add the sugar to the egg and whisk it very hard for about 30 seconds, then add the melted butter to this, and combine. Add the sour cream to this mixture and just whisk until it is combined. Add the frozen blueberries to the flour mixture and gently toss to combine.

Add the sour cream mixture and fold with a rubber spatula until batter comes together and the berries are evenly distributed, 25 to 30 seconds. (There may be small spots of flour remaining and the batter will be thick). DO NOT OVER MIX.

Use ice cream scoop or large spoon to drop batter into the prepared muffin pans, about ⅔ to ¾ full.

Bake until light golden brown and a toothpick inserted into the center of the muffin comes out clean, about 25 to 30 minutes. I rotate the pan around about halfway through.

Turn the muffins out onto a cooling rack, and turn them right side up. Cool for about 5 minutes before you put the glaze and topping on. (Or cool completely and eat as is.)
Preparation of the Glaze and Sugar Topping :
Combine the lemon zest with the ½ cup (125 ml) of sugar and set aside ( I use a large mouth bowl for this because it is easier to dip the muffins in).

Combine the lemon juice and the ¼ cup (60 ml) sugar in a small sauce pan and bring it to a simmer over medium heat. Simmer this until mixture is thick and syrupy and has reduced down to about 4 tbsp (60 ml).

After the muffins have cooled for about 5 minutes, take the muffins and dip the tops down into the glaze then dip them into the lemon zest-sugar, and sit them right side up on the cooling rack and finish cooling.
Recipe Rating: 4 / 5




Related posts: