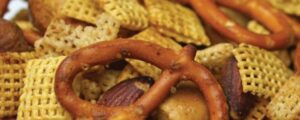 9 Party Mix recipes shared by Sherry from Personal Creations.
Has anyone ever told you about their favorite place to attend parties or the house they loved visiting growing up? How many times does said person mention great snacks? If they don't mention it at least once, they are certainly missing out. We came up with nine party mix ideas to help make you THE host that everyone wants an invite from.
Whether you are entertaining five year olds or business associates, we have the perfect party mix idea for you. Our list has salty and sweet suggestions as well as a few adventurous recipes like Asian Nori and Honey Sriracha. If you have more of a traditional palette, there is also a classic option perfect for you!
The great thing about all of these recipe ideas is they only require a few ingredients, even less time and very little cleaning up, the trifecta of cooking for busy people.
---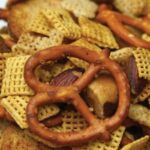 Looking for a homemade snack to keep on hand? Go for this traditional snack mix. It is great for packed lunches and nibbling before dinner is ready. This recipe is also perfect for bigger get-togethers because of the large quantity it makes. Party Mix – Classic Crunch!
---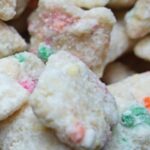 Hosting a birthday party? Whip up this easy but adorable mix for your guests to snack on. Be careful – It might outshine the cake! The imitation vanilla and almond extract combined create that birthday cake taste your little one's will love. Party Mix – Birthday Cake!
---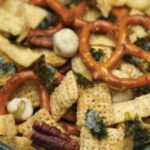 This more extravagant party mix is great for dinner parties. Impress your foodie friends with a pop of wasabi to get their tastebuds ready for the main course. If you are a fan of pecans, toast some extra. They taste so good fresh out of the oven! Party Mix – Asian Nori!
---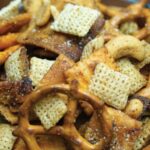 Parmesan ranch is a great mix for super bowl parties and boys night. This snack goes well with other finger foods (and beer). This recipe also requires the least amount of work. All you have to do is toss it in the slow cooker and mix it every few hours. Party Mix – Parmesan Ranch!
---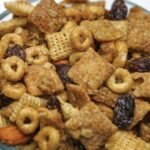 This oatmeal raisin snack mix is great for a fall treat. If your little ones have after-school activities, make a batch and divide into baggies so they have something to tide them over to dinner. It is also a good option for breakfast on the go! Party mix – Oatmeal Raisin!
---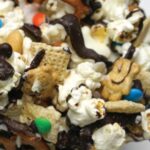 This party mix is ideal for any festive get together. You can use red and pink for Valentine's Day, green and red for Christmas or your favorite team's colors for sporting events! The mix of salty and sweet is great for a fun party treat. Party Mix – Sweet and Salty!
---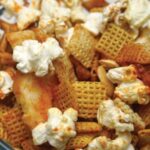 Do your friends and family love Sriracha? Then you have to try this perfect combination of salty and sweet! Be sure to warn your guests. The spicy red sauce can pack a punch. Luckily, the honey helps to nicely balance out the flavor. Party Mix – Honey Sriracha!
---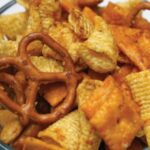 This snack is a great complement to another game day favorite, chicken wings! Simply throw a few of your favorite snacks together and add it to your game day spread.  It is easy to make in advance so you don't have to add any stress to your party prep. Party Mix – Cheesy Buffalo!
---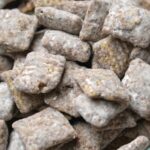 The classic puppy chow is great for pretty much any occasion. This easy, tasty recipe is great for school events, parties for your little ones and a cheeky late night treat! Be sure to make extra because we promise it will disappear fast. No.. this is NOT PET FRIENDLY ! Party Mix – Puppy Chow!
---
Check out Personal Creations Party Mix ideas… enjoy for your next party or mixer.