December 3, 2017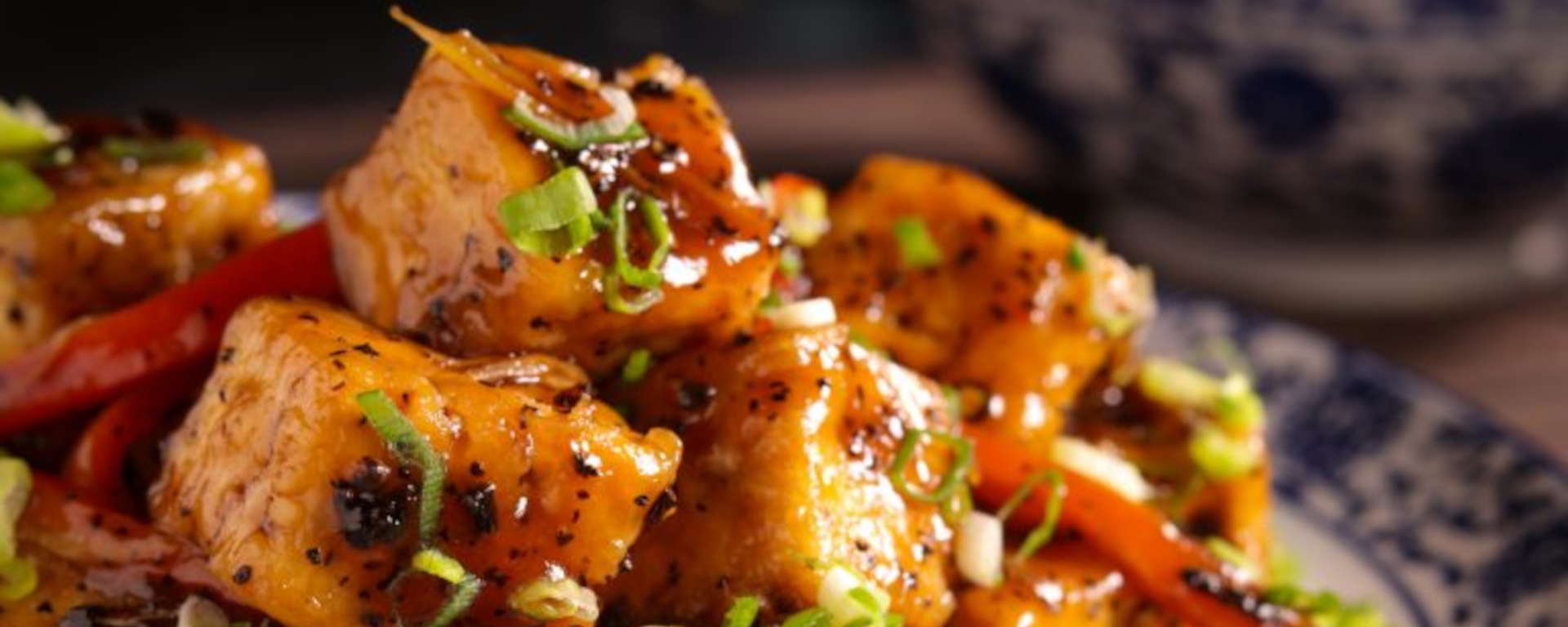 Black Pepper Tofu recipe shared by Nikki.
Tofu is a healthy and versatile food that is made from soybeans. It is rich in protein, calcium, iron, and other nutrients that can benefit your health in many ways.
Black Pepper Tofu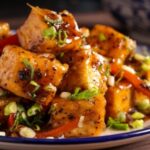 | Prep Time | Cook Time | Total Time |
| --- | --- | --- |
| 30 mins | 30 mins | 1 hour |
Ingredients:
500g/17.5oz firm tofu, cut into cubes
15ml/0.5fl oz vegetable oil for sauteeing
2 tsp. cornstarch for the sauce/plus 1 tsp. for dusting
50g/1.75oz red pepper, thinly sliced
20g/0.75oz ginger, julienne
30ml/1fl oz sweet soy sauce
30ml/1fl oz light soy sauce
1 tsp. black peppercorns, slightly crushed
7g/0.25oz spring onions for garnish
Directions:
Lightly dust tofu with cornstarch, shaking off excess.

Pan fry in vegetable oil, turning occasionally until golden brown on all sides. Drain on paper towels and set aside.

Heat vegetable oil in a pan.

Sauté ginger, red pepper, and black peppercorns until aromatic.

Stir together water, cornstarch, sweet soy sauce, light soy sauce, and sugar in a bowl until free from lumps.

Pour mixture into the pan and simmer until thick.

Toss the fried tofu cubes into the sauce until evenly coated.

Top with chopped spring onions.
Notes:Tofu may also be baked instead of fried. Expel as much moisture out of tofu blocks by pressing then bake for 30 minutes at 175C/350F, flipping halfway through the cooking time.
Recipe Rating: 4 / 5




It's so easy it is to prepare tofu in different ways. You can bake, fry, grill, scramble, or blend tofu to make various dishes, such as salads, soups, stir-fries, burgers, desserts, and more. You can also marinate tofu with different sauces and spices to give it more flavor. Tofu is a great substitute for meat, cheese, eggs, and dairy products in many recipes.
Related posts: